Stewart Home
I was told the fastest route to Hell was by Metro. I took a train to South Hades. The local information map had Mount Olympus and numerous other mythological sites from the major world religions marked on it as being located in nearby streets, but there was no sign of Hades. The cops by the ticket barrier made me feel nervous so I went up to the street. There was an Asian guy of about twenty smoking a fag in a doorway. He was in a shop worker's blue shirt and blue trousers.
"Can you tell me how to get to Hades?"
"It's in the Park isn't it? It's not round here."
"Thanks."
I tried a few more people. No one could help. I went back down into the underground station to ask the cops standing by the barriers for directions but they'd gone. I went back onto the street and climbed into one of a long line of waiting cabs parked outside the station.
Barbara Greczny
A PhotoVideo by Barbara Greczny in memory of Steve Banks,artist, musician, writer and friend.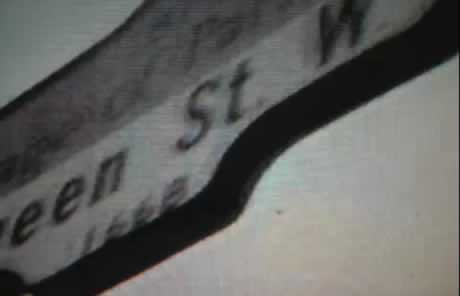 Jim Boyett
My lover and I decided to stop using our bodies. Of course we had to keep using them—for things like breathing, eating, being alive—but we decided to stop using them when making love.
"Because isn't it a spiritual thing we share?" he insisted, during the talk in the course of which we finally decided to take the plunge.
"Of course it is," I said. "I couldn't go on living if I didn't believe that love had a spiritual dimension."
"It has to be more than just a dimension," said Mark. "I mean, I feel some spiritual link with one-night stands I haven't heard from in ten years. But if you're going to be the love of my life, then shouldn't it be a primarily spiritual attachment? Say, 90% of the soul, and 10% of the flesh."
"At the very least that should be the ideal." It had always bothered me, this slap of contingency. Didn't it invalidate everything, all these supposedly deep, important, eternal things, to know that they were predetermined by accidents of gender, age, nationality, orientation, species? Wasn't it absurd that I, Janet Boyett, who felt myself to be so much a creature of thought, of ethereal consciousness, should turn out to be so constrained? An inmate in a prison of meat and time?
Jill Rappaport
The children of George Washington can thank their thirteen-plus stars that wooden teeth like his do not mar their cheerful visages; and I speak as one descended in part from the brave general, and specifically the daughter of a lady who ate only pecan pralines while expecting her second child (luckily I was her first). With all the sweets Americans eat it's incredible that they have any teeth at all. But their far-ranging empire of taste has historically been contained within its continental borders. Not for the yankees' simple palates the sweet but alien cornucopia of international halvah, lokoum, milk barfi, or the tricolored Tunisian confections to which this commentator got addicted in Paris in the late 1980s. This was true at least until a while ago. Now, it seems, a more sophisticated candy-eater hath emerged in the land, which has dolorous implications for national innocence. But we will talk about the past, before this sinister trend began to make itself evident. Here are a few ruminations on my own homeland favorites.