Every issue of Sensitive Skin is now available in a full-color, interactive PDF edition! Looks great on iPads or other tablets! For those who prefer print, you can get issues 8 and up at Amazon.
Here they are, warts and all, available for the first time in over 15 years – scanned versions of the original print run of Peau Sensible/Sensitive Skin, from 1991 – 1994, in PDF format.
Jam-packed with downtown NYC superstars, writers, musicians and artists, including Richard Hell, Herbert Huncke, Richard Kern, Eileen Myles, Jack Micheline, Emily XYZ, Patrick McGrath, Taylor Mead and many, many more.
Previously, on Sensitive Skin!
Keshav Das
"Drugs," an excerpt from Barefoot in the Heart "Muktananda, Shirdi Sai Baba and Hari Das Baba would never take LSD." A certain pattern had evolved wherein Maharajji frequently called upon myself and a couple of other foreign men whenever he required some enforcers. Sometimes it was to deliver bad news such as a Jao, other… Read more »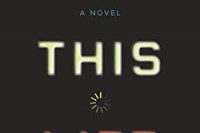 Bernard Meisler
The cover illustration for Joshua Mohr's terrific new novel, All This Life, offers a clue—no, more than that, a cipher—to the book's heart. It's subtle and you might not notice it, or give it much thought on first blush, but between the glowing capital yellow letters "THIS" and the glowing orange capital letters "LIFE" is… Read more »
Christian X. Hunter
Christian X. Hunter's adventures on one of his first trips to India.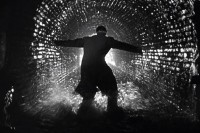 Franklin Mount
I hurried over to Film Forum the other day (first day of the run) to see the 4K restoration of The Third Man, the great 1949 film directed by Carol Reed. Why rush to see a 65-year-old movie, especially one I've seen at least ten times already? What makes the long trek in from Brooklyn… Read more »
Patrick O'Neil
San Francisco, June 24, 1997 I'm in a dark, trash-filled alley between tall brick buildings. Two men stand in shadows. I can't see their faces. I hand one of them money and he gives me a balloon of dope. I look up, there's a light coming from an open window. I hear music, someone is… Read more »