Every issue of Sensitive Skin is now available in a full-color, interactive PDF edition! Looks great on iPads or other tablets! For those who prefer print, you can get issues 8 and up at Amazon.
Here they are, warts and all, available for the first time in over 15 years – scanned versions of the original print run of Peau Sensible/Sensitive Skin, from 1991 – 1994, in PDF format.
Jam-packed with downtown NYC superstars, writers, musicians and artists, including Richard Hell, Herbert Huncke, Richard Kern, Eileen Myles, Jack Micheline, Emily XYZ, Patrick McGrath, Taylor Mead and many, many more.
Previously, on Sensitive Skin!
The Spitters
The stars must have been aligned when, entirely by chance, I happened upon The Spitters way back in 1994. I had caught a short blurb on them while flipping through some metal magazine or another in a grocery store. It was accompanied by a tiny picture of the band live; I was struck by the… Read more »
Ron Kolm
We were totally unprepared for the winter of 1968; it was bleak and cold, and it seemed to last forever. My wife and I were from the North — Reading, Pennsylvania — and we had joined a government program to help organize the dispossessed so they could eventually help themselves. This program was called VISTA,… Read more »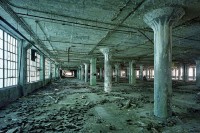 Michael Randall
"Time Now and Everything," a poem by Michael Randall, with a photograph by Yves Marchand and Romain Meffre, Fisher Body Plant 21, from "Ruins of Detroit."
John S. Hall
Well, yes, they fucked like bunnies, and yes, they fucked as if it was their last night on earth (when in fact it was early afternoon), but more than that, they fucked like so many, different other things completely.
Erika Schickel
I recently watched a "reality" show called "The Bad Girls Club" and was saddened by what current culture has come to accept as "badness" in women.