Every issue of Sensitive Skin is now available in a full-color, interactive PDF edition! Looks great on iPads or other tablets! For those who prefer print, you can get issues 8 and up at Amazon.
Here they are, warts and all, available for the first time in over 15 years – scanned versions of the original print run of Peau Sensible/Sensitive Skin, from 1991 – 1994, in PDF format.
Jam-packed with downtown NYC superstars, writers, musicians and artists, including Richard Hell, Herbert Huncke, Richard Kern, Eileen Myles, Jack Micheline, Emily XYZ, Patrick McGrath, Taylor Mead and many, many more.
Previously, on Sensitive Skin!
J. Boyett
Considering that I'm such a regular guy, it's funny how fortunate I've been in my friends—I belong to a little band that is unusual, both for our numbers (there are about twenty of us who have known each other for years), and our closeness.
Steve Horowitz & The Code International
A documentation of the Friday night performance of Steve Horowitz' musical composition on January 29, 2010 at REDCAT for 10 musicians, 4 actors, 2 singers and narrator. The video projections were created by Zig Gron. The music was performed by The Code Ensemble and CalArts students, conducted by Devin Maxwell. The theatrical staging was directed… Read more »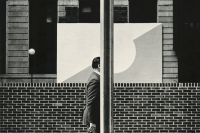 Charles Gatewood
In early 1972, I spent a week with William Burroughs in London, photographing a cover story for Rolling Stone. Burroughs' radical ideas about power, control, and money touched me deeply. When I returned to New York, I began photographing the financial district in a whole new style. I'd never taken photographs like this before–but I… Read more »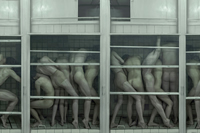 Steve Dalachinsky
on the b-38 what are you waiting for / get covered / start here / a gift of happiness or risky listening? ya never can tell / drivin 26 yrs / 47 / nice humble guy surprised / caught a heart attack / here today gone tomorrow let them do the work / short trips… Read more »
Vladimir Mayakovsky & Jenny Wade
In 1913, at the age of 19, Vladimir Mayakovsky hit the Russian art scene like a tornado. Within a year, he published his first poems and lithographs; went on a 17-city lecture tour; published articles on Russian theater; wrote, produced and starred in his first play; and, along with his gang of friends, launched a new art movement—Futurism…