Every issue of Sensitive Skin is now available in a full-color, interactive PDF edition! Looks great on iPads or other tablets! For those who prefer print, you can get issues 8 and up at Amazon.
Here they are, warts and all, available for the first time in over 15 years – scanned versions of the original print run of Peau Sensible/Sensitive Skin, from 1991 – 1994, in PDF format.
Jam-packed with downtown NYC superstars, writers, musicians and artists, including Richard Hell, Herbert Huncke, Richard Kern, Eileen Myles, Jack Micheline, Emily XYZ, Patrick McGrath, Taylor Mead and many, many more.
Previously, on Sensitive Skin!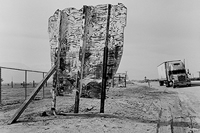 Alan Kaufman
I first saw the gold crescent of renegade freedom dangling from the lobe of a nameless hairy hippy Goy, his scrawny, insolent neck bound by a red bandanna. He leaned with outthrust hip of impertinent American coolness against the miniature white plaster-like Arc D'Triumph that looms in meager solemnity over the leafy green, daggered streetlamps… Read more »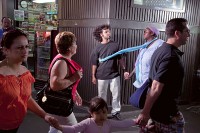 Pete Simonelli
Jason moved across the floor on his hands and knees, I see him this way constantly, in that scooting motion, making his way to the records lined against the other wall. Dawn is lighting up outside. He says, "You have to know what you mean before you mean what you say." Photograph by Jean-Christian Bourcart… Read more »
Justine Frischmann
Justine Frischmann employs the Low-Fi materials of a suburban hardware store to dig through the ash and rubble of Modernism. Ronald B. Richardson
The narrative demand for something unusual keeps us wanting more, even while existing narratives are still valid and effective. Fashions once developed across centuries; now we expect each decade to distinguish itself in terms of music, style, and idea. In spite of the bewildering range of content available in every field, we require innovation. Filmmakers, musicians, writers, scholars and scientists are all trying to come up with something original. Nothing wrong with that. The madness is that we think that only new ideas are good ideas.
Hal Hirshorn
Hal Hirshorn makes 21st century photographs using 19th century materials and methods. Specifically, salt prints, a technique invented by William Henry Fox Talbot in 1841. The intention however is not to recreate period facsimiles. Hirshorn creates images outside of standard time, characters in an undefined spiritual location conjured by the artist's and the viewer's imagination…. Read more »