"Drugs," an excerpt from Barefoot in the Heart
"Muktananda, Shirdi Sai Baba and Hari Das Baba would never take LSD."
A certain pattern had evolved wherein Maharajji frequently called upon myself and a couple of other foreign men whenever he required some enforcers. Sometimes it was to deliver bad news such as a Jao, other times just to get the group herded together for some purpose. It was not an enviable role, such as that enjoyed by a favorite singer or the one with the honored and coveted job of waving the towel to move the flies along. But any way in which one was called to serve was a blessing, and we all wanted his attention.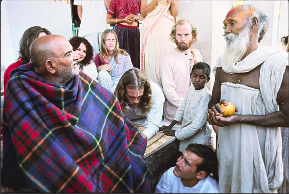 One morning in Kainchi we were sitting around Baba-ji on the verandah singing and laughing at his play. At some point every morning he would get up from the tucket and walk across to his office. This morning as he descended the three steps to the courtyard, with the whole group of us standing to accompany him, one young western man wrapped in a red shawl stumbled down the stairs and sprawled on the ground. He may have brushed against Baba, who turned around, saw him and continued to his office. Of course by now we could all see that the man was wearing nothing from the waist down. Apparently he had consumed a good dose of LSD earlier on and had lost his lower clothes. No-one had noticed earlier as he sat there wrapped in red.
Once in his office Maharajji started to roar. Already he had frequently used the expression regarding the foreigners, "Goli khaya, nanga nachata hain!" ("They've taken LSD and are dancing naked!")
He shouted for me and another devotee. We approached the screened window, "he's taken goli (acid)! Get him out of here." We said "Yes, Baba, right away." He said for us to take him out of the ashram and to stop the first bus and put him on it. Then he said for us to stop the bus for Almora, put him on it and send him to Dinapura (This was my old stomping grounds, but by now it had become synonymous with hippies and drugs). By now the guy was wrapped in his red shawl and had been taken out of sight of Baba's window. We realized that in his present state, he could hardly speak or walk, but had a grin from ear to ear. There was no way he was going anywhere soon. We hustled him out of the ashram and someone volunteered to take him to their house, not too far from the gates.
When we got back to Baba, he was in a jovial mood, and kept repeating "He took acid and was dancing naked by the river." We wondered after that incident whether the guy could ever come back. A day or two later he did leave Kainchi and stayed out for a week. When he returned Baba-ji welcomed him back as if nothing had happened.
My landlords in Kainchi lived across the road from the main gate and were potato farmers. Some days, in the late afternoons, after we had been sent home, I would enjoy a visit from my landlord, Bhairav, a wonderful man about four years older than I. He and his whole family were great devotees of Maharajji and had seen their lives transformed when he moved into their valley and created the ashram. From my back porch we could watch Maharajji when he came to the roof where he often sat in the evenings until dark. Bhairav was a smoking man and sometimes we would enjoy a smoke of hash together. At these times he would insist that we sit on the opposite verandah. He said that although Maharajji knew everything and could see everything, he was our father and out of respect we should not smoke in front of him.
Essays