Buy it on Amazon
Buy it on Kindle
Don't like Amazon? All of our books are available through other online sellers (Barnes and Noble, Powells, etc.). You can also order our books through Ingram, at your local bookseller or library.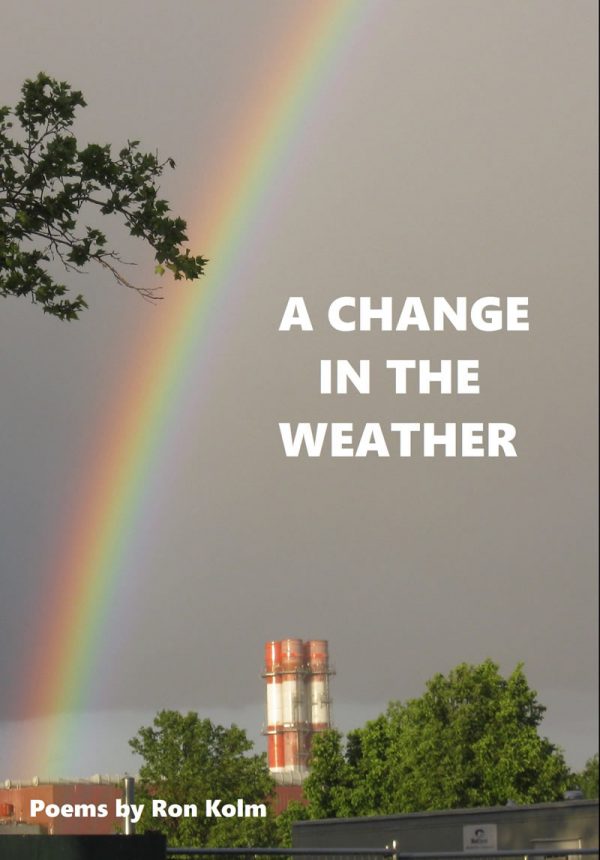 Sensitive Skin is proud to present A Change in the Weather, a new collection of poems by legendary downtown poet Ron Kolm, founding member of the Unbearables and author of The Plastic Factory, Divine Comedy, Suburban Ambush, Duke & Jill and Night Shift.
"A born storyteller, documentarian and wild soul, Ron Kolm brings all the insight of a keen observer of life, whether it is in New York City, the Pennsylvania landscape of his youth, or the scenarios in fictionalized collage poems culled from photographs and letters. Kolm embraces the world around him: the good, the bad, the beautiful, and the ugly."
–John J. Trause, author of Picture This: For Your Eyes and Ears, Exercises in High Treason, Seriously Serial, and Eye Candy for Andy.
"Open these pages and join Ron Kolm, arch-denizen of New York City, as he picks his way through the lethal and potentially surreal. In Kolm's world, dada is a verb and anything is possible in the mope-eyed bookstores and dystopic subway darknesses he traverses. Expect the unexpected. Charles Bukowski throws shade on Velvet Underground. James Joyce makes late-night calls from the dead zone. Andy Warhol is reincarnated as a potato chip. Ladies and gentleman, this is the full affliction."
–George Wallace, author of Poppin Johnny and Who's Handling Your Aubergines, and Great Weather for Media editor and spoken word reading series host.