Buy it on Amazon
Don't like Amazon? All of our books are available through other online sellers (Barnes and Noble, Powells, etc.). You can also order our books through Ingram, at your local bookseller or library.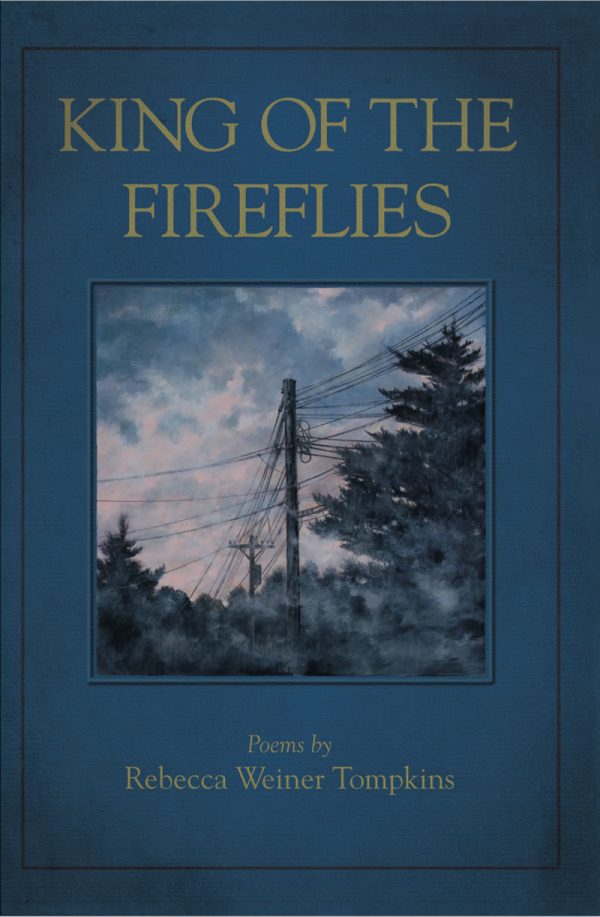 Sensitive Skin is proud to present King of the Fireflies, acclaimed writer and musician Rebecca Weiner Tompkins's first full-length collection of poetry.
The poems in Rebecca Weiner Tompkins's King of the Fireflies lead the reader on a journey through a world of landscapes: urban; rural; mythological; emotional; erotic; cultural; political; and spiritual, and the borders between them. The voice throughout is of a figure in those landscapes, struggling to navigate love, loss, and mortality while juxtaposing natural and human-made environments. Her language is both visual and musical (as well as a writer, she is also a lifelong working musician,) and the poems range from lyric to narrative, but always with a strong sense of location and a precision of detail, even when the speaker is conveying questions or doubt. These poems explore the edges and the depths of dark places—but possibility, anticipation, and even humor are present. The exploration leads forward, and the promise of renewal rings true.
"Rebecca Weiner Tompkins's King of the Fireflies opens the world with poetry's 'small, sharp knife,' an incision that reveals the life of 'a woman, a mother, a wife,' and, I might add, a musician. The suffusing pleasure of these poems balances between clarities where, as in dream or grieving love, cause and effect exist together. These beautifully wrought lines have been well worth the wait."
— Janet Sylvester, author of After-Hours at the Museum of Tolerance
.
"Rebecca Weiner Tompkins's poems trust 'things to blacken/on schedule,' and they do: deer are not angels, the dead frog resembles the unborn, a wife is beaten, zombies beckon, the sea gathers and spills, love ebbs and flows. Yet the word appearing most frequently in these pages is 'bright.' Tompkins's roving free verse turns darkness into lanterns."
— Rosanna Warren, author of Earthworks: Selected Poems
"Rebecca Weiner Tompkins gives us in King of the Fireflies a lifetime of impassioned poems which begin with desire and end with it, and that aim for, 'Finally the world without/interference.' Along the way, 'riding/nowhere, taking each turn/like it meant/somewhere,' are all the things that make a life: love, nature and its allegories, parents, children, harm and disappointment, and how knowledge comes to us: 'Someone's gone, you never imagined/the how of going on. Oh you should know by now it's the dead/rusted needles that make the dry pine smell we like.' We get what love does to us, 'Even when we hear the whistling/approach of that bow's ammunition/we duck and hurry out of the way,' and we get hard-won recognition: 'I no longer invent escape, but welcome/this time and place, as the thrush/calling bell-like invites another dawn.' Long gestated, these poems give us what poetry can give: the bravery of encounter."
— David Weiss, editor of Seneca Review
"The poet reaches inside herself and waddayaknow! all Nature is there, Worlds within Worlds. And Word by Word she unspools her singular vision, a trail we follow to a shared place. It's lit by fireflies. It's red with life. It's Rebecca Weiner Tompkins at the peak of her powers and she is singing just for you."
— Bob Holman, poet (The United States of Poetry, etc.) and proprietor of Bowery Poetry Club
"Rebecca Weiner Tompkins's poems are haunting, intimate enchantments that linger like love's ghosts in the doorway, sparkling there suddenly in the sunlight like spiderwebs at Cafe Dante."
— Andrew Hubner, author of American by Blood and East of Bowery