Buy it on Amazon
$9.95

Buy the PDF
European Orders: for quickest shipments, use the appropriate Amazon link for your region, eg, Amazon.co.uk, Amazon.fr, or Amazon.de.
Don't like Amazon? All of our books are available through other online sellers (Barnes and Noble, Powells, etc.). You can also order our books through Ingram, at your local bookseller or library.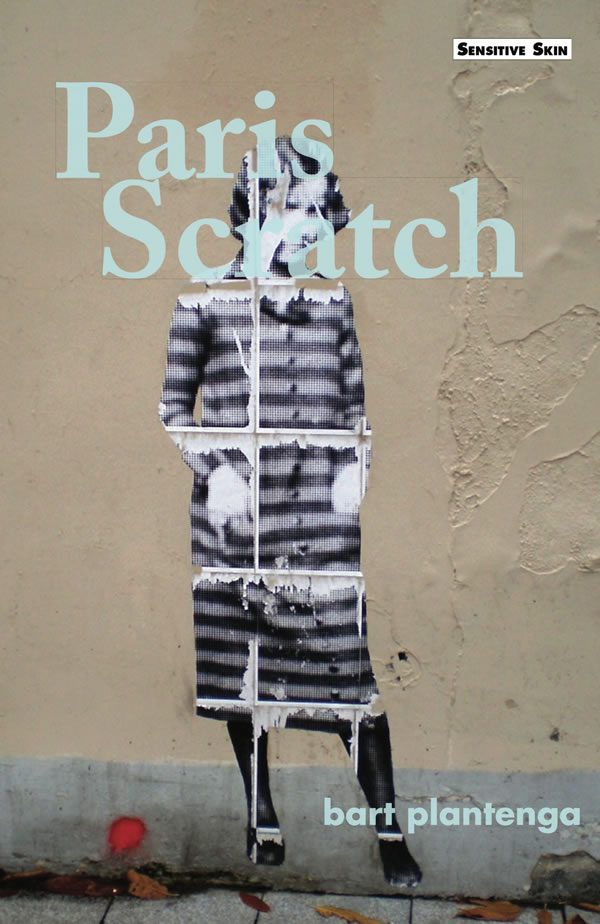 The complete PARIS SCRATCH is now available from Sensitive Skin. bart plantenga spent years wandering the haunted streets of NYC & Paris, cluttered with ghosts & memory, rich in phenomenological detail, friends & foes, encounters & coincidence & the enticing scent of decay, which allows the old to ignite the new. This sensory wealth tends to overpower a city's residents &, to survive, they must learn to ignore it all.
One day, bart wakes up wondering why he's living in Paris; he must now either put up or shut up; it's either reinvent his relation to his surroundings or get a divorce from Paris. & rather than do the easy thing – taking snapshots – plantenga began recording what the 5 senses registered; scribbling down a "snapshot" per day for a year with the writing-while-walking strategy producing a unique form of dérive as well as countless notepads of barely legible scribbles. The Unloaded Camera Snapshots series began as an exercise to document everyday life. These eidetic, epigrammatic, not-quite prose poems, not-quite journal entries, served as meta-factual attempts to re-pollinate existence with the fecund, oft-neglected details of the everyday, la vie quotidienne. Think of it this way: Brassai & Doisneau meet Cartiér-Bresson in a Montmartre cafe &, over Pastis, decide to smash their cameras & triumphantly take up pens instead.
Jean Luc Godard once said: "There is just a moment when things cease to be a mere spectacle, a moment when a man is lost and when he shows that he is lost."
WARNING: The depictions of friends & acquaintances contained herein are more than mere coincidence.
NY SIN PHONEY IN FACE FLAT MINOR, the companion book to PARIS SCRATCH, is now available.
"Don't look for La Ville Lumière in PARIS SCRATCH because one does not become enlightened by imagining figures of light, but by making the darkness conscious."
—William Levy, author of Natural Jewboy
"A marvelous book – imagine Baudelaire taking a camera and throwing out his pens and precious inks in a rebellious anti-anti-Dadaist manner, then taking snapshots of everything that comes his way … the author's camera moves very fast, the 'center cannot hold' and we live only twice!"
—Nina Zivancevic author of Death of NYC