Buy it on Amazon
Buy it on Kindle
Don't like Amazon? All of our books are available through other online sellers (Barnes and Noble, Powells, etc.). You can also order our books through Ingram, at your local bookseller or library.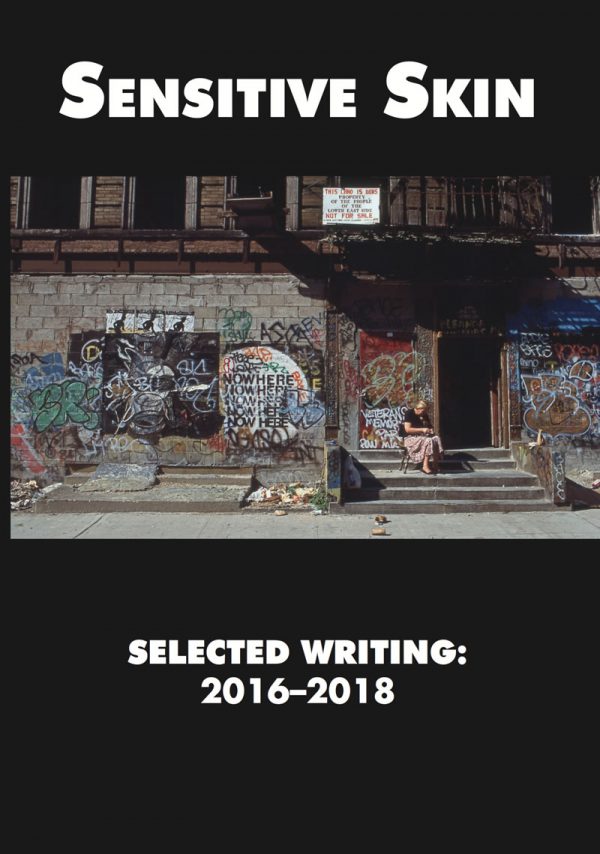 Sensitive Skin Books is proud to present our first writing anthology, Sensitive Skin Selected Writing: 2016-2018, Our (once print, now online only) magazine has been described as "The New Yorker on acid," and "almost underground." For almost 30 years, it has featured writing, art and music by artists famous, infamous, unknown and breaking, everybody from William S. Burroughs to Richard Hell to John Lurie to Alex Katz to Eileen Myles to Gary Indiana.
For many (mostly obvious reasons), our final print issue was released in early 2016. But we thought it would be a valuable resource to collect some of our favorite writing from 2016 to 2018, because print, though more and more difficult to justify producing, is still – well, great.
This 306-page anthology, edited by Bernard Meisler, collects selected stories, poems and essays, published online between 2016 and 2018, so you can finally enjoy them in physical book (and Kindle – we made it cheap, only $4.99!) format.
The contents include:
Stories by:
Carl Watson • Ray Jicha • Francine Witte • Mac Blauner • Ryan Leone • Jason DeBoer • J. D. King • Meg Kaizu • Rich Ferguson • Jeff Goldberg • bart plantenga • Coree Spencer • D. James Smith • Bernard Meisler • Drew Hubner • Díre McCain • Julia Kissina • David Huberman • Liza Béar • Vincent Zangrillo • Robert C. Hardin • Ron Kolm
Poems by:
Bud Smith • Jennifer Juneau • Charlotte Jackson • steve dalachinsky •
D. Nurkse • Yuko Otomo • Todd Colby • William Lessard • Thaddeus Rutkowski • Tate Swindell • Peter Marra • Max Blagg • Jeffrey Cyphers Wright • Hal Sirowitz • Tsaurah Litzky • Amy Barone • Bob Holman • Gabor G. Gyukics • Rebecca Weiner Tompkins •
Suzi Kaplan Olmsted • Gil Fagiani • Norman Douglas • Valery Oisteanu • Anton Yakovlev • Christopher Romero • Jim Feast • Peter Bushyeager • Jose Padua • Thurston Moore • Chavisa Woods • Cassandra Dallett • Marc Olmsted • Puma Perl • Maggie Dubris • Jenny Seymore Montgomery • John J. Trause • Osip Mandelstam/Jenny Wade • Tom Savage • Joel Landmine • Vincent Katz • George Wallace • Eve Packer • Arthur Nersesian • Mia Hansford • Jack Hirschman • William Considine • Bonny Finberg • Sharon Mesmer • John Farris
Essays by:
Mark Howell • Larissa Shmailo • Franklin Mount • Jürgen Schneider • Patrick O'Neil • James Reich • Emily XYZ • Timothy Leary