Buy it on Amazon
Buy it on Kindle
Don't like Amazon? All of our books are available through other online sellers (Barnes and Noble, Powells, etc.). You can also order our books through Ingram, at your local bookseller or library.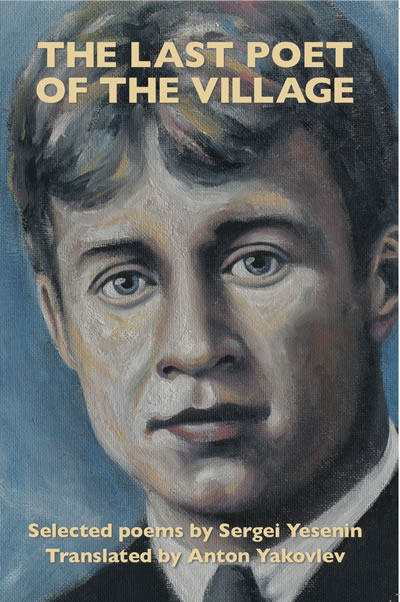 Sensitive Skin is proud to present The Last Poet of the Village, a bilingual (Russian/English) edition of selected poems by the perhaps the greatest 20th-century Russian poet, Sergei Yesenin, translated by acclaimed Russian-American poet Anton Yakovlev, with prefaces by Yakovlev and Donald Zirilli.
Sergei Yesenin (1895-1925), whose distinctive lyricism and lush rural imagery have indelibly imprinted themselves into the Russian consciousness, is second in popularity among Russian speakers only to Alexander Pushkin. Sadly, Yesenin has received surprisingly little attention abroad, where he is best known for his brief marriage to Isadora Duncan. This bilingual edition (original Russian side-by-side with translation by Anton Yakovlev) is an attempt to rectify the relative scarcity of Yesenin's English translations and to introduce English speakers to many of his most beloved and iconic poems.
Four sample poems from the book are now available.
When Keats read George Chapman's translation of Homer, he felt like an astronomer when "a new planet swims into his ken." This is how I felt in reading Anton Yakovlev's superb translations of some poems by Sergei Yesenin. Yakovlev's translations strike this non-Russophone reader as a triumph of craft in combining a "peasant" simplicity that seems deeply and authentically Russian with piquant, always-tasteful touches of idiomatic American speech. These versions are a gift to readers of English in bringing across the quality and qualities of an original and unforgettable artist.
—Daniel Brown, author of Taking the Occasion and What More?
With this attentive selection of Yesenin's short lyrics, Yakovlev has given us something I thought impossible, an English Yesenin. Sergei Yesenin stands alongside Blok and Tsvetaeva in the pantheon of Russia's greatest lyric poets and, similar to them, has remained among the most untranslatable. Anton Yakovlev's conscientious handling of the elements of the craft, as well as his own substantial skill as a poet, manage to convey a palpable voice and persona for Yesenin, and persuade us he truly was a major poet.
—Alexander Cigale, translator of Russian Absurd: Selected Writings of Daniil Kharms
AntonYakovlev's book of translations of SergeiYesenin's poems is one of those serendipitous events the universe still springs on us from time to time. In this case, a wonderful contemporary poet brings the words of an important Russian Imaginist, who died in 1925, into the present, and in so doing, demonstrates his timelessness.He hasYesenin tell us:"If I hadn't been a poet,I probably would / Have been a thief and a conman." I couldn't put this one down—highly recommended!
—Ron Kolm, co-editor of From Somewhere to Nowhere:The End of the American Dream, and author of A Change in the Weather
When SergeiYesenin says,"Life is a sheet and a bed," the sheet can also be read as a piece of paper for this street-brawling hooligan to write poems on. Not really a peasant poet nor a Soviet revolutionary, Yesenin, excellently translated by Anton Yakovlev, is a brilliant modern image maker, very Russian in a national sense, for better or hearse.
—Jack Hirschman, Poet Laureate Emeritus of San Francisco