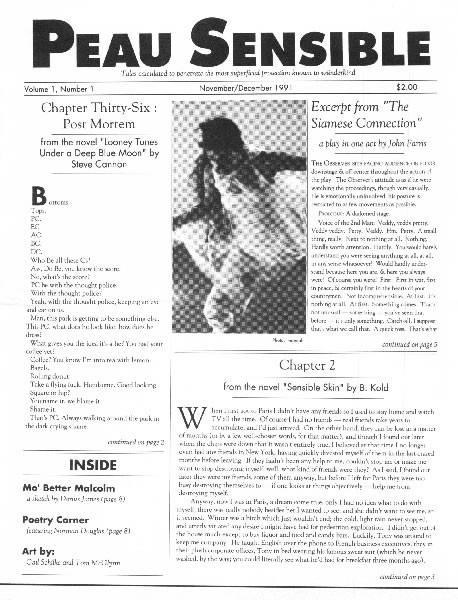 Peau Sensible 1 – 1991
Late 1991, Norman Douglas, B. Kold, John Farris (The Ass's Tale) and Darius James (Negrophobia, That's Blaxploitation) were sitting around Steve Cannon's (Groove, Bang, and Jive Around) house on East 3rd Street, lamenting the lack of both a literary scene in New York and literary magazines worth reading. They realized they had a little printing press – a Mac SE – so they decided to make their own. Everybody donated a story, then they got some art from Tom McGlynn, Constance Williams (who took the cover photograph of dancer/future editor Patricia Winter) and Gail Schilke, and found a printer in Chinatown who didn't speak English so wouldn't object to the content (and was cheap). A few hundred copies of this 8-page issue, Peau Sensible 1, rolled out just a few weeks later.
The way Steve tells it, he started A Gathering of the Tribes magazine first, but we believe we beat him by a few months, and in fact, he was inspired by us – if a bunch of fuck-ups like us could do it, why couldn't he?
So that's how it all started. It originally cost $2 – now you can have it for $0.99. How's that for deflation?
Writing by Steve Cannon, John Farris, Darius James, Norman Douglas and B. Kold.
Art by Tom McGlynn, Gail Schilke and Constance Williams.
November/December 1991, 8 pages, 8.5″ x 11″, black and white, PDF format.
$0.00

Buy the PDF
Sensitive Skin features art, writing and music, without rules or boundaries, by both famous and emerging artists, writers, and musicians from around the globe.
Sensitive Skin began as a print venture from New York's Lower East Side in the 1990s, and published such literary luminaries as Richard Hell, Steve Cannon, Jack Micheline, Penny Arcade, John Farris, Eileen Myles, Lynne Tillman, Patrick McGrath, Bob Holman, Maggie Estep, Emily XYZ, Herbert Huncke and Joel Rose, with art by Andres Serrano, Ari Marcopolis, Andrew Castrucci and James Romberger, to name but a few….
Sensitive Skin was reborn in the summer of 2010, and has since presented original work by such esteemed writers, artists and musicians as Samuel R. Delaney, John Lurie, Gary Indiana, Sharon Mesmer, Charles Gatewood, Gretchen Faust, Alex Katz, Peter Blauner, Hal Sirowitz, Arthur Nersesian, Maggie Estep, Fred Frith, Evelyn Bencicova, Thurston Moore, Iggy Pop, Winston Smith, Sue Rynski, Steve Dalachinsky, Marty Thau, Justine Frischmann, Craig Clevenger, Darius James, Stewart Home, Michael A. Gonzales, Drew Hubner, Jonathan Shaw, Melissa Febos, Stephen Lack, Max Blagg, Patricia Eakins, Díre McCain, Rob Roberge, Kurt Wolf, Erika Schickel, John S. Hall, Kevin Rafferty, Elliott Sharp, Mike Hudson, James Greer, Ruby Ray, William S. Burroughs and Allen Ginsberg.