$5.95

Buy the PDF
Buy print edition
Sensitive Skin features art, writing and music, without rules or boundaries, by both famous and emerging artists, writers, and musicians from around the globe.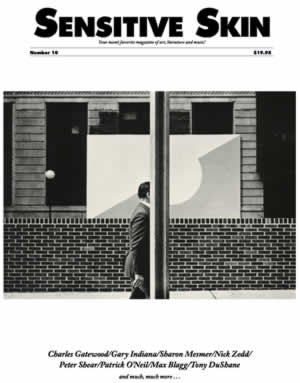 Sensitive Skin 10, published September 2013, an anthology of post-beat, pre-apocalyptic art, writing, music and whatnot, features work by both world-famous and new-and-emerging artists, writers, and musicians from around the globe.
The issue features out-takes from the Wall Street collection by famed photographer Charles Gatewood (Sidetripping, Forbidden Photographs), fiction by downtown legends Gary Indiana (Scar Tissue and Other Stories, White Trash, Horse Crazy, Gone Tomorrow), Max Blagg (Ticket Out) and Drew Hubner (East of Bowery) plus work by Dead Kennedy's roadie and junky bankrobber Patrick O'Neil (The Hold-Up), radio host Tony DuShane (Confessions of a Teenage Jesus Jerk) newcomer E.A. Fow and South American novelist Raul Serrano Sanchez (Catálogo de ilusiones)
We're also proud to present poetry by Flarf pioneer Sharon Mesmer (Annoying Diabetic Bitch, The Virgin Formica), Ron Kolm (Divine Comedy), Pete Simonelli (Night Sees You First, A Lonely War) and Michael Randall, essays by James Reich (Bombshell; I, Judas), Ronald B. Richardson (Narrative Madness), cinema of transgression co-founder Nick Zedd and South African activist Breyten Breytenbach (The True Confessions of an Albino Terrorist).
We also have a portfolio of paintings by rising art star Peter Shear, and music by Steve Adams (ROVA Saxophone Quartet), with additional art, illustrations and photographs by Yves Marchand & Romain Meffre (The Ruins of Detroit), Ruby Ray (From the Edge of the World: California Punk, 1977-1981), Chris Bava, Megan Baker, David West (Music: Drawing Down the Muse), Jeff Spirer, Charlie Homo, Ted Barron, Justine Frischmann, Julie Torres and Tom McGlynn.
Sensitive Skin began as a print venture from New York's Lower East Side in the 1990s, and published such literary luminaries as Richard Hell, Steve Cannon, Jack Micheline, Penny Arcade, John Farris, Eileen Myles, Lynne Tillman, Patrick McGrath, Bob Holman, Maggie Estep, Emily XYZ, Herbert Huncke and Joel Rose, with art by Andres Serrano, Ari Marcopolis, Andrew Castrucci and James Romberger, to name but a few….
Sensitive Skin was reborn in the summer of 2010, and has since presented original work by such esteemed writers, artists and musicians as Samuel R. Delaney, John Lurie, Gary Indiana, Sharon Mesmer, Charles Gatewood, Gretchen Faust, Alex Katz, Peter Blauner, Hal Sirowitz, Arthur Nersesian, Maggie Estep, Fred Frith, Evelyn Bencicova, Thurston Moore, Iggy Pop, Winston Smith, Sue Rynski, Steve Dalachinsky, Marty Thau, Justine Frischmann, Craig Clevenger, Darius James, Stewart Home, Michael A. Gonzales, Drew Hubner, Jonathan Shaw, Melissa Febos, Stephen Lack, Max Blagg, Patricia Eakins, Díre McCain, Rob Roberge, Kurt Wolf, Erika Schickel, John S. Hall, Kevin Rafferty, Elliott Sharp, Mike Hudson, James Greer, Ruby Ray, William S. Burroughs and Allen Ginsberg.