$5.95

Buy the PDF
Buy print edition
Sensitive Skin features art, writing and music, without rules or boundaries, by both famous and emerging artists, writers, and musicians from around the globe.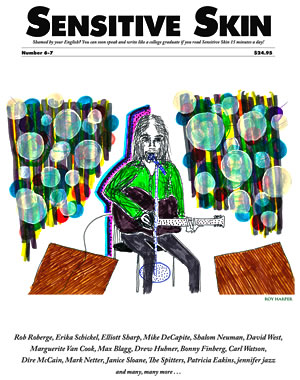 Sensitive Skin 6 and 7, released spring and fall 2011. Two issues combined into one, now available in print!
From Sensitive Skin 6:
Short stories from Max Blagg, Mike DeCapite, jennifer jazz and Bonny Finberg.
Previously unheard music by downtown NYC avant garde legend Elliott Sharp.
Novel excerpts from Carl Watson (Backwards the Drowned Go Dreaming) and Patricia Eakins.
A portfolio of new work from painter David West, with an essay by Marguerite Van Cook.
Paintings from John Griffin, with an essay by Dion Griffin Zizak.
"Ice-T Spat on My Foot" and other poems from Sean Flaherty.
An excerpt from "Blood in the Face," by documentary filmmaker Kevin Rafferty (The Atomic Cafe).
Music from one of NYC's most popular punk-industrial bands from the '90s, The Spitters, with an essay by S.A. Emmons.
Additional artwork by Ted Barron, Cédric Monot, Charlie Homo, Hal Hirshorn, Jeff Spirer and Laura Ann Morrison.
From Sensitive Skin 7:
A short story by Rob Roberge, author of Working Backwards from the Worst Moment of My Life and the neo-noir novels More Than They Could Chew and Drive.
A novel excerpt from Díre McCain, publisher of Paraphilia Magazine.
A short story by Drew Hubner, author of American by Blood, We Pierce and East of Bowery, the first in a new series by SENSITIVE SKIN Books.
A memoir by Erika Schickel, author of You're Not the Boss of Me: Adventures of a Modern Mom.
A filthy and hilarious prose poem from John S. Hall, vocalist and lyricist of King Missile.
Additional writing by blogger City of Strangers, poet Marguerite Van Cook and screenwriter Mark Netter.
Art by Shalom Neuman (who currently has a one-man show at the Naional Gallery in Prague) and downtown NYC sculptor Janice Sloane.
A video by Flame Schon, director of the '60s underground classic documentary, Dope.
Music by contemporary composer Mike Fink (Cal Arts) and Bay Area jazz trio LaMacchia/Myrner/Feiszli.
Additional artwork by Chris Bava, Jim C, Jeff Spirer and Ted Barron.
84 pages, full color, 8.5″ x 11″, PDF format
Sensitive Skin began as a print venture from New York's Lower East Side in the 1990s, and published such literary luminaries as Richard Hell, Steve Cannon, Jack Micheline, Penny Arcade, John Farris, Eileen Myles, Lynne Tillman, Patrick McGrath, Bob Holman, Maggie Estep, Emily XYZ, Herbert Huncke and Joel Rose, with art by Andres Serrano, Ari Marcopolis, Andrew Castrucci and James Romberger, to name but a few….
Sensitive Skin was reborn in the summer of 2010, and has since presented original work by such esteemed writers, artists and musicians as Samuel R. Delaney, John Lurie, Gary Indiana, Sharon Mesmer, Charles Gatewood, Gretchen Faust, Alex Katz, Peter Blauner, Hal Sirowitz, Arthur Nersesian, Maggie Estep, Fred Frith, Evelyn Bencicova, Thurston Moore, Iggy Pop, Winston Smith, Sue Rynski, Steve Dalachinsky, Marty Thau, Justine Frischmann, Craig Clevenger, Darius James, Stewart Home, Michael A. Gonzales, Drew Hubner, Jonathan Shaw, Melissa Febos, Stephen Lack, Max Blagg, Patricia Eakins, Díre McCain, Rob Roberge, Kurt Wolf, Erika Schickel, John S. Hall, Kevin Rafferty, Elliott Sharp, Mike Hudson, James Greer, Ruby Ray, William S. Burroughs and Allen Ginsberg.