$5.95

Buy the PDF
Buy print edition
Sensitive Skin features art, writing and music, without rules or boundaries, by both famous and emerging artists, writers, and musicians from around the globe.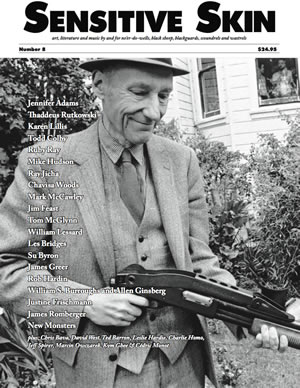 Sensitive Skin 8, published spring 2012, features:
A rare interview with William S. Burroughs, by Allen Ginsberg, from the early 90s, with previously-unpublished photos of Burroughs by Ruby Ray
Speaking of Ruby Ray, she's our featured photographer of this issue. A co-founder of ReSEARCH magazine, we're proud to present Ruby's amazing photos from the original SF punk scene, including shots of Flipper, The Dead Kennedys, Exene Cervenka and Sid Vicious;
Mike Hudson, founder and lead singer of seminal seventies punk rock band The Pagans, has spent the past 35 years working for different magazines and newspapers, writing mostly journalism, criticism and essays but a small stream of fiction as well. He recently published Never Trust the World, his fifth book.
James Greer, author of the novels Artificial Light (LHotB/Akashic 2006) and The Failure (Akashic 2010), and the non-fiction book Guided By Voices: A Brief History, a biography of a band for which he played bass guitar.
Thaddeus Rutkowski, the author of the innovative novels Haywire, Tetched and Roughhouse.
Karen Lillis (aka Karen the Small Press Librarian), author of Watch the Doors as They Close (Spuyten Duyvil, February 2012).
Chavisa Woods, whose debut collection of short stories, Love Does Not Make Me Gentle or Kind (Fly By Night Press, 2009) was a Lambda Literary Award finalist for Debut Fiction. Woods recently completed The Albino Album, a novel, which is set to be released by Seven Stories Press in the Spring of 2013.
Jim Feast, the author (with Ron Kolm) of the novel Neo Phobe, and is a founding member of the Unbearables writers group
Rob Hardin, author of Distorture, winner of the Firecracker Award.
Mark McCawley, editor of the Canadian litzine Urban Graffiti
Todd Colby. Todd has published four books of poetry: Ripsnort, Cush, Riot in the Charm Factory: New and Selected Writings, and Tremble & Shine, all by Soft Skull Press.
contemporary jazz combo The New Monsters, featuring Steve Horowitz, Dan Plonsey, Scott Looney, Steve Adams and Jim Bove.
Tom McGlynn, an artist, writer, and independent curator based in the NYC area. His work is represented in many national and international collections including the permanent collections of the Whitney Museum, The Museum of Modern Art, and The Cooper- Hewitt National Design Museum of the Smithsonian.
A painting by Justine Frischmann, former front woman and guitarist for iconic '90s brit-pop band Elastica
A two-page original comic strip from James Romberger, whose drawings of the ravaged landscape of the Lower East Side are in many public and private collections, including the Metropolitan Museum of Art and Brooklyn Museums. His efforts for commercial comics publishers include work for Marvel Comics's Epic Illustrated, Image Comics' NYC Mech, and the critically acclaimed Seven Miles A Second, Romberger and Marguerite Van Cook's graphic novel done in collaboration with artist, writer, and AIDS activist David Wojnarowicz.
Plus additional work from Ray Jicha, Su Byron, Jen Adams, David West, Les Bridges, Chris Bava, Jeff Spirer, Charlie Homo, Ted Barron and others.
102 pages, full color, 8.5″ x 11″, PDF format.
Sensitive Skin began as a print venture from New York's Lower East Side in the 1990s, and published such literary luminaries as Richard Hell, Steve Cannon, Jack Micheline, Penny Arcade, John Farris, Eileen Myles, Lynne Tillman, Patrick McGrath, Bob Holman, Maggie Estep, Emily XYZ, Herbert Huncke and Joel Rose, with art by Andres Serrano, Ari Marcopolis, Andrew Castrucci and James Romberger, to name but a few….
Sensitive Skin was reborn in the summer of 2010, and has since presented original work by such esteemed writers, artists and musicians as Samuel R. Delaney, John Lurie, Gary Indiana, Sharon Mesmer, Charles Gatewood, Gretchen Faust, Alex Katz, Peter Blauner, Hal Sirowitz, Arthur Nersesian, Maggie Estep, Fred Frith, Evelyn Bencicova, Thurston Moore, Iggy Pop, Winston Smith, Sue Rynski, Steve Dalachinsky, Marty Thau, Justine Frischmann, Craig Clevenger, Darius James, Stewart Home, Michael A. Gonzales, Drew Hubner, Jonathan Shaw, Melissa Febos, Stephen Lack, Max Blagg, Patricia Eakins, Díre McCain, Rob Roberge, Kurt Wolf, Erika Schickel, John S. Hall, Kevin Rafferty, Elliott Sharp, Mike Hudson, James Greer, Ruby Ray, William S. Burroughs and Allen Ginsberg.