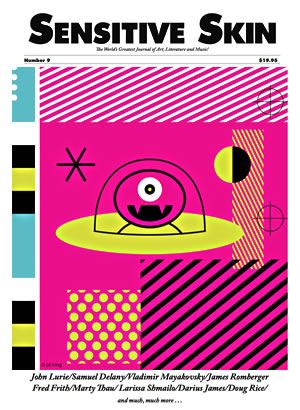 Sensitive Skin 9, published December 2012, featuring:
An exclusive interview with, and music by, seminal guitarist Fred Frith (Henry Cow).
The missing chapter from the latest novel by science fiction legend Samuel R. Delaney.
A portfolio of paintings from actor (Stranger Than Paradise) and musician (Lounge Lizards) John Lurie.
A memoir by Marty Thau, former manager of Suicide and The New York Dolls
A new translation of poetry by Vladimir Mayakovsky from Jenny Wade.
Photographs of the seamy side of Tijuana by Chris Bava.
An interview with Darius James conducted by Ghazi Barakat, about his new documentary, The United States of Hoodoo.
The front cover is by reknowned illustrator J.D. King, and the back cover features a comic written and drawn by James Romberger. There's more writing, by Doug Rice, Susan Scutti, Larissa Shmailo, Bradley Spinelli, Anna Mockler, Jesus Angel Garcia, and Aman Sabet, as well as art by Ha Young Kim, Marcin Owczarek, John Griffin, David West and Justine Frischmann, and photographs by Ted Barron, Ruby Ray, Hal Hirshorn, N.D. Koster and Geoffrey Ithen.
Sensitive Skin, an anthology of post-beat, pre-apocalyptic art, writing, music and whatnot, features work by both world-famous and new-and-emerging artists, writers, and musicians from around the globe.
$5.95

Buy the PDF
Buy print edition
Sensitive Skin features art, writing and music, without rules or boundaries, by both famous and emerging artists, writers, and musicians from around the globe.
Sensitive Skin began as a print venture from New York's Lower East Side in the 1990s, and published such literary luminaries as Richard Hell, Steve Cannon, Jack Micheline, Penny Arcade, John Farris, Eileen Myles, Lynne Tillman, Patrick McGrath, Bob Holman, Maggie Estep, Emily XYZ, Herbert Huncke and Joel Rose, with art by Andres Serrano, Ari Marcopolis, Andrew Castrucci and James Romberger, to name but a few….
Sensitive Skin was reborn in the summer of 2010, and has since presented original work by such esteemed writers, artists and musicians as Samuel R. Delaney, John Lurie, Gary Indiana, Sharon Mesmer, Charles Gatewood, Gretchen Faust, Alex Katz, Peter Blauner, Hal Sirowitz, Arthur Nersesian, Maggie Estep, Fred Frith, Evelyn Bencicova, Thurston Moore, Iggy Pop, Winston Smith, Sue Rynski, Steve Dalachinsky, Marty Thau, Justine Frischmann, Craig Clevenger, Darius James, Stewart Home, Michael A. Gonzales, Drew Hubner, Jonathan Shaw, Melissa Febos, Stephen Lack, Max Blagg, Patricia Eakins, Díre McCain, Rob Roberge, Kurt Wolf, Erika Schickel, John S. Hall, Kevin Rafferty, Elliott Sharp, Mike Hudson, James Greer, Ruby Ray, William S. Burroughs and Allen Ginsberg.