Just dug up this nugget – an entire Spitters show (almost 21 minutes long!) filmed live at The Cooler, a great 1990s downtown NYC rock club. This performance is from 1998 and features the post "boy-band" Spitters; Bill, Tim and Louis have all graduated to other pursuits (including high-school teacher, fatherhood and life imprisonment, roughly in that order). The Spitters were gone in all but name – singer/songwriter Mark Ashwill had teamed up with Liza Price, a computer and synthesizer enthusiast, and was making hardcore digital music. When asked to do "something" at the Cooler by Jedi, the owner and booker, Mark put together a "band" for the evening.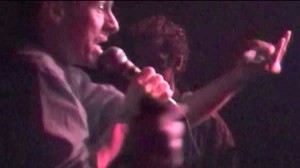 The Cooler was . . . well, a cooler. It was located in a former giant walk-in refrigerator in the heart of the Meat Packing District on 14th Street. Before the area was full of the highfalutin restaurants, shops and boutiques of the Bloomberg era, it was infamous for sex clubs like the Vault, the Mineshaft and the Hellfire Club. Half-naked trans-sexual hookers roamed the streets, subsisting on crack and Izzy's Bagels, terrorizing Johns and innocent passersby alike, as seen in the 1990 documentary Frankenhooker. To enter the "safety" of the literally underground club, you had to carefully climb down a long, steep flight of stairs, as if one was descending to hell, which is more or less what it felt like down there – the ventilation in the former meat locker was terrible, so the Cooler was always hot, stuffy and humid. The sound was lousy too, bouncing off the metal walls of what the NY Press called a "stainless-steel dungeon." But Jedi brought in great acts – everyone from Cecil Taylor and Thurston Moore (on the same bill!) to Atari Teenage Riot to Suicide – so it was worth putting up with the lack of creature comforts.
This night's version of The Spitters included two avante-garde dancers, Brian Moran (who also acted in various Richard Kern films) and DD Dorvillier, who "sang" backup for Mark. Liza and a beautiful blonde fashion model played synthesizers (everybody in the band, as well as me, had a crush on her, but I can't remember her name; as you may notice, I probably spent more time pointing the camera at her than I should have). I'm not sure, but this may very well be the last live Spitters performance. It's not nearly as good musically, IMHO, as their earlier incarnations – is this even music? or just noise? – but as far as punk rock performance art dance goes, it doesn't get much better. Mark was in fine form, taunting the audience, spinning and falling into the crowd, starting fights, punching his fans, poking holes in the ceiling with his mike (a skilled carpenter, he'd pop over the day after shows to fix the damage). Classic Ashwill.
Anyway, if you were at this show, or any Spitters show, this should tickle some dormant neurons. If not, this tape might explain what all the fuss was about. Spitters shows were by turns exhilarating, exciting, terrifying, sensual and sadistic, and always really, really loud – so you'll either want to turn the volume all the way up, or off altogether – the visuals alone are worth the price of admission. Which is free. Enjoy!
UPDATE: For those of you who prefer the OG Spitters, I just found this on youtube – the official videos for Sun to Sun and 20 Minutes Into Cancer, directed by Ivan Lerner for PCP Productions.
– Sir Andre Bemler