(a strange awakening of light that takes the place of dawn)
poems by Jim Feast
Autonomedia
$16.29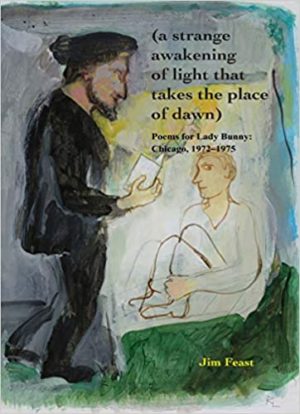 The subtitle for Jim Feast's latest poetry collection, "Poems for Lady Bunny: Chicago, 1972–1975," clues us in to the time and place for these basically metrical, mostly long poems. As Feast explains in his introduction, Lady Bunny was a painter who served as his "muse, mentor and she-devil's advocate." This book, then, works as a tribute to and elegy for this artist, who died in 1977. Many of the poems are dated in the early to mid-1970s, when Feast was a young man. The book has an attractive cover painting by R. Brown Lethem.
In the book's first poem, "For the Painter, Lady Bunny," Feast describes one of Bunny's "compositions" and by doing so sets out his aesthetic purpose:
The room draws near to the red beads
of rain on the window. The sun settles
like a rose covered over in snow. Now
the stars that fascinate the blue petals
cannot see you without blinking, nor you
them, Bunny, nor you them. Eyes taut with dew,
tired with looking. Let's search until it's true.
Like all good poetry, these lines—written in rough iambic pentameter with a few end rhymes—suggest more than they say. On the surface, the image is of a sunset leading to nightfall. Also, winter is suggested by the reference to snow, and with the ending of light comes an inability to see. The artist, Bunny, is weary of looking, is perhaps approaching the end of her life (Feast does not know how Bunny passed; he says she "possibly" overdosed). Her eyes in this passage may be filled with more than dew; they may be filled with tears. Feast concludes by saying he (and she) will seek until what they find is true—I take this as the mission for the rest of the book.
The poet proceeds to focus on people he knew: some as friends and co-workers, others as platonic crushes, still others as physical lovers. His poems, many of which span several pages, are landing spots in the cultural and quotidian milieu that existed in Chicago at the time. Some of the verses resemble poetic diaries, written in the voices of those who might have recorded their experiences. Take "3 Arberdeen," a section of a larger poem called "Approved Home Sonnets." The title tells us where we are: Arberdeen Street. We enter an apartment presumably occupied by "Sharon D," one of the poet's physical partners, to whom the poem is dedicated. We read this account:
. . . My roommate and her guy slinging
pillows when he asked for her hand.
That
time she told him no. I felt so happy
for them, yet off on the edge. Like when
others laugh in the office. My desk swirled
out to sea. I'm afraid. It is no special world.
The key sentence here, I think, is the last one: "It is no special world." Such roommate spats (or was it a love tussle?) could be witnessed by anyone, and many of us have had similar memories of office weirdness (the desk floating to sea). Indeed, this passage is part of a sequence written "at work or returning from work" at a nursing home. (Feast worked full-time at such a facility in Uptown.) Basically, Feast is taking everyday situations and turning them into poetry—dense with imagery and told with precise, evocative language.
Feast is also adept at using dialect. Here is a passage, in "IV. Pastoral Elegy," spoken/sung by a character named Lil Python:
Sometimes I'd like to holler, sometimes I'd like to cry.
Sometimes I'd like to holler, sometimes I'd like to cry.
Baby you won't have me, though there's loving in your eye.
You can't get more (Chicago) bluesy than that. However, I'm not sure who is being mourned in this elegy. Still, I see the poet as a neighborhood resident paying his respects to many other residents (at least some of whom must be departed by now).
One element I appreciate (as a teacher of literature) is the many references to great works by important writers. In a section of "VIII The Lamenting, Discursive Epic," Feast alludes to the legend of the ancient Theban king Oedipus:
An Oedipus, from dust
I have won a kingdom
and my mother for a wife.

From shepherd to the trust
of Thebes I have come
some journey, to end with knives.
Many of us know the story of Oedipus, who was rescued by a shepherd when his parents, aware of a terrible prophesy, left him to die. Later, in an effort to escape the same prophesy, Oedipus unwittingly kills his father and marries his mother, then rules for many years as king of Thebes. When he learns the truth of what he's done, he blinds himself so he won't have to look at the world. Let's not forget that Feast, too, is a seeker of truth, and the truth might exist in observations such as those in these rhyme-linked stanzas.
Feast ends his book with a long poem that shares the book's title, "(a strange awakening of light that takes the place of dawn)." Here, the poet corresponds with Kathy Donovan, who was a brief partner of his and who moved to Canada from Chicago during the Vietnam War. The letters between the two "define the nature of love in different guises," Feast explains. Katie writes to Jim about a house that was torn down:
"God and god mother,
I ask you to make the beautiful things
of this house like the picture of a fish
on that wall with two eyes (on each side
better than mine) to remain somewhere
in this world, to be something like them
in their place, as if the sun did not rise
but a strange blue light woke up instead."
Here, we learn the nature of the light that "takes the place of dawn." It is a light of "this world," which is perhaps different from light of the realm of the sun. This blue light is also the product of creation, or re-creation, which is the task of a higher power (the god mother) as well as of the poet.
–review by Thaddeus Rutkowski
Poetry
Reviews