It was the fall of 1972 when I transferred to St. Catherine of Genoa in Washington Heights. On the first day of class a bugged wild boy named Tom Lowe, a short cat skin the color of a Hershey bar and a perfect Afro, served as my one-man welcoming committee.
During lunch, somehow luring me into the doorway of the rectory, Tom proceeded to jump me. Throwing punches with the fierceness of Ali, he laughed as he kicked my ass. Confused by this sudden senseless violence, I weakly tried fighting back, but it was futile.
At nine years old, he already embodied the swagger of a young hustler. Years before Tupac or 50 Cent, he was the first dude I'd ever met who personified being ghetto.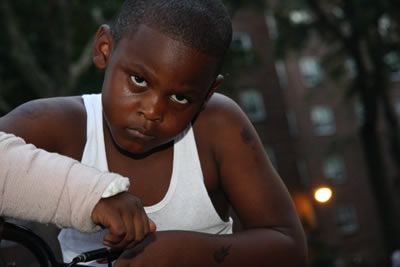 Although that was the first and last time Tom beat me up, for the next four years I watched as he derived much pleasure from terrorizing both students and teachers. Whether it was stealing change from a classmate's desk, passing a folded note full of snot or attacking someone without reason, Tom never tired of devising new ways of being devilish.
Ironically, like myself Tom was also an alter boy, helping Father Bob on Sunday mornings, various funerals or midnight mass. Not surprisingly, Tom was one of those kids who stole sips of communion wine and tried to intimidate other boys into doing the same.
Besides being a bully and a thief, a liar and a cheat, Tom's only redeeming quality was a fierce passion for music. With taste that leaned towards songs about drinking, drugging and fighting.
One favorite was Jim Croce's rowdy "Bad Bad Leroy Brown," and the other was the funky wah-wah of Curtis Mayfield brilliant "Pusherman," a song featured in the film Super Fly.
Although Curtis penned the words to serve as anti-drug anthem to balance the "cocaine commercial" of the film, it was obvious Tom thought the lyrics, "I'm your doctor when in need, have some coke, have some weed," was supposed to be celebratory.
Banging out a beat on the desk or a parked car, he'd sing the song loud and proud as though he knew first hand of vices none of the other kids had ever been close to.
Not being a shrink, I had no idea why Tom behaved the way he did: maybe he had a big brother who worked for Harlem hood Guy Fisher, maybe he had a father who was doing time in Rikers. I do remember his mother, a soft-spoken frail woman who seemed as scared of her son as the rest us.
Years later, at a cocktail party inside an exquisite Striver's Row brownstone, where Miles Davis' beautiful Sketches of Spain played in the background and most of the chatter was cultural, I ran into a back in day female classmate from those long gone grammar school years.
"Do you remember Tom Lowe?" I asked her. "I sometimes wonder what happened to him?" Nodding her head, she replied simply, "Last I heard, he was sent to jail for a long time."
Without missing a beat, I laughed so loud and for so long, folks thought I was choking. Composing myself after fifteen minutes, I finally said, "Why am I not surprised."
–Michael A. Gonzales