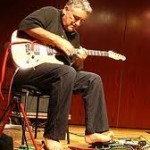 I am not joking when I say that in my mind, Mr. Frith is one of the most important guitar players in the history of the instrument. For me, it goes like this, Jimi Hendrix then Fred Frith in terms of people who have expanded the sound, scope and vision of the instrument. It is not just the way Fred approaches the guitar, nor the amazing variety of recordings he has released over the years, or the deeply profound influence he has had on so many players,  It is all of that, combined with a marvelous musicality and workman like dedication to the craft of music that sets his stuff apart.
This Saturday night at 8pm, in downtown Berkeley as part of the Berkeley Arts Festival, you have a chance to see him live & in the flesh playing in duo with Cellist Theresa Wong at 8pm. If you have not had the privilege yet, you really should consider it.  As an inducement, I have included some interesting links below that might just peek your musical curiosity. See you there-Fluffy
Band: Massacre
Album: Killing Time
Song Title: Legs
Released in 1981 this album defined a new language of improvisational song structure for rock & roll.
http://www.youtube.com/watch?v=7L8AzfVubNk&feature=related
SOLO-Recorded at "Mózg" in Bydgoszcz (Poland) on 24.06.2006.
The first time I saw Fred solo I was completely blown away. Transfixed by one human, a guitar and unlimited musical imagination.
[youtube]http://www.youtube.com/watch?v=M2WSeZZV6iQ[/youtube]
Fred Frith – A Career In Real Estate (1980),
Here is a cut from his breakout disk Gravity
[youtube]http://www.youtube.com/watch?v=XOpnjn-2DDM[/youtube]
Henry Cow – Living in the heart of the beast.
Very rare footage of this English avant-rock group in action….
[youtube]http://www.youtube.com/watch?v=zdCAz7sQo3g[/youtube]
Music