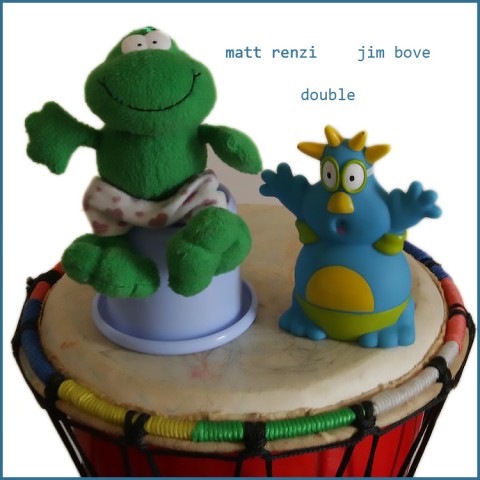 What happens when two friends, Jim Bove and Matt Renzi, who have played together for years walk into the studio with no charts, no plans, no ideas? When "Just GO" is the inspiration?
Drummer Jim Bove and sax/oboe player Matt Renzi did exactly that and this new release from Sensitive Skin Music – Double – is the result. At times eerie, at times melodic, at times meditative, this masterpiece of free-form playing takes the listener on a musical joy ride. Everything you hear on this recording just happened, even the amusing titles that came after the pieces were played.
The choice of oboe is unusual in jazz, particularly in improvised jazz. Renzi speaks of a tradition of percussion and double/quadruple reed instruments in other cultures, heard in music from both north and south India and in Thailand at muay Thai matches. His travels brought this into the studio with him as a subconscious influence that flavors some of the pieces here, blending with his jazz and classical background.
Bove brings a mix of additional influences, from the jazz of the '60s and '70s to alternative rock to classical music. Like Renzi, his extensive history with a range of music allows him to compose during the process of improvisation. The result heard here is music that may sound a bit like jazz but constantly pushes into other genres, including ones that may just start with this recording. A landmark in jazz improv, Double is an exciting new release from Sensitive Skin Music.
–Jeff Spirer
Listen here for free, but if you like it, you really ought to buy it from iTunes and Amazon. All purchasers are guaranteed entry to the afterlife, or double your money back!