Elliott Sharp, a composer and multi-instrumentalist, playing mainly guitar, saxophone and bass clarinet, is one of the major figures in the New York downtown and experimental music scene. Sharp has led many ensembles over the years, including Orchestra Carbon and more recently the blues-oriented Terraplane. Since the 1970s, he's released over 85 recordings, ranging from contemporary classical to free jazz, no-wave, ambient and sophisticated rock. He has collaborated with John Zorn, Butch Morris, Zeena Parkins, Vernon Reid, Nusrat Fateh Ali Khan, Hubert Sumlin, Jack DeJohnette, Sonny Sharrock, and the Master Musicians of Jajouka.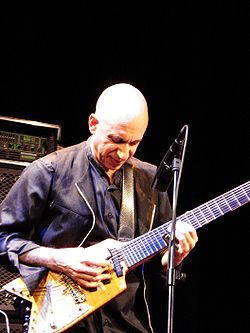 Sharp describes himself as a lifelong "science geek" having modified and created musical instruments since his teen years, and frequently borrows terms from science and technology for his compositions. He took college courses with Robert Moog, pioneered the use of a lap top computer in live performance with his Virtual Stance project of the 1980s, and has used algorithms and fibonacci numbers in experimental composition. Sensitive Skin Magazine is proud to present this collection of sublime music (All music composed by Elliott Sharp except where noted and published by zOaR Music – BMI). In his own words:
Included here are some rare tracks from my archives. These are pieces that are either unreleased, from records now out-of-print, or created for limited-edition compilations.
– Elliott Sharp
E# website: http://www.elliottsharp.com
Tour diaries and other writings: http://www.repple.se/datacide/writings.html
OneBigOne
performed by Carbon:
E# – doubleneck guitarbass, sampler, electronics
Bobby Previte – drums.
Recorded 1985 at B.C. Studios, Brooklyn, NY – Martin Bisi – engineer
From the Elliott Sharp LP VIRTUAL STANCE, released by Dossier – Berlin 1986 (out-of-print)
In New York (Sharp/Attar)
performed by Carbon with Bachir Attar at Festival Rive-de-Gier, France, January 1990.
Bachir Attar – rhaita
E# – doubleneck guitarbass, sampler, electronics
David Weinstein – sampler
Marc Sloan – electric bass
Ted Epstein – drums
Unreleased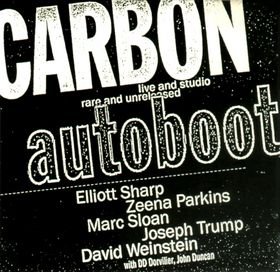 Pnambient 1
performed by Carbon:
E# – doubleneck guitarbass, sampler, electronics
Zeena Parkins – electric harp
David Weinstein – sampler
Marc Sloan – electric bass
Joseph Trump – drums
From the Carbon CD "Autoboot"- 1994 (out-of-print)
Tonkin
E# – solo Godin electro-acoustic guitar
Recorded at Studio zOaR, NYC October 2005
Previously released in 2006 on a very limited-edition compilation by Mike Cooper for Hipshot, Rome
Desert Drive
Composed for the Mike Benson film MORE PLACES FOREVER
E#: electric guitars, analog synthesizer, drum programming
Recorded and mixed at Studio zOaR, NYC December 2006
Unreleased
Notes 3
Composed Feb. 2007 for video installation by Jaye Rhee
E#: piano, computer processing
Unreleased
On Corlear's Hook Excerpt
Commissioned for the 2007 Frankfurt Radio Klangbiennale
Performed by the Radiosinfonie Frankfurt conducted by Sian Edwards May 2007
Unreleased
Manaus – Live in London
Performed by Elliott Sharp:Tectonics and recorded live by Shane Brown at The Baltic, May 25, 2008
E#: soprano sax, electronics, computer
A studio version of "Manaus" appears on the Tectonics CD "Abstraction Distraction" released by Autres Chordes in France, 2010.
Unreleased
Gathering Together
From the opera "About Us" composed/written/directed by E# for a cast of all-teenage performers commissioned by the Bayerische Staatsoper in Munich and premiered in July 2010.
This is a segment of interstitial music performed by the Orchestra of the Bayerische Staatsoper and conducted by Christopher Ward.
Unreleased.
Music