I had a tradition of celebrating the Independence Day with a twist. It'd start as the typical celebration – hot dogs, BBQ meat skewers and corn with cheap lager and wine at a friend's backyard or rooftop, discussing how many Netflix shows I'd watched, reflecting on how Americanized I was becoming. Then it'd be impromptu – a call from a stranger, a knock on the door, a surprising invite to the unknown. July 2015 was no exception. After a friend's chill BBQ party in Crown Heights, I was on a mission to find a club to work at for the night. A pile up of outstanding rent, credit cards and bills was biting me like a bayou mosquito. I owed money to banks, friends, strip clubs, DJs, ex-boyfriends and the landlord.
Penthouse was closed so I had to find an alternative club for the night. Private Eyes was a dark seedy sad club, known for exploiting Eastern European girls, mostly Russians and Central Asians, obedient, underprivileged, who had recently touched the US soil and could barely speak English. Except for a few Latina women, you couldn't find any American girls working there because nobody in their right mind would tolerate the humiliation, the abuse, the extortion, the penalties for coming to work late, the penalties for taking a sick day. Where was the Department of Labor I wondered? A stark contrast with Penthouse, where girls were called ladies and given a free ticket for a glass of fine red or sparkling wine. I had to be stoic. My rent was overdue. I came in to audition, lying to the club manager, who looked like the villain Penguin on Gotham about wanting to work in the club. He was short, dark, combing the remains of his receding hairline to the one side in an attempt to conceal his barren pate. Everything about his demeanor was unpleasant. The successful audition was taken for granted.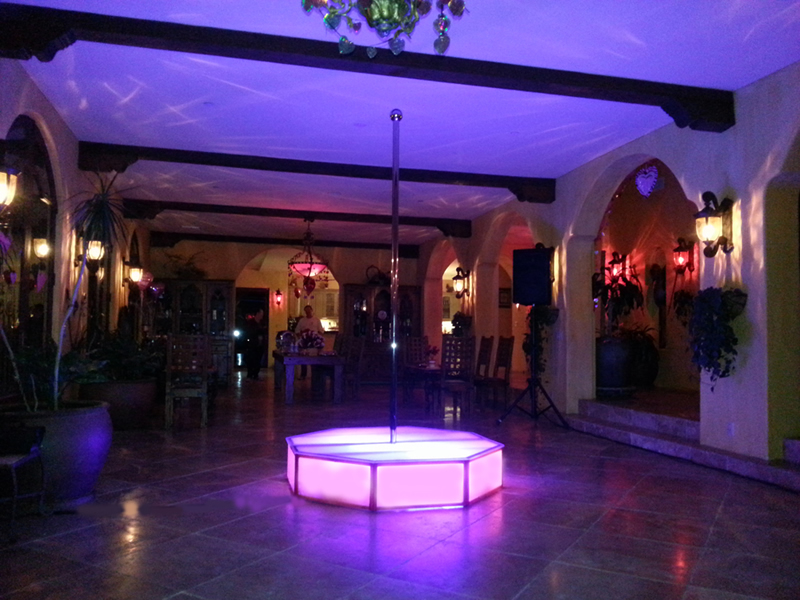 "The rules, Alex," he said. "You must work four times a week. No less. You must have a schedule. Or you pay a fine. The house fee is $120 plus $20 to the DJ, ten to a house mom. Your shift starts at 8pm, ends at 4am. You're not allowed to leave earlier. If you miss a day, you must pay a fee. If you're sick, you must bring proof. If you're late, you must pay a fine. Enjoy your free house fee today! Happy Fourth of July."
By 2:30am I had made only two hundred. Girls were scattered around the club, tired from dancing and walking in high stilettos. My head was bumping into a ceiling as I was dancing to Steely Dan, on a stage designed for midgets. The DJ felt nostalgic for the '70s. It was the only good thing about the club – the '70s music. After three songs, I got off the stage and gave the DJ his tip. In the locker room I saw a familiar face sitting on a couch in a long white shiny gown. She was a gorgeous Puerto-Rican or something else and – Rican or Cuban, talking with a distinct Bronx accent, sounding like an SNL comedy sketch, Bronx Beat. Blue eyes, sandy blonde hair – she looked like a Viking princess, a younger version of Cameron Diaz. She was Elsa.
"Hiya, I remember you," Elsa said smiling.
"Hey!" I said. "I can't believe you work in this shit hole."
"I know. I've been here for a month. Nothing here compares to Vegas. I moved my whole family out there for a few months, kids and husband. He thought I was working as a waitress. I was making so much money, I had to open another account. I am the breadwinner in the family. He has no idea how much money I am making."
The Penguin popped up in the dressing room, yelling at Elsa for no reason. "Hey, you better move your ass and work."
"I don't feel well today. Can I just go home please? I got kids at home with a babysitter. It's a slow night, anyway."
"You owe the club two house fees. If you leave, you're FIRED," the Penguin said, closing the door.
I was boiling. The shit was getting on my nerves. That was the price of not working nine to five, the price for playing this game.
"Hey Alex, you're a new girl, go and talk to that customer over there. He is a regular. He tips girls well and you speak English. Go, go!" the Penguin commanded.
He was a young black stud with silky smooth skin and long braids. He was wearing white jeans, a black shirt, and plenty of wrist bracelets and neck chains. He smelled good, a weird combination of vanilla and spice. He introduced himself as Malibu. Chill as Malibu. The conversation flowed naturally. I turned on my mediocre acting skills.
"Can I get you a drink? What are you having?" Malibu asked.
"A shot of whiskey, please. Black label," I said.
"ALEX! You're on stage now!" the DJ said thru the mic.
"Hey Malibu, will you be my cheerleader, while I am dancing on that tiny clumsy stage?"
"I'll see what I can do." He smiled.
First song, dress on. Random stuff comes to mind while I dance. Geometry, chemistry, math – all the classes I resented in school. A strict and uptight school principal in her tight awkward skirt covering her knees. A small stiff office cubicle, stale air on John Street. A compliance manual of written nonsense, polygraph testing. Crazy eyeballs of my vicious boss, popping out, while he is talking about Ayn Rand. Second song. My dress comes off – an act of liberation. A strange electric sensation runs thru me. I don't rent my head and my soul to the Corporate Machine any more. I am free, free falling, thriving on chaos, and my own adventures. Malibu appeared in front of the stage in the middle of the song, a remix of Steely Dan's "Black Cow." I started undulating and twerking harder and better.
Down to Green street, there ya go
Lookin' so outrageous, and they tell you so
you should know how all the pros change the name
you change your name, like a gangster, on the run
Malibu came closer to the stage, holding a stack of bills and made it rain on me. He made it rain like a pro, like Biggie Smalls, the Notorious B.I.G. Fresh, brand new, virgin crispy singles fell on me like snowflakes. He came closer and made it rain on me again. Suspended action. The singles, like origami cranes, danced and twirled and flirted with me before slowly landing all over me. This is it! I thought, this is my Woody Allen moment – both ironic and dumb. Malibu repeated the trick and the money rained on me again and again. The act stirred up a small commotion – heads were turning, the customers, the dancers, the tourists, the managers scrutinized me from head to toe. The barback showed up with a broom and empty stainless steel champagne bucket and started sweeping the singles from the floor into the bucket. It took some time to put all the singles into the bucket. I returned to the table, holding the bucket full of singles as if it was a treasure box.
"Well, well," I said, "you made my night! Thank you Malibu!"
"Come sit with me, your drink is waiting for you. Tell me about yourself girl."
Malibu hated lap dances so we kept talking to whiskey on the rocks and leftovers of the night. His voice was soothing, penetrating, articulate. Malibu told me he went to UCLA, majoring in production and music management. His present crib was a spacious house somewhere in Long Island, steps away from the ocean. He lived alone with his seven pit bulls. He avoided going to the beach because water and sun caused too much trouble for his perfectly groomed braided hair. It was half past 3am, the night was coming to an end. The DJ made a final call for alcohol.
"Hey, are you hungry?" Malibu asked
"I am starving."
"Good, I know a nice diner. And I can drive you home after that. I'll be waiting outside in my car. Don't make me wait too long."
I rushed into the locker room, changed quickly, never leaving sight of my trophy. I asked the Penguin to change the singles. He rolled and squinted his tiny eyes at me. "What? We're not a bank here. It's your business." I took the bucket and went outside. It was the only time of the night when the busy Midtown West Theatre District was asleep. I walked down the street with my bucket, like a farmer with live poultry. On the side of the street, I spotted a brand new shiny Mustang, black with yellow stripes. Malibu nodded at me and I got in.
"Are you nuts, Jesus? Carrying a bucket full of money in the middle of the night? What's wrong with you?"
The car speeded like a torpedo down the empty streets of Midtown West, crossing the Queensboro Bridge and into Long Island City. He pulled over near the Court Street Diner. The subtle arrival of the sunrise was staining the dark sky. At the diner everyone greeted us warmly. The waiter, the waitress, the chef himself came out to shake hands with Malibu. Everyone knew him and treated him with reverence as if he were a celebrity. He picked a table in the far corner of the diner and pulled down the window shades like a CIA agent. I exploded into loud laughter.
"Cut it out," he said, casting a cautious glance at me.
"Alright," I said. "I am sorry. Are you a celebrity or something?"
"Something." He ordered French toast with bacon and grits. Me, a mushroom feta broccoli omelette.
"Do you know who I am? Can you guess?"
"I don't know what you are. I am dying to know. C'mon!"
"I am a BMF, darlin'!"
"I don't know what it is. Should I Google it?"
"I'll do it for you, here ya go: BMF – Black Mafia Family," he said.
I took a long pause and tried to think of something to say. At 5:30am thoughts and words were escaping me. The persistent sunlight was breaking into the dimly lit room like a restless detective.
I shrugged. "I'm not judging you. I don't judge anyone except…"
"I really don't care. Okay, it's getting late, early, the sun is up, let's roll."
He left a generous tip. We got up. The waitress came running after us and blocked the door to hug him. We got in his car and drove off.
His pleasant voice jolted me gently. "Alex, wake up, we're in Brooklyn, do you know how to get to your place?"
"I think we are close, but can you please turn on the GPS? 224 Stuyvesant. I'm new to Bed-Stuy," I said.
"Shit, you can't rely on technology. What if turns off, breaks down. Google maps can kill you. You need to rely on yourself. Nothing else. Nobody else. It's the golden rule."
I opened my eyes wide and stared at him. The daylight exposed the details of his handsome face. There was something ambiguous and mysterious about him.
"I am so tired. When I don't sleep I lose my ability to think straight. Please! How can you stay so fresh and focused and good looking?" I said.
He finally pulled over by my brownstone on Stuyvesant street. "Take my number and save it as MalibuSoSexy," he said.
I saved his number on my phone, kissed him on the cheek and got out, like a hip-hop royalty with the champagne bucket full of money. I cast a final glance at him before closing the door. I imagined what our date would be like as I walked up the stairs to the top floor. I was imagining his bullet-proof house, his seven pitbulls wiggling their sharp tails, running up to greet me. Tinted windows overlooking the ocean. His body. A few scars and strong abs. His tongue, lips and fingers playing me so skillfully, like a jazz musician improvising on the sax. He would keep improvising with all his instruments until I found myself detached from reality, full of love fluids, filling my body and pouring out of me, making me scream…
I turned the key, opened the door and went int, leaving the nigh behind me. I knew I wouldn't call him.
–Maria Koby
Stories