Gladyss of the Hunt by Arthur Nersesian (Verse Chorus Press, 2014)
The title of Arthur Nersesian's new book, Gladyss of the Hunt, might seem a peculiar one for a detective novel. However, the author, like the book's protagonist, is after bigger game than simply bringing down a serial killer or describing how that is accomplished.
"Of the Hunt" refers the reader to the classical goddess Diana (the huntress), but not so much to the one in Greek legend as to a statue of her that used to stand atop a New York landmark building, and so has become part of the city's mythology. In the book, this statue is found on a postcard and is described by a history buff as modeled on Evelyn Nesbit. "She was the It girl about a hundred years ago, and a lot of people think she posed for that statue, because of the way the story's told in that novel Ragtime. The statue used to be on top of the old Madison Square Garden."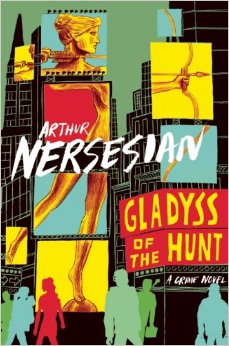 In the book, the statue of Diana has a double significance. For one, the narrator, rookie cop Gladyss, who has been temporarily assigned to a homicide team that is searching for a murderer who offs prostitutes in Times Square fleabags, identifies with, no, communes with the goddess, hoping for intuitive flashes that will help solve the case. (In a bit of oddball syncretism, Gladyss attunes herself to the Greek pantheon via the techniques of Kundalini yoga!)
However, secondly, the fact that the statue was on the roof of a historically important, now-demolished building points to the book's underlying theme, a lament. New York City in 2003 and Times Square in particular are places that have become part of a real estate demolition derby, which is hell bent on replacing intricately designed, complexly ornamented high-rise buildings with anonymous skyscrapers, immense sheaths of glass, which resemble nothing so much as in-place condoms. In fact, these new constructions are not only "faceless" but downright menacing. As the author vigorously describes, "The awning in front of the Condé Nast building looked like the shiny scoop from a monster garbage truck, ready to claw unsuspecting tourists into its lobby, which was funnel-shaped like a giant meat grinder." The hero's partner, veteran cop Bernie Farrell, tells her he sees such monstrosities of new architecture as if the buildings were "giant Cusinarts just waiting to slice and dice us."
The destruction of older New York buildings, which goes hand and hand with the displacement of its ethnic, quirky masses by homogenous yuppies, is not a vague background to the mystery tale but front and center. It turns out the killer, a nostalgia buff himself, is trying to recreate "genuine New York murders, your usual streetwalker whores [murdered] in the last of the bona fida New York dives." So, to catch this guy, the cops will have to appreciate vintage New York, which leads them to grasp how much is lost as the metropolis is being steered by the elite into becoming just another lifeless global brand.
But there is more to this. All of Nersesian's books, from The Fuck Up on, are partially coming of age stories. This one is slightly different in that the narrator not only grows up to become a good cop (as well as gets deflowered), but, and this is the hardest thing of all for young people maturing today, she gains a sense of history.
As one character explains, it's only by looking backward that we can measure what is missing and what we need to reclaim. He says, in a passage that deserves to be quoted at length.
There was a time when, if you went someplace, you saw distinctive things just there. People dressed in a certain way, each place had different music, different food, people spoke a different language. People even behaved a certain way that was their way. I mean, once you homogenize the world until every place is just like every other place, you destroy those distinctions; you destroy the beauty of the place. Yeah, New York was dirty and dangerous back then, but that kept the rich assholes away. And it allowed for a very unique style and character all its own. Times Square was the epicenter of that, at least for me.
I should emphasize — and this is another key Neresesian trait — all these themes are worn lightly, carried along in a high-velocity, engaging, intense story in which Gladyss not only has to adjust to her irritable and irritating partner and catch a killer, but, meeting him in the course of the case, gets wined, dined and romance by a matinee idol.
As is typical for Nersesian texts, there is no let up. Indeed, in this book the intense pacing is less of a surprise than in his other novels. After all, this is an action-packed murder mystery. The rapid pace is actually more astounding in other Nersesian books for he is able to achieve a high velocity in stories about, for instance, the everyday life of a street book seller or a porn theater projectionist. But let me clarify that word "velocity." I don't mean the writer sacrifices everything for cheap thrills. Rather he manufactures a story in which all that happens to the main character is, while still plausible, somehow unexpected. Each curve of the plot brings a pleasurable shock.
On these counts, the novel combines a riveting story in the hunt for a demented serial killer, a psychologically acute tale of a woman's gradual maturation, and a thoughtful meditation on New York City's sad decline into a tourist-friendly, Disneyfied version of a Gotham that has become a stranger to itself.
–Jim Feast
Reviews