The brilliantly eclectic (eclectically brilliant?) composer/musician Steve Horowitz spoke with KPFA (94.1 FM Berkeley) host Derk Richardson on September 9, 2010 and shared examples of the "odd but highly accessible sounds" he has created over the past 15 years for experimental jazz ensembles, chamber groups, film, video games, and more. He also previewed the John Coltrane Birthday Celebration Show taking place on September 23 at the Luggage Store Gallery.

LISTEN: Steve Horowitz discusses his career with Derk Richardson on KFPA
Steve's 30-year career integrates his experiences as a band leader with his explorations as a multi-faceted composer. Horowitz has a large catalog of music for traditional and unusual ensembles such as: string quartet, woodwind quartet, orchestra, Disklavier, solo contrabass flute, large electro-acoustic chamber ensemble and his band The Code International.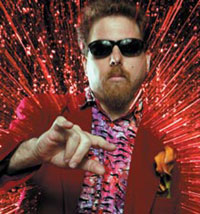 Horowitz studied at the California Institute of the Arts with Mel Powell, Morton Subotnick , Micheal Jon Fink and Stephen "Lucky" Mosko. He lectures at various schools including New York University, California Institute of the Arts, and Berklee College of Music in Boston. Touring projects in the US and the Netherlands have helped to form Horowitz's unique perspective and voice. Horowitz and his music have appeared at the Great American Music Hall in San Francisco, The Bimhuis in Amsterdam, and The Miller Theater and The Kitchen in NYC. He frequently collaborates with other artists – joining forces with an eclectic variety of musicians such as electric guitar wizards Elliott Sharp and Henry Kaiser, saxophone greats Lenny Pickett and Ralph Carney, The Clubfoot Orchestra, Glen Spearman, acoustic bassist Tatsu Aoki, and the Balkan music ensemble Zhaba.
A culmination of years of investigation, The Code Ensemble explores Horowitz's persistent musical themes: the intertwining of electric and acoustic instruments, new forms, extended techniques, interactivity, music for picture, theater and live performance. Drawing on a finely honed sense of humor, Horowitz looks deeply into the sociological filter and re-examines pop culture's presentation of "truth" as entertainment. Founded in 1992, The Code has developed a cutting-edge repertory with instrumentation that combines traditional acoustic and contemporary electronic instruments.
In addition to his work in chamber and concert music, Horowitz writes music for dance, film, television, cartoons, and interactive media (video games). Steve wrote the score to the award winning film Super Size Me and served as music supervisor and lead composer for the television show I Bet You Will (MTV). Horowitz's audio expertise was honored in 1996 with a Grammy award for his engineering work on the compact disc "True Life Blues, the Songs of Bill Monroe", winner of the best Bluegrass album 1996, and in 2003 with a Webby for his work with Nickelodeon Digital. Horowitz has been featured in Bass Player magazine (May, 2007) and books The Art of Digital Music and The Guerilla Guide to the Music Business. Steve can be found working and touring with his various projects, and has released 15 compact discs to date. His latest album "stations of the Breath" for solo piano, was released this month. For more info and music clips please see The Code International.
Steve is also the music editor for Sensitive Skin Magazine.
Interviews
Music