These are a few of the final poems by poet, novelist, playwright, raconteur, artist and original Sensitive Skin editor John Farris. Andrew Castrucci knew him for over thirty years on the downtown arts scene, Chris Molnar and Nicodemus Nicoludis only towards the end of his life when he was living at Bullet Space, going for long, slow walks along 3rd St., dispensing wisdom on the stairwell, showing his art in the gallery downstairs, an éminence grise still talking shit at Gathering of the Tribes, at Bowery Poetry Club, a living link to an ageless bohemian East Village. After he died Andrew, the visual artist and co-founder of Bullet, was tasked with keeping and organizing the pages and pages of poems, stories, drawings and correspondence that decorated Farris' spartan apartment, eventually coming up with the idea for a book of last poems.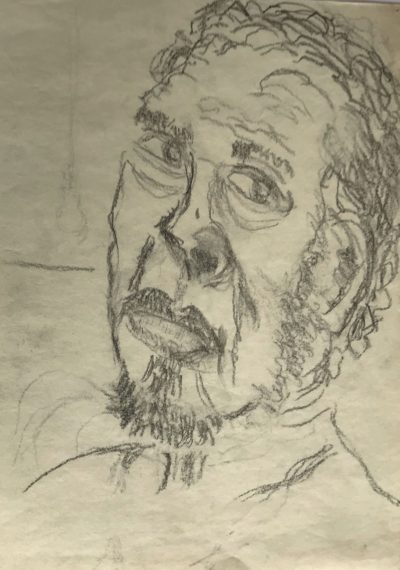 Chris (who also lived in Bullet Space for some years) and Nick spent years going through the
texts, whenever time allowed, combing through them, transcribing Farris' hard-to-read scribble, using his old typescripts as Rosetta Stones, projecting scans on the wall and going letter by letter, separating his drawings from those drawn of him, for him. Slowly, a book took shape; many books. These are from Last Poems, a collection of the drawings and writings we discovered from his last decade or so, all hand-scrawled on computer paper, on the back of envelopes, of bills, with lists and phone numbers alongside, drafts and drafts, an outpouring as he focused more than ever on his work, filling the top floors of Bullet Space with the smell of good weed and finding inspiration in a lifetime lived as a true poet, in the masking tape heads he was making at the same time, a typical stroke of thrifty genius inspired by his great friend David Hammons.
They are some of his best work, short and elegiac but with the unexpected wit and sharpness and kaleidoscopic frame of reference typical of Farris. We aim to publish the book in the next year or so, the first of many that doubtless will appear from his unpublished, uncollected work, a lifetime's worth written in defiance of the bullshit, searching for the real unwritten truth – as one poem goes, in its entirety:
some-
thing's out
there- aft (her
the uni-
verse). The verse
is yet.
—Andrew Castrucci, Chris Molnar & Nicodemus Nicoludis
Angle
Angle. You are
always after
some angle. Same ol'
angle: talk about a blast-
you can't even have
it straight
One Night
One night
I dropped my
eraser down
the toilet.
Shit I said,
shit. A
friend said
that's what I produce
anyway. All
my friends, all my relatives
are so doggone
predictable no
matter who
or what I have here (talk
about your pipes, your misfits), everything I own
out of sight even
with my
constitution
Talk about in-
spiring! Talk about
your culture,
(your caste).
My Word
I give my word
freely: it doesn't cost much
for me to keep plus
its no fun. Imagine
a word kept quiet.
If I had one it would mean plenty
less than George, by George George-
George, did you get that?
How is that for inspiration,
a fine lyric, a hymn
What does it mean translated
if not the same thing?
Shoes are shoes. Hank's neck
turning, otherwise
what's the point. I'm afraid
there is. It's like
new music. It's like
when your lover has
not gone. It's like not entertaining
the basics. It's like me
inventing blue
and swinging it.
Critique
I draw badly
well; neighbors
noses, frowns lips,
eyes, shoulders
much too
narrow for
the chest on
Breasts & bellies, hands
are what
drew me
into this. Knuckles
& joints of
all kinds. I get a blade
Here- a bone
There. A flight
Of birds headed south
To somewhere
Take a leg,
A head, a
Bike leaned
Against a magnolia.
Garbage. If
grunts were given out
for that I'd be as rich as
David Hammons,
Maybe. I'd get a car, paper, chow.
Lore
Kenkeleba House abuts El Reverendo
Pedro Pietri Way: the bard of Kenkeleba House
sits high in a turret in his castle
mixing excrement for what: "a
little piss makes green," he says, "I only like
the good shit, for the blues
I listen to Miles Davis, Shirley Scott, Gilly Coggins,
and Frank.
Looking out that window.
He says pointing to where the
El Reverendo Pedro Pietri Way is changing me
makes me see red, and more red, it's too much. I'd
put that song
behind the eight ball if I could, but he's dead.
"My hair is white. Around here," he says. /the purple
plainly apoplectic
"I'm the institution. Get me?" When it comes to
whirling squares
and Fibonacci, I'm Monet,- I'm Monet!"
–John Farris
Poetry