Mark Howell in conversation with Bernard Meisler.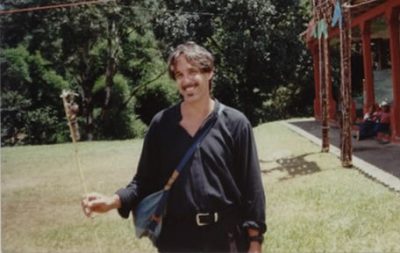 Musical archaeologist (and great guitar player) Mark Howell has played with everybody in the – what would you call it? – avant-progressive-jazz-rock scene – Bill Laswell, George Cartwright, Tom Cora, Anton Fier, John Zorn and Elliott Sharp, to name but a few. He was an original member of Fred Frith's Guitar Quartet, Curlew and Timber, along with Rick Brown (75 Dollar Bill) and Jenny Wade (Swans, Mayakovsky Maximum Access). These days, Mark works as a musical archaeologist, and is creating electronic loops with Camila Montoya. We spoke about all of that, and Mark also related his classic meeting with Jerry Garcia story.
Towards the end of the show, we'll hear some musical clips, including "Anti-Mother-In-Law Car," by Timber, which is also the theme music for this podcast. Now you get to hear the whole thing!
The Sensitive Skin magazine podcast is now available on iTunes, Stitcher, Spotify and the other usual places, or listen to it here. New episodes every Monday!
Podcast: Play in new window | Download
Subscribe: Google Podcasts | RSS
Music
Podcasts