Precision is no longer necessary – nor aspired to – in the works of Matthew Wong. In his first museum retrospective in the U.S., fabrications of a parallel universe mirror our reality but offer an alternative representation. The artist doesn't back away from effort, constructing glimpses of the ineffable assembled from disparate parts pieced together in contrasting patterns, expressive markmaking and serene color fields. He is intensely focused on presenting what he imagines a scene can be in the ultimate grace of gift giving.
The images are trajectories into new dimensions, pathways to forged variables, not merely seen but rendered. Sometimes the apparition is preferable to our corporeality, other times it's perilous, bleak, certainly mysterious. But most often these oil-on-canvas and ink-on-paper inventions are fantastic in every sense. While eluding expectations these unique visual accounts extend our abilities to perceive while offering previously unimagined delight.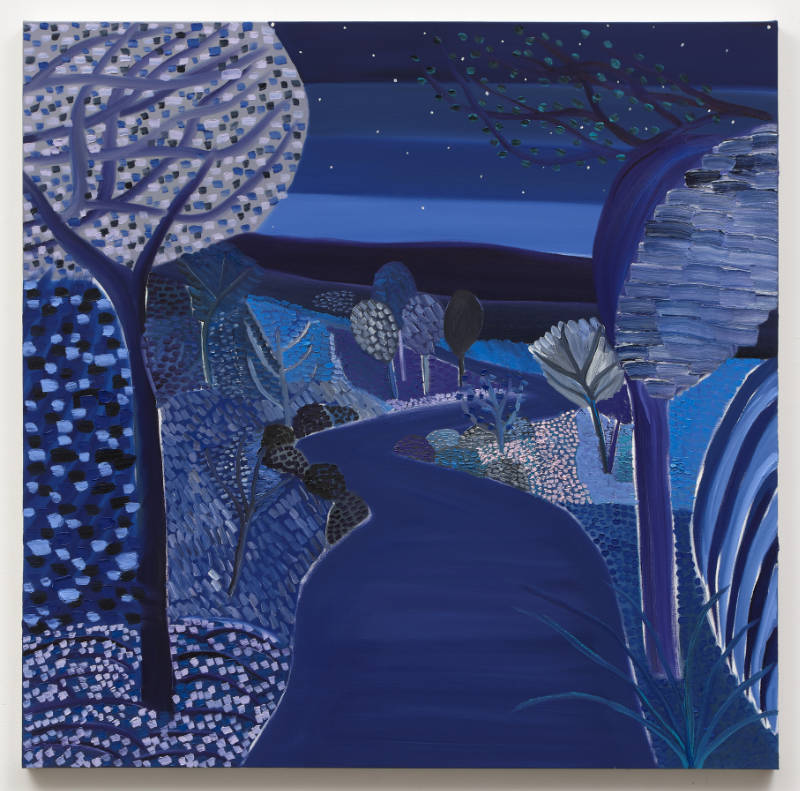 Untethered from traditions there is a complete liberation from prescribed values in these parallax occurrences. Wong is a cultural hybrid absorbing global influences as fertile sources for his siphoning. He lived in Canada, the U.S. and Hong Kong and taught himself to paint by studying art books at libraries, seeing exhibitions, experimenting on his own and building an international network on social media to engage with other artists.
Entering the exhibition space, we start with his early work. In 2012, before graduating with an MFA in photography from City University in Hong Kong, Wong shifted his creative output to black-and-white pen-and-ink drawing, experimenting with line, composition and strokes primarily to build abstract forms or a semblance of a landscape (Untitled, 2014).
In Heaven and Earth, 2015, he develops the illusion of depth, influenced – a wall card informs us – by the well-regarded Chinese master of ink painting Wu Guanzhong. He breaks through into oil-on-canvas later in the year and the work seems already loaded with ideas and techniques. An assured vision is in place through untiring effort infused with an illusory quality we can hardly comprehend. Even in his early efforts he already was fashioning nonpareil museum-worthy pieces (Sanctuary, Gone Till November, River at Dusk, all 2015).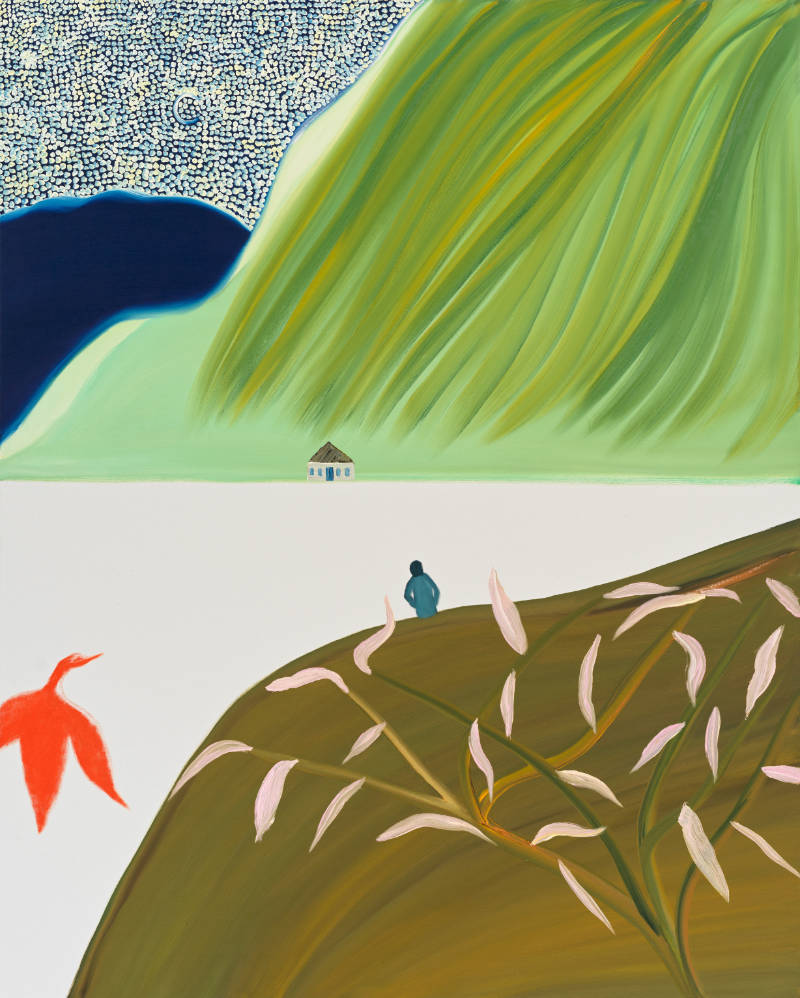 There's a cohesion within each frame as psychedelic a work might be in its fervent detailing and patchwork quilt-like parts. A statement has been made by an artist in control of an exceptional visual vocabulary. He could suggest hands with a few dabs of the right-colored paint (Contemplating the Iceberg, 2016).
Developing further, the bright canvases – Old Town, 2017, for example – spark the synapses, the scenes assembled from a collaging of patterns, styles and various fields reined in only by the parameters of their rectangles.
We view a grove of birch trees in vivid daylight in The Kingdom, 2017. But the facts are mere preliminary for the interpretation. The ground is verdant with an explosion of flowers as the spotted white, pole-like trees align en masse patterning the surface with vertical abundance. It's a visual language perhaps fairies and forest elves speak. In fact, look closely, there's a wood nymph nestled in a niche surveying the proceedings, perhaps awaiting your visit.
The darker compositions, such as The West, 2017, portray usually unspoken thoughts of alienation or loneliness. A single inhabitant is poised within a barren landscape. Barren, that is, in feeling, a nod perhaps to the Romantic depictions of individuals posed with their backs to the viewer astride a mountaintop gazing at the natural wonders. The expansive setting for our figure here is two trees, a discarded flower, a path and a million stars.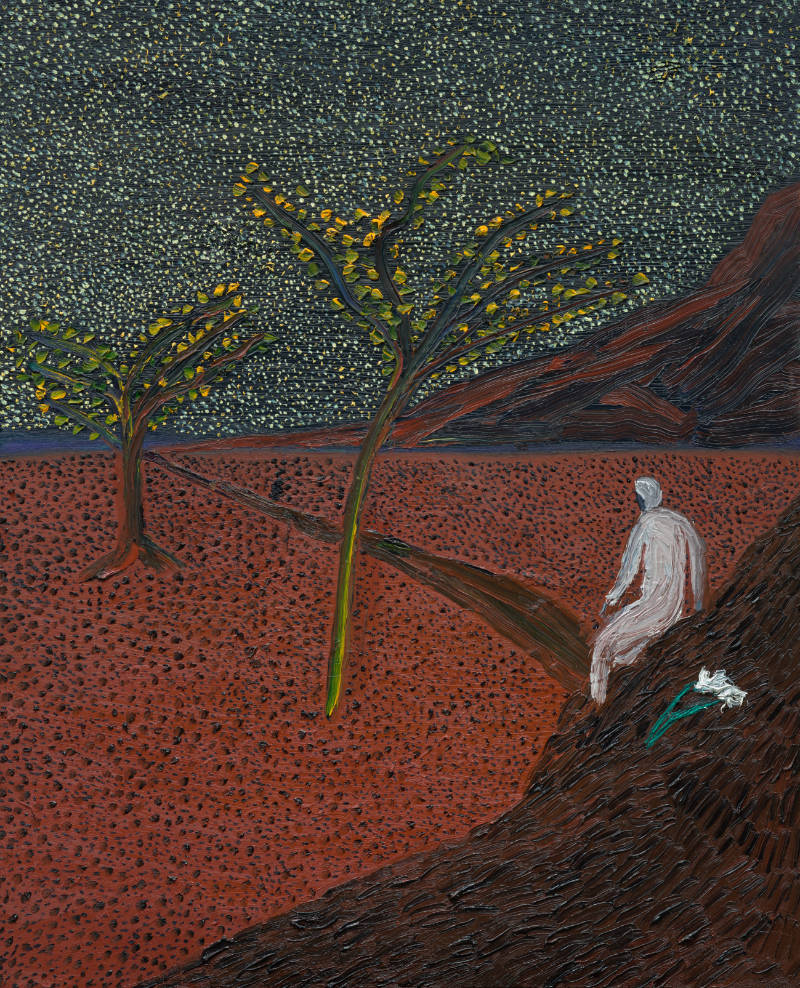 Throughout, ordinary sense is most often supplanted by the abutting of two or more views. Blue Night, 2018, is ostensibly a still life, a close-up depiction of a single flower poised in a glass of water set on a flat surface – could be the floor, could be a tabletop. Perspective is superfluous, we're learning. Except there is a suggestion of depth as a door and chair emerge in the picture plane. But what's this in the upper right corner? Apparently a window through which we view a tree. The discrepancy from the muted majority of the placid still life might prove unnerving to observers at first glance, but once acclimated to the glare of new sensations can prove welcoming and refreshing..
In Unknown Pleasures, 2019, nearly pure, broad bands of color substitute as sky contrasting with the mind-blowing landscape presented below: A lone figure on a winding path through Candyland foliage (mostly blues) which leads to a snow-capped mountain. A scene is specified but its rendering disrupts sentiment. It is as if our need to show up at the right airport gate at the right time has been eighty-sixed. After all our careful planning, the coordinates are not aligning as they should.
These works are beyond obligatory meaning. They're more neural disruptors, transmissions from a more perfect cosmos the young artist inhabited for a precious few years. His suicide at age 35 ended a seven-year practice in painting and drawing. The show's closer, See You on the Other Side, 2019, portends the tragedy, but its richness defies its title: A dream of reaching home in a conjured landscape embellished by interpretation and the renunciation of every past glory and expectation.
I admit, words may be inadequate to share an impression of what oftentimes can seem mystical in these works. Perhaps only poetry could approximate what we're seeing. Ultimately, beyond ascribing meaning, they're just breathtakingly beautiful even in their strangeness. Maybe because of that.
The Dallas Museum of Art was the first museum to acquire a work by Wong (The West, 2016). Our good fortune it's also the presenter of his first U.S. retrospective.
Matthew Wong: The Realm of Appearances continues at the Dallas Museum of Art through February 19, 2023. The exhibition was curated by Dr. Vivian Li. You can see more of Wong's paintings at the museum's site.
–review by Greg Masters
Painting
Reviews