Martha King, Max Sees Red (New York: Spuyten Duvvil, 2019)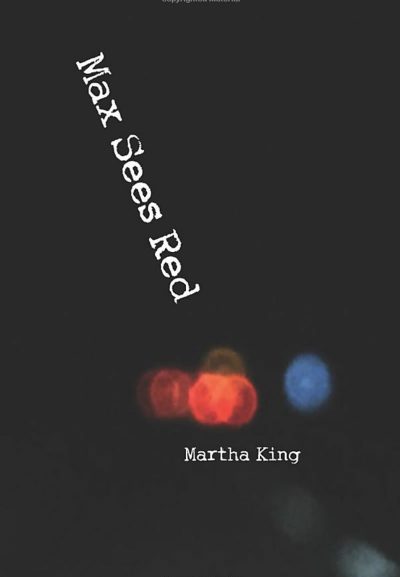 One of the greatest mysteries of Martha King's brilliant new novel Max Sees Red does not appear in the narrative itself but in the author's bio at the end. It reads, "Martha King has never lived in the Hudson Valley or in Soho where this story takes place."
The mystery is that this story, set in those two locales in 1978, paints such a vivid and detailed portrait, one with the ring of authenticity, so that until hitting this end note the reader thinks the author is using materials drawn from her own life. For instance, look at this this sharply etched description of the changing face of Hudson Valley:
As Max turned the car from the parkway … he noticed the contrast between the first two houses [he saw]. The nearest … was roofed with rusted tin. Its wooden sides were faced with odd sections of black tar paper, and shiny greenish vinyl. .. The next house stood at the end of a curving drive … Manicured hedges hid the first floor. The top of the house was white and perfect, with large green shutters bolted shut."
The Soho scene is as concretely depicted in this picture of a bar.
The sign over Broome Street's window said "Henry's Mashed Potatoes" … The window was frosted. The name dated from the late sixties when every place that wanted to look arty had to have a campy name. The frosted glass dated from a few years later when the Soho tourist blitz began in earnest and busloads of Long Island matrons poured through the street … "If they wanna come in for a beer, I'll serve em," Martin the owner growled, "but I'll be damned if I'll put up with em standing in gangs and pointing through the window."
Moreover, the colorful characters seem so time specific: the lesbian pair who temporarily take the murdered woman's daughter, the art critic with his fawning acolyte, the laid back country sheriff; all indelibly steeped in a palpable late 1970s atmosphere. We'll come back to this.
This murder mystery is not framed in the style of a Hammett or Chandler where a sleuthing private eye searches for clues, but is more in the style of Eric Ambler, who in works like The Third Man has an unremarkable citizen taxed with solving a crime. The hero here is Max, a relatively prominent Soho artist who is in a slump due to bad reviews (and sales) from his latest show. Moreover, he is in a testy relationship with his younger girlfriend Betsey, a potter, who wants kids not the continuance of their feckless Bohemian life.
Things kick off when Max's friend Robbie tells him that their mutual friend, editor Shirley Pendergast, who was recently murdered in her rural getaway shack, was holding a manuscript of Robbie's which he now thinks was the reason for her death as it contains information on some long-ago Nazi crimes of Hudson Valley German immigrants. Although there is little evidence for his allegations, Robbie's sneaking around the burned down shack where Pendergast's body was found, lands him in jail, facing a murder charge. Now Max's creative juices aren't flowing anyway so he tries to help his buddy by looking into who might have slain the editor.
To be plausible, a story like this calls for great delicacy in plotting to make it seem reasonable that a friend would go to so much trouble, and it is here that King shines. She puts together a set of believable, linked encounters that keep him unearthing new strands of the case, which draw him further along. And, after a time, his activities become not so much actions to aid Robbie but out of loyalty to his old friend, the victimized Shirley, whose now orphaned daughter Sidney – and this attaches him further to the case – Betsey wants to adopt. At Randy's urging he goes to the publisher to inquire about the Nazi book where he meets a best-selling, demanding black memoirist, Charlene Burke, who had a bone to pick with the deceased. That's one strand. He runs into some art buyers at Henry's Mashed Potatoes, and it turns out one, Dick Conway, was investing for the Shirley. He also had his issues with her. Another strand. Leaving with Dick, he finds Conway assaulted by Shirley's nutty (and violent) brother who thinks Conway was cheating her money. Another.
I can't help comparing the narrative movement in this book to the way the story flows in a recently republished book, after being out of print for decades, A Free Man by Lewis Warsh. Unconventionally enough, Warsh does not tie the mystery together by having detectives (of whatever type) gradually bring the murderer of an old woman to light, but rather fixes on exploring how this death impacts the community. What is the effect of this tragedy on her son, on the investigating detective, on her upstairs tenant, on the detective's wife? Moreover, given that Warsh throughout his short stories and novels has proven himself to be sensitive recorder of intimate relationships, sexual or otherwise, it's not surprising that this becomes part of a running motif. He focuses on the way the death has a direct or indirect influence on each character's love life. For instance, ironically enough, when the detective is looking over the crime scene, he barely pays attention to details as he has just discovered his wife is carrying on an affair and that preoccupies him. So, with this mix of love and death's aftermath, the book executes a double spiral.
King's novel, in contrast, moves so as to exhibit how the arts community is multiply entangled through aesthetics, commerce and daily life. Once Max begins looking, he can't help but unearth more and more interlaced facets of this mini-society. In Free Man, the individuals are isolated from each other, only connected through the death; whereas in Max, the death throws light on shadowy aspects of a dense human web.
Like Warsh, King does also look at the repercussions of the murder, especially in relation to Sydney. The difficulty for her is that the father has long ago changed his name and disappeared so her closest family and most likely adopters, as the mother left no will, are the girl's fundamentalist grandparents who are coming up from the Bible Belt to claim her. The girl's most natural adopters would be the lesbian couple, Lynn and Mitzi, whose children are Sydney's dearest friends; but the law gives her to the grandparents who disapprove of lesbians as much as they do mixed marriages. The dilemma of what is going to happen to Sydney causes as much soul searching in the community as did the death. This strand of the book gives it an emotional weight, a gravitas, that makes it – if you haven't figured this out already – not a light entertainment but a thoughtful, searching look at what holds together and pulls apart community ties. Of course, pulling the group in different directions is not only the custody trouble but, as suggested in my earlier quotes, the tensions that arise in the valley between the natives and the new weekending Bohemians (made visible in the two houses) and the increasing commercialization of art, seen in the influx of tourists into Soho.
And this leads me to a solution to the book's mystery. Previously, King published a memoir Outside/Inside, in which she describes how she came of age as a writer, shaped by the literary/artistic milieus of Black Mountain College and later New York and San Francisco. She describes, for instance, how young mothers from the Bohemian world would gather to share stories and cookies in Tompkins Square Park. This makes it clear how King can write so eloquently and plausibly about Max's world. While she was not involved in his milieu, she is familiar with the ups and downs of this type of scene so that, aided by historical research, she can render this powerful recreation of an earlier time, giving us not only a clever mystery but a meditation on the fragility and interdependence of a community as it shakily weathers a blow to its integrity.
–Jim Feast
Reviews