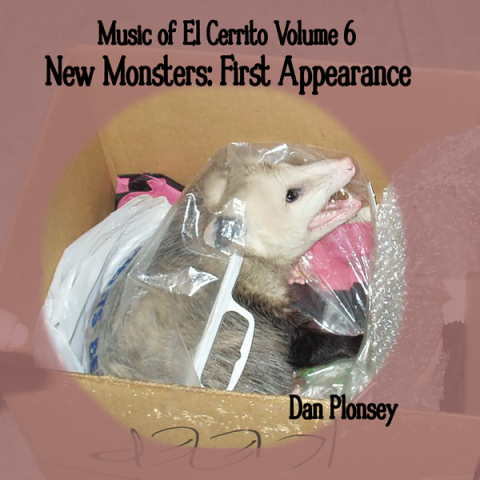 Harvey Pekar died just before we went into the studio to record these pieces. Harvey and I had recently collaborated on an opera, "Leave Me Alone!" He wouldn't make anything up, so my idea of a story of a fictional Cleveland musician had to be about me instead. Unfortunately, there's not much to my story. I sit around at my desk, transcribing melodies onto a laptop, adding accompanying parts. Sometimes I use my cheap keyboard. I read books—in the backyard, when the weather is good. Novels, and the occasional short story collection. I'm the first to wake up in the household. I make coffee and a bowl of fruit, yogurt, nuts, and cereal for breakfast, I read the news online, and then I take our dog for a walk. During the school year I plan my lessons, and during the summer I worry about things. Excitement? One night, my wife found an opossum living in a box in our basement. That's the cover photo. The story is told in detail in the opera.
Sometimes it all seems very precarious. Just getting to see all the nice colors and shapes of things: the garden hoses of El Cerrito, and the triumvirates of garbage cans, standing out there in front of all the houses, as though for a family portrait. The sunlight looks good bouncing off of things. I like how it glares around trees and back-lights the ferns in Canyon Trail Park. Melodies come into my head while I walk around, so I call it "Music of El Cerrito." I call these "New Monsters" and number the pieces while I await the arrival of decent titles.
Steve Horowitz, who played bass on these sessions, was inspired to start a jazz quintet to play some of this music. He was kind enough to ask me to play in it, and someone [Editor's note: That would be us.] put out a CD called New Monsters, which also became the name of the group. I wrote 165 "New Monsters," and my own large ensemble, Daniel Popsicle, has performed many.
Once it was opossums and raccoons, but lately I've been seeing a lot of skunks on my walks. Last night, our dog killed one of the skunks in our backyard when I inadvertently allowed her to get out. It was horrible. A fierce black cloud rushed through the house.
This spring I lost one of my best listeners: Chris Maher, a.k.a. Supermarky, my college roommate and fellow composer / artist / writer and most recently olfactory artist—he would have appreciated the skunk! Chris inducted me into the European-American avant- garde gang, but together we stepped away from the previous generation who for us were too classical, architectural, mystical, and above all serious: stern, severe, academic. I considered myself an adherent of a more global avant-garde. Chris was always out there, walking a crooked path, avoiding cliches of common drama, sentiment, officiousness, artificial expertise. Sometimes he employed random processes to move things in a perverse or subversive direction. My contribution to the revolution has been to eschew editing. We recorded every scrap that had been written, and now are releasing everything. As for choosing musicians, my old friends Jay Rozen and Tom Yoder were to be in town at the same time, so I invited everyone I didn't feel too shy about inviting to these sessions. Many thanks to everyone involved, especially Steve Horowitz, for seeing both what I saw in this music, but also for seeing something else!
Listen here for free, but if you like it, you really ought to buy it from iTunes and Amazon. All purchasers are guaranteed entry to the afterlife, or double your money back!
Musicians: Randy McKean, clarinet, bass clarinet, alto saxophone; Dan Plonsey, tenor sax, clarinet; Cory Wright, baritone sax, piccolo, clarinet; Michael Zelner, clarinet, organ, Chris Grady, trumpet; Tom Yoder, trombone; Jay Rozen, tuba; Murray Campbell, english horn, oboe, violin; Sarah Willner, viola; Lynn Murdock, organ; John Shiurba, guitar; Steve Horowitz, bass; Suki O'Kane, drums, percussion; Ward Spangler, drums, mallet instruments, percussion. Recorded, mixed, and mastered by Myles Boisen.
Recorded July 12 and 13, 2010.
Let me know what you think. I'm at: [email protected] My web site is: www.plonsey.com