ON VALENCIA STREET
Jack Micheline
Edited by Tate Swindell
Introduction by Eric Mingus
Lithic Press
$20.00
Jack Micheline is not so much an unsung but undersung member of the Beat Generation, a fixture on the San Francisco North Beach streets until his death in 1998. However, through the 70s and 80s, when it was not unusual for Bob Kaufman, Gregory Corso or a visiting Allen Ginsberg to be on those streets, to say nothing of Bay Area dwellers Philip Whalen, Harold Norse, Diane di Prima and Michael McClure, City Lights' own Lawrence Ferlinghetti or a touring Gary Snyder, William Burroughs or Charles Bukowski, it was difficult for Micheline to be noticed in such a sea of genius. After a reading by one of those luminaries, Jack Micheline might shamble around outside afterwards on a good-natured alcohol high, declaiming poetry from a notebook on the street corner.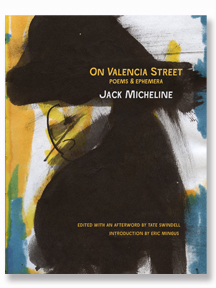 As some of his fellow poets achieved megafame, Micheline remained gregarious and easily available in cafes, and a number of young (at the time) poets felt a kinship in their own punk poverty and wandering of dangerous streets. He'd show up at their readings and infuse them with his boundless energy. This lead to a revitalized rep that in some ways was as distorted as relative obscurity. Jack became THE man, the authentic one, uncorrupted by success – even while he was regarded as a a drunken derelict in more "polite" circles.
Now Tate Swindell, a poet in his own right and a master archeologist of lost and obscure Beat artifacts, has put together an amazing document, On Valencia Street — a full 20 years after Micheline's death — previously unseen poetry, napkin artwork, and old flyers (most in color — very impressive in such an inexpensive volume!) — to allow us to really examine Micheline's work, separate from all previous notions.
What emerges is a down-and-out voice that at times can rival his friend Bukowski and yet is marvelously life-affirming rather than cynical — Jack a slightly levitating angel, as opposed to Hank, all-too-human in godless SROs, dive bars, race tracks and pavements. Not all is boozy joy, however.
From A WHORE, WALT WHITEMAN, A POET AND GOD:
I met a whore in front of a forty-second street movie
She asked me who I was
I told her I was a poet
And I had eight cents
She paid my way into the movies….
Still, even lonelier poems come forth. From I AM A POET:
my head seems heavy now
I shall go to the streets
and beg for money
like the lowest animal
A postcard from Allen Ginsberg strongly suggests Jack should see the M.D nephew of City's Light's Shig Muroa to treat his depression, and delivered a stealth Dharma teaching, reminding Jack it's hard to get a human body in this universe — use it wisely. Diane di Prima also writes and thanks Jack for the book he sent and hopes he gets the attention he deserves. All this may seem lip service to those that resent the famous – but fame, as we've often seen, is not easily manipulated, transmitted or easy to keep. I think Allen in particular always did what he could. There was and is no magic wand to wave.
Jack finally found his end on a BART train, dying of a heart attack. Considering the options, it was an easy out. No long deteriorations, wheel chairs, dementia or cancer. A blessing, really, in such a heartless city.
From WHAT ELSE IS THERE:
I wander through the neon cities

And laugh at the sun
Amid the inhabitants of these cities
Amidst its pain and Shrill cries
I will raise my hand
And do my mad wild dance
And will die
–review by Marc Olmsted
Reviews