"Give me a blow job!"
He bends me quite low to his crotch, and I want to tell him a few words more about how much I love him, but he doesn't leave me any time. He presses his hand on the back of my head and my gaze slides over the red velvet curtains which make this room very much like a brothel.
I obey the gesture of his hand and stick my nose into something soft and wet, I stick out my tongue and start licking. I have no time to think that I am somewhere far away from my home. I have no idea where I am. In any case, I am in a place, where there are also cities. But has that city a name? Yes, it is San Francisco.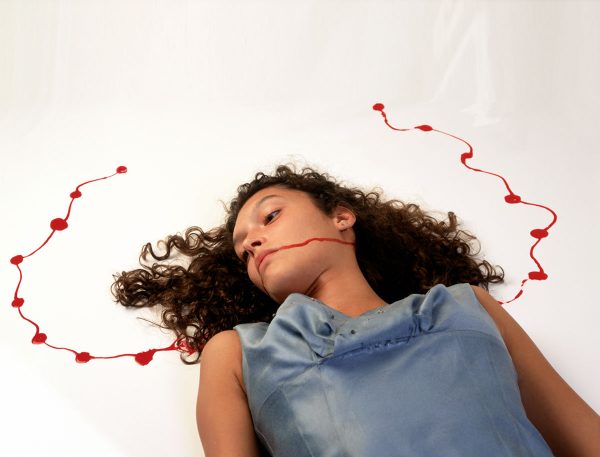 "Suck!" he says in an imploring voice and begins to moan. I want to please him, because I love him so much. At the same time I realize that this is not going to work. Not with me. Because I do not want to suck on demand. At this moment, I think that it would be nice to go on the promenade and listen to the uterine singing of seals. These huge fat animals on Pier 39 are like giant naked women.
"Suck harder." Sounds in my ear.
I try to go all out, grab with my lips the warm salty flesh and for a moment lift up my eyes. His face reflects panic and a deep sorrow.
"It doesn't work. My mother was persecuted by the Nazis." He moans.
I want to reassure him, to say, that everything will be good, that it could happen to anyone, especially at his age. He looks at me with blood-shot eyes.
"You don't love me."
"Of course, I love you. I love you so much," I mutter, without removing the moist skin from my mouth, and think of his mother.
Of course, there is an undeniable connection between the happenings of his crotch and fascism. My imagination moves to Paris, 1940. The Germans have already crossed the Maginot Line and invaded France. All the generals except Charles-André-Joseph-Marie de Gaulle have overloaded themselves with prostitutes and quietly wait for death. On June 22 the government capitulates. Paris is occupied. All Jews are required to gather at certain meeting points. The city raids occur. Little Sophie manages to hide her cotton bunny behind the pipe in the toilet of the cinema La Pagode. So that it will be saved. Cotton bunny is also a Jew. Everybody runs somewhere.
"You suck very badly, you make no effort," he murmurs.
Twilight, passing through the red curtains, becomes denser. From the wall watch twelve photos from different periods of his life. He is young and dazzlingly handsome in these photos. From such beauty I feel dizzy and want to vomit.
"Suck!"
I smack my lips loudly, like a pig in an orchard. It would be good right now to stretch, rinse my face with cold fresh water from a mountain spring and come out on a sun-lit forest meadow. It would be nice right now to forget the Holocaust and its relation to mental disorders, impotence and much else.
History radiates. It reaches out to us with a bony hand from the distant past, from the past, when people were savages. However, they are still savages.
"Suck!" His eyes fill with tears. His eyes are red and miserable, like the eyes of a crippled predator. There is a cramp in my jaw, and I think that I have crossed a strange line. I would like to talk to him, hug him, read to him, out loud, my favorite poem.
"I have handcuffs!" he exclaims, unexpectedly merry. "Let's put handcuffs on you."
I know that all these sadomasochistic souvenirs always indicate the impossibility of normal sex.
"I would like to chain you to the bed."
"Come on, give me a break! Let's have some tea," I suggest.
"It is a bad idea," he says sternly, pursing his lips.
I see his chin tense up. He pushes me away roughly, and, bones rattling, stands up from the dirty mattress. He goes to the kitchen, tapping toenails on the wooden floor. I sigh with relief. The red light hardly penetrates the room. Outside the night begins. Mist covers the city, beacons sing to warn mariners, they are too close to the shore, and I start thinking about what is happening on Pier 39. Do seals see the fog? Do they hear the beacon's warning signals? And in general, what do they think, the seals?
–Julia Kissina
Stories