Rabbit and Crow watched as the sun came round over the field.
"Did you sleep well?" Rabbit asked Crow.
"I dreamed that I was running through the meadow," said Crow.
"Ah," said Rabbit.
Rabbit and Crow set a spell in silence.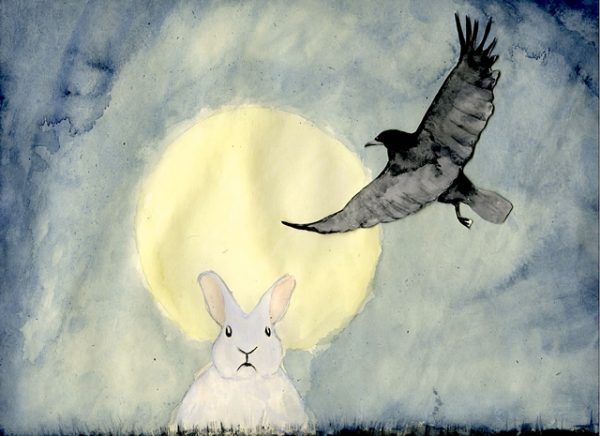 "Raccoon had babies," said Crow. "Yesterday, before the storm."
"A real wet one," said Rabbit.
"Lightning struck the locust tree," said Crow.
"The young one?" asked Rabbit.
"No," said Crow. "The old one."
They looked at the wind bend the gold blossoming seedheads atop the field of tall fronds.
"Something moved," said Rabbit.
"I'll have a look," said Crow. He felt the wind with his wingtips and bounced up from the ground, flapping close above the long grasses as he looked down.
Rabbit sat still as a stone and stared straight at the stalks, listening.
Crow circled higher. His sharp eyes kept steady on the lookout.
"I had my snack and you have no tick bite to bother you. That's what friends do for each other."
Just then, tiny Wood Tick made her way through the thick fur on Rabbit's shoulder. When she reached the bottom of Rabbit's ear, Wood Tick crept down to the pink skin at the base of a hair, opened her jaws wide, and bit.
Rabbit said, "Ouch!"
Crow sailed back down to the ground and walked, stopping at Rabbit's side. "I saw Young Buck and Little Doe drinking from the crik with the fawns, but I didn't see anything move near here."
"I didn't see anything either," said Rabbit. "But WoodTick's biting behind my ear and I want to scratch, but she's in one of those hard to reach spots."
Crow said nothing, but quickly lunged at Rabbit's ear, snatching and swallowing WoodTick before she knew what happened. Crow said, "I was craving a little snack after that short flight."
"Well, thank you," said Rabbit, "for freeing my ear of WoodTick."
"Not at all," said Crow. "I had my snack and you have no tick bite to bother you. That's what friends do for each other."
Stories