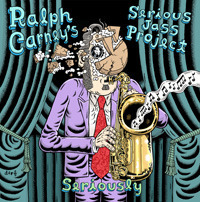 You may remember the feature piece Sensitive Skin did on Ralph Carney last year – good news! The one and only Ralph has a new album out!
Smog Veil Records announces Ralph Carney's new Serious Jass Project album titled, Seriously, will street on September 27, 2011. It will be available as digipak CD, download and LP pressed on black vinyl, with eco-friendly recycled content jacket and full color two-sided insert. This collectable vinyl release is strictly limited to a single pressing of 500 pieces. You can buy either the CD or the vinyl directly from Smog Veil.
Or you can buy the mp3 download if you're into that instant gratification sort of thing.
With one foot planted in the historical, and the other in the hysterical, Ralph Carney has spent the better part of his life plotting an utterly singular path through the musical landscape. From his earliest sonic forays at the dawn of what some might call new wave to his current perch atop the summit of what he has dubbed "serious jass," the Ohio-bred reedman has blown up storm after storm – leaving trails of pleasure, rather than destruction in his wake.
Carney first shimmied his way into the public consciousness in the mid-'70s as an integral part of Tin Huey – one of the edgier proponents of a Northeast Ohio scene that also spawned Devo and Pere Ubu. In the intervening years, his particular brand of twisted swing has invigorated the work of artists as varied as Tom Waits, Frank Black, The B-52's and The Black Keys – the acclaimed duo co-founded by his nephew, Patrick Carney. But it's on his own releases that Ralph's true personality – a win- ning combination of rapier intellect and barroom savvy – really shines through.
That hybrid of wit, wisdom and wooziness positively explodes from the grooves of Seriously, the second album from
Carney's Serious Jass Project – a tightly-wound aggregation made up of like-minded fringe-dwellers from his adopted Bay Area home. The disc's dozen offerings run the gamut from hard-charging honks like Freddie Mitchell's "Moondog Boogie" (a tune dedicated to Alan Freed, the DJ credited with coining the phrase rock 'n' roll) to surprisingly tender standards like "You Took Advantage of Me" (a Rodgers and Hart composition that originally appeared in the Busby Berkeley musical Present Arms.
"This project is a side of me that's always been there, but that I haven't shown to the general public all that much," says Carney, who breaks out more than a dozen instruments over the course of the album. "Even way back at the beginning of my playing, I'd do these classic New Orleans things from the '30s and '40s with these old guys who remembered them from when they were new."
The material Carney culled for this collection covers a lot of ground in terms of both time and spirit – from the dare-you-not- to-dance take on the Depression-era standard "Happy Feet" to a raunchy run through Coleman Hawkins' "Meet Dr. Foo," on which he rolls out the sort of rough-and-ready trumpet playing that could easily have come from an after-hours club in post- war New York City.
"A lot of this stuff was really dangerous music at the time it was created," says Carney. "It takes a chance. You'd have guys like Jay McNeely and Lee Allen playing one note over and over in these real dives. And then on the other hand, there's the more sophisticated stuff – the Ellington songs, which have always blown my mind."
Be the first kid on your block to get your copy!
Music