In the early 1980s, when I first became acquainted with her work, Louise Hamlin lived in Manhattan and painted scenes of her urban environment: a stretch of upper Broadway on a rainy night that accented reflections from the headlights of oncoming traffic. As well, she set up her easel in the vast rooms of the American Museum of Natural History to create images of attendees viewing the dioramas. For another series, she embedded herself in an orchestra pit to document musicians in rehearsal. When not on the pavement or on location, she painted portraits in her studio. All to commandeer the urgent vibrancy of a metropolis in constant motion.
For the past 30 years, while teaching at Dartmouth College, her efforts en plein air shifted to the lush countryside where she's continued to work in series producing, at a prodigious pace, landscapes and local scenes of her New England surroundings. When it gets too cold to labor outside at a spot overlooking a farm, valley or river, she retreats to a studio to make still life drawings, prints and paintings depicting milkweed as well as garlic and radish sprouts.
A knockout sampling of her work from the last decade was on view for much of the past year at the Hood Museum of Art on the campus of Dartmouth.
The first room featured the studio work: A set of large-scale drawings delineate plant details on a flat background, the better to examine the geometric patterns of the stalks and the artist's precise rendering (Molto and Maybe, both 2014). A set of paintings showing sprouts in plastic bins (sold at a local market) are more playful with the scale exaggerated and the use of bold colors as neutral background to offset the featured subject matter (Red Garnet Amaranth, 2017)
In the second room, four canvases bring the artist down to a streambed to paint ¬the density of a forest. As in a free jazz improvisation there's no central focus. Who needs a horizon when the rectangular canvas is confining the interconnections of a patch of nature: the sunlight dappling the virgin territory, the growth existing in fertile interactions. Two in the series – Don's Summer Streambed and Autumn Streambed (both 2016) – illuminate from the same vantage point at different seasons.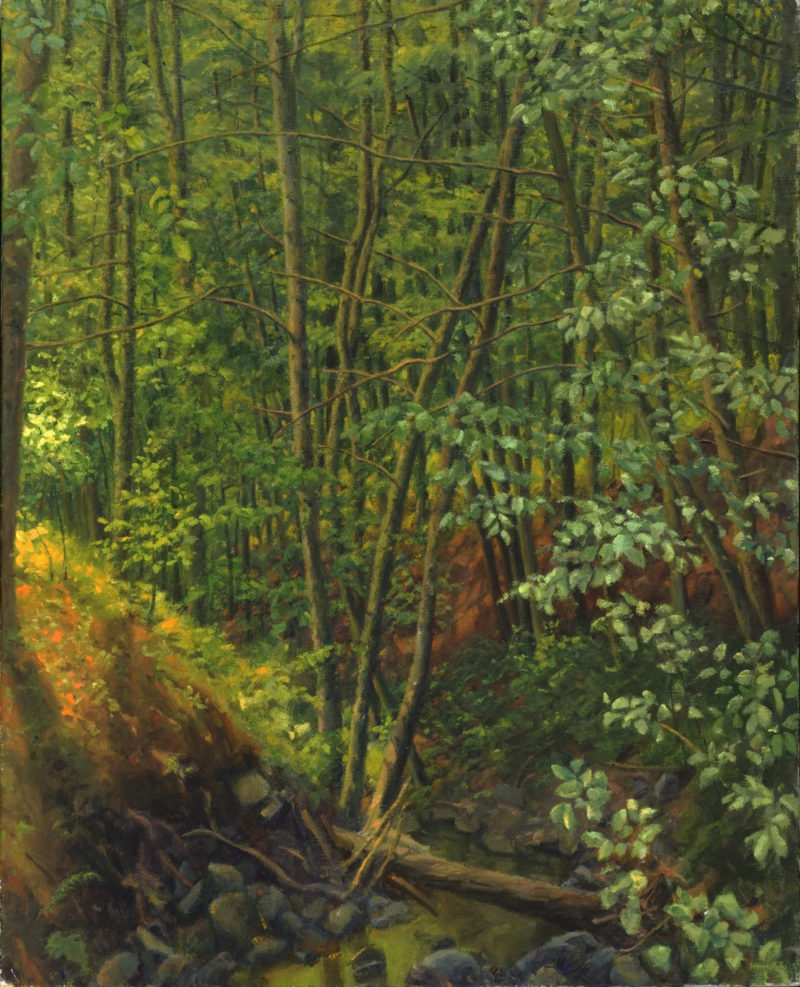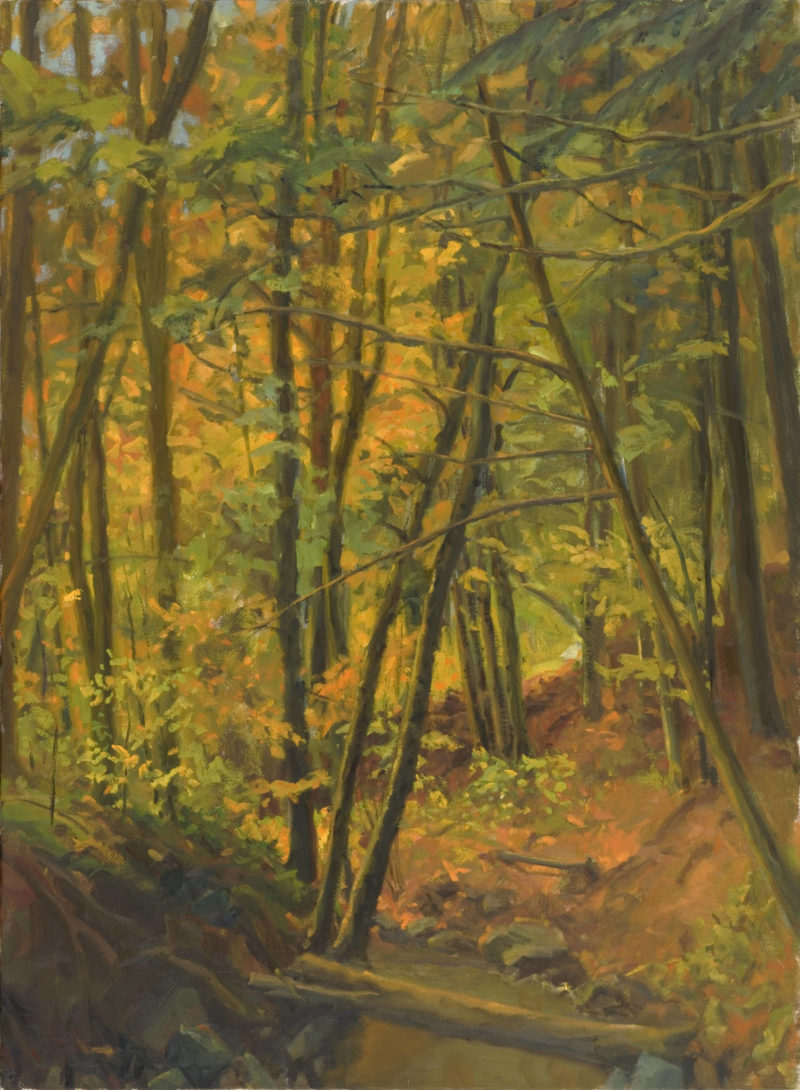 Hamlin's images dignify a moment, her hand is at work to stop the drift of time so as to look beyond the facts with "a Romantic sensibility," as Vincent Katz denotes in his excellent catalog essay. In Fog in Upper Valley Hills, 2016, we gaze down – at 5 a.m. or so – into a valley where fog hovers, sandwiched delicately among the rolling hills. In another series, she shows how the grow lights in a greenhouse – while helping germinate tomato seedlings – shimmer in the pre-dawn accentuating the structure to an effect dazzling in its ethereal grace (Jesse Goes to Work and Break of Day at Long Wind, both 2019).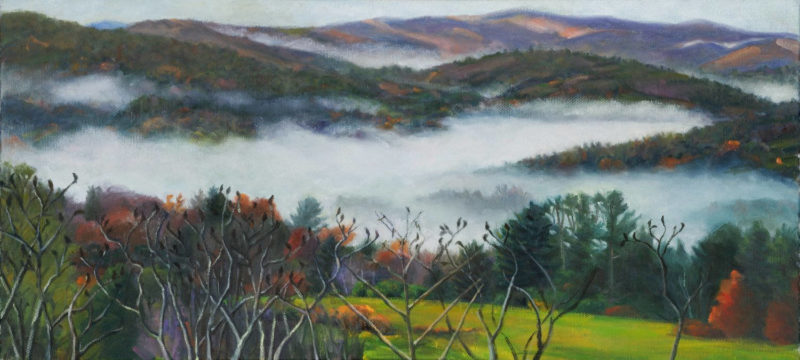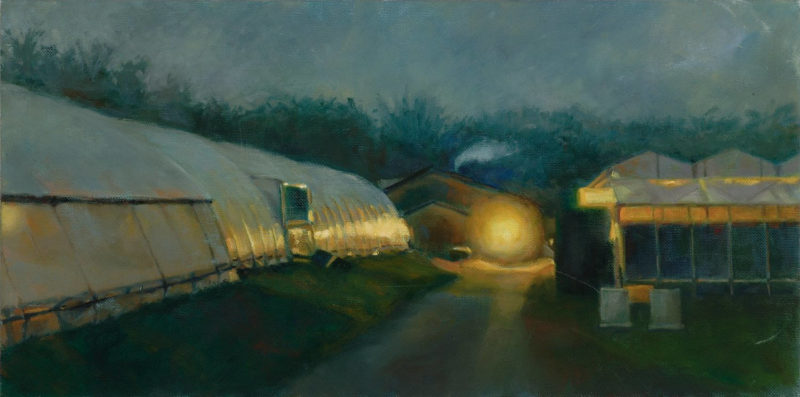 Hamlin is not a figurative painter attempting to fool viewers into believing they're gazing at a photo. Nor is she trying to impress with her skill at recreating reality detail by detail. Rather, brushstrokes suggest rather than specify. Each leaf need not be delineated. Patches of appropriate colors vie for the surface to indicate what it is she's rendered from the natural. These works allow more texture.
Perhaps most astonishingly, in Crew, 2021, the top three-quarters of the canvas is a swirling color field of blends that infer a dense mountainside. In the bottom strip, men in a crew boat are seen in soft focus as the entirety of the scene is enveloped by the fog rising from the river.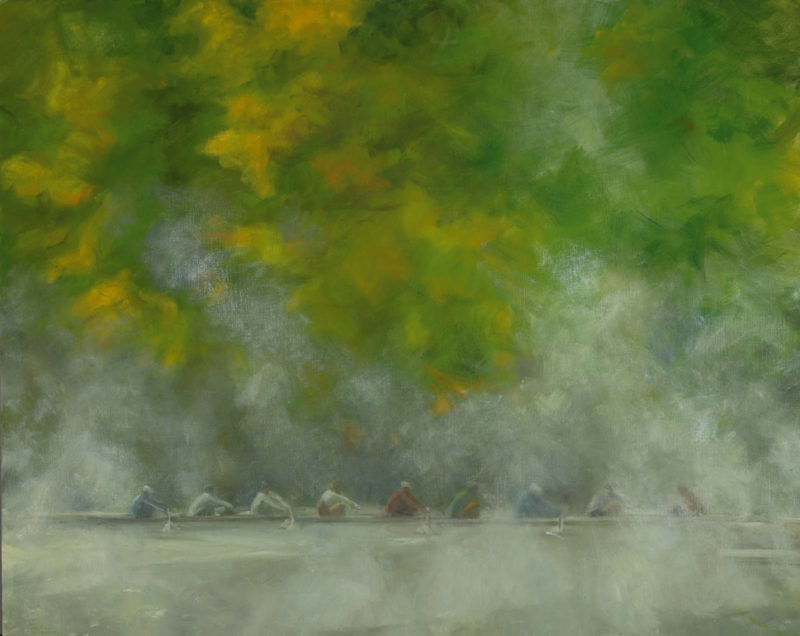 Her landscapes are nothing short of breathtaking in their capturing of moments, particularly just after dawn when light is diffuse muting the properties to an atmospheric haze.
These works of quiet grandeur are inducements to reverie, they're talismans adjusting one's perception back to a remembrance between seen and felt – all guided by a technical facility capable of meeting the most daunting of challenges. Even a half-awake observer can marvel at the craft, the portrayal of recognizable subject matter. But there's so much more. Namely, the pulse of these phantasms. It's a pulse that lasts one beat. We're suspended as if someone hit time's pause button. We're grounded in the works' textural atmosphere and given more than the actual and more than the depicted. We're "beyond transcription," as Katherine Hart so aptly describes it in her richly detailed catalog essay. We're absorbed into a temperament that offers an opportunity to reflect, lulled into the spell cast by these works of understated power.
Louise Hamlin: In the Moment, Hood Museum of Art, Dartmouth, Hanover, NH, February 12 – September 3, 2022. The catalog for the show is available on Amazon.
–Greg Masters
Painting
Reviews