Presenting Sensitive Skin 13, the Crime Special, featuring a multitude of criminally insane artists and writers.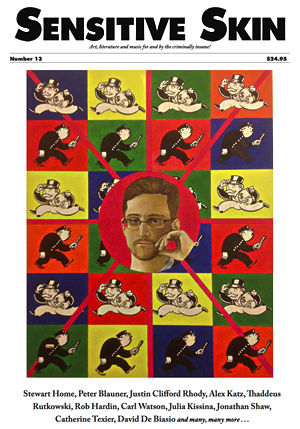 Sensitive Skin 13 features original fiction from Peter Blauner (Slow Motion Riot, The Intruder), Thaddeus Rutkowski (Violent Outburts, Haywire), Robert C. Hardin (Distorture), Carl Watson (Backwards the Drowned Go Dreaming, The Hotel of Irrevocable Acts) Matt McClaren and B. Kold (outlaw co-founder of Senstiive Skin), with poetry by Hal Sirowitz (former poet Laureate of Queens), D. James Smith, Max Blagg (Slow Dazzle) and Christopher Romero.
For this special issue, we have a number of crime-related book excerpts, including the biography of France's most-wanted, Jacques Mesrine (translated by Between C & D co-founder Catherine Texier, author of Love Me Tender and Victorine), the new novel from punk situationist icon Stewart Home (The 9 Lives of Ray the Cat Jones), tattoo legend Jonathan Shaw's Narcissa, a biography of inner-circle beat member Herbert Huncke, an excerpt from Ron Kolm's collected Duke and Jill stories, and an excerpt from ex-Dead Kennedy's road manager, bank robber and junky Patrick O'Neil's Gun Needle Spoon.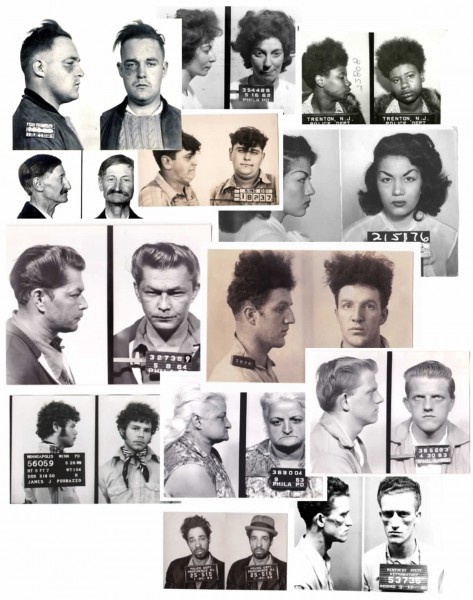 And then there's some amazing art, starting with the cover by outsider artist/rock god (Voluptous Horror of Karen Black) Samoa Moriki. The back cover is an incredible collection of old mug shots from the collection of Mark Michaelson. Erik Noonan wrote a terrific essay on the paintings of David de Biasio, while Justin Clifford Rhody (Sliding Glass Doors) provided candid shots of racetrack denizens. Russian ex-apt Julia Kissina, whose work has freqently been seen in Harper's magazine, provided a bizarre portfoliio of "Fairies," while Max Blagg's poems are accompanied by paintings by the great Alex Katz.
With additional photographs, illustrations, paintings and drawings by JD King, David West, Sally Egbert, Charles Gatewood, Leslie Hardie, Stephen Lack, Jean-Christian Bourcart, Dustin Wayne Harris and Phillip Pocock.
Buy print version $4.95 Buy PDF
Drawings
Essays
Events
Illustration
Painting
Photographs
Poetry
Stories