In celebration of the birthday of John Coltrane, Sensitive Skin had its first reading in San Francisco, Thursday, September 23rd 2010 at:
The Luggage Store Gallery
Craig Clevenger reads from Dermaphoria, part 2


D. Scot Miller reads some John Coltrane
New Monsters #16 by Dan Plonsey.

Craig Clevenger reads from Dermaphoria
(And don't forget to read Mercury, a short story by Craig in issue #3.)
New Monsters 19, by Dan Plonsey

Ah, memories…specifically, memory cards, for camcorders. Mine malfunctioned, so I missed big chunks of the show. Oh well…here's what I did get…more coming…
New Monsters 12, by Dan Plonsey
1007 Market Street (nr. 6th St.)
San Francisco, CA 94103 USA
8-10pm
Admission $6-10 sliding scale
All ages welcome, no one refused for lack of funds.
Come celebrate the life and times of Trane!
Music by:
Dan Plonsey
Steve Horowitz
Vinny Golia
Jim Bove
Plus other special guests TBA
Readings by:
Craig Clevenger
D. Scot Miller
Master of ceremonies:
Bernard Meisler (publisher, Sensitive Skin Magazine)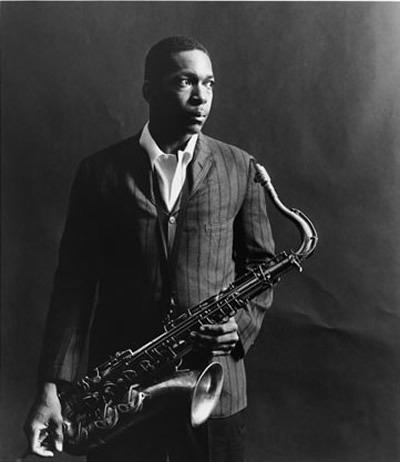 Sensitive Skin Magazine presents an action-packed all-star tribute to American Master John Coltrane. John William Coltrane (sometimes abbreviated "Trane"; September 23, 1926 – July 17, 1967) was an American jazz saxophonist and composer. He was beatified by the African Orthodox Church as Saint John William Coltrane. Working in the bebop and hard bop idioms early in his career, Coltrane helped pioneer the use of modes in jazz and later was at the forefront of free jazz. He was prolific, organizing at least fifty recording sessions as a leader during his career, and appeared as a sideman on many other albums, notably with trumpeter Miles Davis and pianist Thelonious Monk. As his career progressed, his music took on an increasingly spiritual dimension. His second wife was pianist Alice Coltrane, and their son Ravi Coltrane is also a saxophonist. He influenced innumerable musicians, and remains one of the most significant tenor saxophonists in jazz history. He received many awards, among them a posthumous Special Citation from the Pulitzer Prize Board in 2007 for his "masterful improvisation, supreme musicianship and iconic centrality to the history of jazz."
Other birthdays on September 23 that we will also celebrate, mock or ignore completely: Ray Charles, Julio Inglesias, Bruce Springsteen, Euripides, Kublai Khan, Mickey Rooney, Jason Alexander, Ani DiFranco, Ana Marie Cox, Karl Pilkington, Ricky Davis and Augustus Ceasar.
Will our show at the Luggage Store Gallery take its place among other great events that occurred on September 23rd, including the Concordat of Worms, the return of Lewis and Clark to St. Louis, Richard Nixon's "Checkers" speech and the opening of the Chicago Eight Trial? There's only one way to find out! Come be a part of history as we pay tribute to the life and times of a true American master.
Events
Music
Readings
Video