— for Yun Peng
Hell yeah I'm skinny.
My body is COVERED in skin!
But I've got my shiny kitten
and I am not the same person I used to be.
Shopping naked with my shiny kitten
is like finding out that Beyoncé is experiencing
a powerful yearning to cram my gullet full of
Richard Nixon's head.
As you can plainly see,
I finally got my shiny new Frightened Cloned Care Bear
to dock with Skinny War Kitten.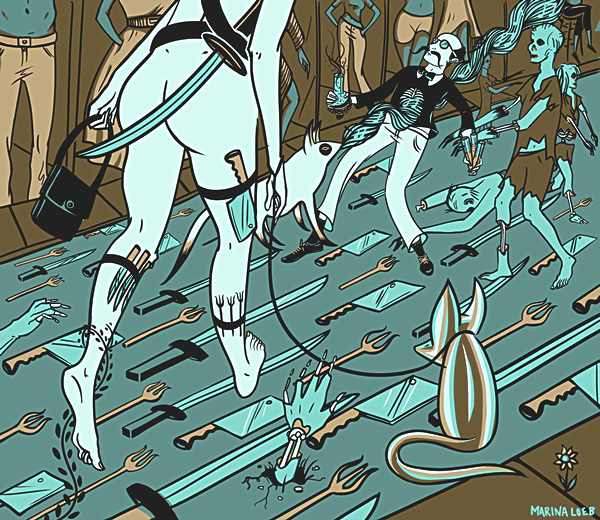 And—ooh! Attention Deficit Trope!
I just got distracted by a toy machine, a cat,
the "melon-head" issue, another cat,
and a panda-cat named Rocket
who sings directly into an
alchemist's chest.
Do physical objects act as stand-ins
when informational things are hard to come by?
Probably.
But that's because shiny kitten's hairballs
keep calling my mom a hypocrite.
I've got my shiny kitten.
I've also got 18 shiny butcher knifes
18 silver shrimp forks
18 slime-covered linoleum swords
and 25 Yeti meat staves
Did any of that help me when I lost five close buddies
and half my ass
to my goddamn shiny kitten?
Nope.
Getting kneecapped by shiny kitten:
Boom! Coconut Effect! Fake Scottish Accent!
Winter is fluffy and white from solstice to equinox,
and so is shiny kitten
which makes this something of a Chunky Salsa Rule
in the context of a Zombie Apocalypse
caused by Kraut Osmosis.
Until I got kneecapped, I could read an entire library
in under 2 hours.
And that's why I'm now seriously considering
kneecapping shiny-ass kitten.
It's kitten hittin' time, yo.
 
–Sharon Mesmer
Sensitive Skin 12 available here in PDF format here for just $4.95, or get the full-color print version via Amazon and select bookstores.
Drawings
Illustration
Poetry