Miguel "Mikey" Piñero was born on December 19, 1946 in Gurabo, Puerto Rico. In 1950 he moved with his family to New York's Lower East Side. He was convicted of his first crime, theft, at 11, and was sent to juvenile detention. At 18, Mikey was caught robbing a jewelry store and landed in Rikers Island. He picked up a dope habit while in prison.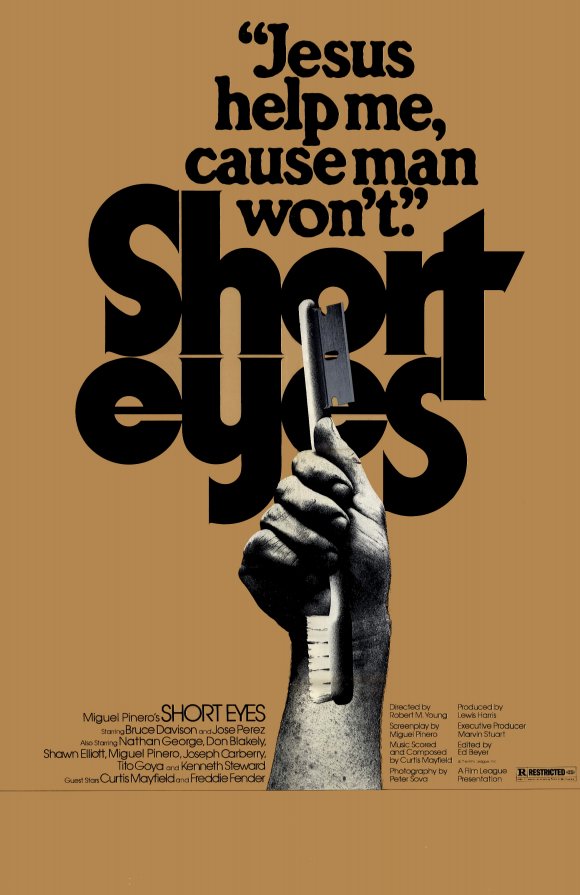 In 1972, Piñero was sentenced to Sing Sing prison for second-degree armed robbery. While doing time, as part of the inmates playwriting workshop, he wrote the classic play Short Eyes, the story of a pedophile (a "short eyes" in prison slang, considered by inmates to be the lowest of the low) who gets sent to the Tombs in NYC on a rape charge. New York Times theater critic Mel Gussow came to see it; the director of the Theater at Riverside Church read Gussow's rave review and had Piñero put up the play when he was paroled in 1973.
Theater impresario Joseph Papp saw the play and was so impressed that he moved the production to The Public Theater. Short Eyes was nominated for six Tony Awards. It won the New York Drama Critics Circle Award and an Obie Award for the "best play of the year." Piñero became an overnight literary sensation, and Hollywood clamored for the talents of the troubled young man who brought the street with him.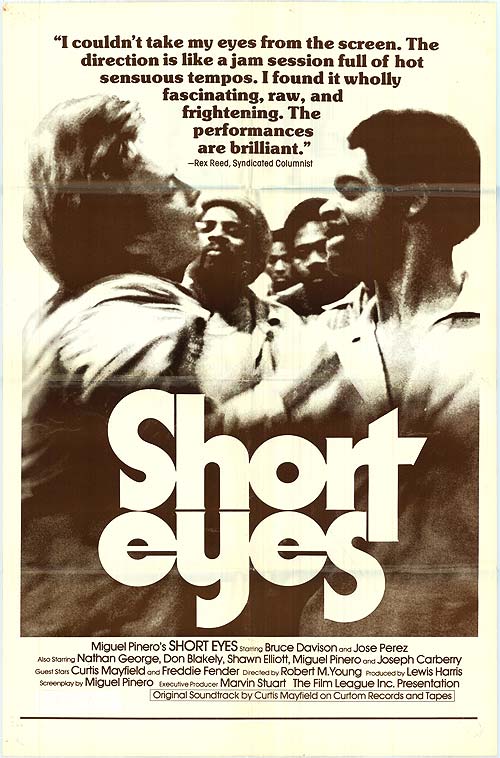 In 1977, Short Eyes was turned into a film directed by Robert M. Young. In the film Piñero played the part of Go-Go, a prisoner. Mikey, a lifelong dopefiend, just couldn't stay out of trouble. While on set, he and Tito Goya were arrested for armed robbery and were arraigned in the same building where they were filming.
He wrote a bunch of TV scripts, and had supporting roles in a number of films, most notably the must-see Fort Apache, The Bronx (1981), alongside Paul Newman. He also played the part of drug lord Esteban Calderone in several episodes of TV series Miami Vice in 1984, as well as writing the episode "Smuggler's Blues" in the same year. But through it all, Mikey remained a junky, and continuously trolled the streets of the Lower East Side on an endless search for dope. As he once confessed to this reporter, he preferred "selling works on Avenue D than hanging out at Michael Mann's pool with a bunch of topless starlets". At that same time, he also said his internal organs were shot and he had 18 months to live. I asked him how he knew that, and he said, "Doctor gave me 6 months, so I figure I can last 18." He died on June 16, 1988, about 18 months later, from cirrhosis.
Sensitive Skin is proud to present the rarely-seen film Short Eyes in its entirety. Starring Piñero, Bruce Davison, a very young Luis Guzman, with cameos by Curtis Mayfield and Freddy Fender, plus almost every miscreant, junky and second-story man who spent any time on the Lower East Side in the early '70s. (As the novelist Joel Rose informed me in 1986, "every one of those guys is dead.") It's one of the most realistic portrayals of prison life ever to make it to the screen. A great film based on a great play. Enjoy.
–Sir Andre Bemler
Film
Video