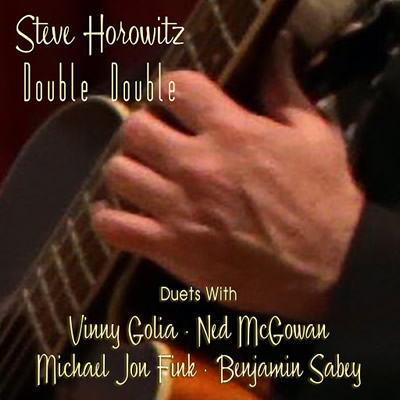 DOUBLE DOUBLE, the 24th album by composer/bassist Steve Horowitz.
"Double Double conjures up musical magic that is quite celestial and yet strangely grounded."
—Daniel Lutz, Creative Strategist, Amsterdam
Track Listing:
Toil and Trouble (McGowan)
Fire Burn (Fink)
Boil and Bake (Golia)
Eye of Newt (McGowan)
Caldron Bubble (Sabey)
Powerful Charm (Golia)
Song of the Witches (Fink)
Buy the whole album or individual tracks on iTunes or Amazon, or listen on Spotify, YouTube or the streaming service of your choice.
And check out Steve's website for more information about this and his previous albums.
Album notes
Maybe it's just by chance, that some of my favorite humans on this planet are also fantastic musicians? Over the years, it has been my great privilege and I have been incredibly fortunate to get to play music with them. My idea for this album was simple enough, get together, shoot the shit and record. I put a lot of thought into what I know about each player, what they enjoy and what they might find new and unusual. I wanted to meet them on their own terms, with their musical aesthetic in mind and challenge them and myself to communicate on a high level regardless of style or genre. This has been a two years journey, and I hope you enjoy listening to the music as much as we enjoyed creating it. Please take a bit of time to explore the music of all the players on this recording, you won't be sorry. Such deep musicians, fascinating people, friends. I am just glad that they didn't laugh in my face and show me the door when I suggested this crazy project.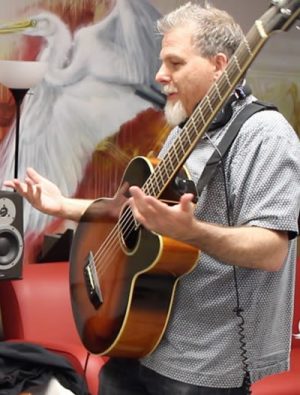 All of the recordings on this album were done with the bass you see here, an Epiphone El Capitan C-5 acoustic 5-string. I am deeply in love with the sound of this instrument, its natural resonance, tone, soul, I can feel it in the wood when I play. I tend to fall in love with basses and have crushes on them and play them exclusively for periods of time, much to the sadness of the other instruments I own. This crush is going on 5 years now and only seems to be growing. Maybe it's the extra string, the extended range, who knows? I just keep discovering new things on this instrument, new sounds, new concepts, new highs and lows, here's to the journey!
---
Interviews and Impressions: Videos by Christopher Romero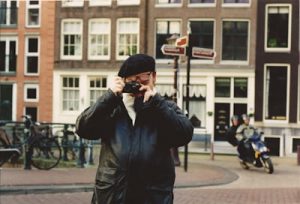 I just cannot say enough about Christopher Romero, his artistic talent, creativity and vision in putting together the video set pieces for this project. Each segment captures the soulful essence of the music and wraps it in his unique way of seeing. In the combined video segments, Chris has managed to interweave my music, his images and the artists own words into engaging short films. If after watching the films and listening to the music you still find yourself wanting more, never fear! We have also provided the full interviews with each artist. The goal was to open up a window into the creative process and It has been a real pleasure collaborating with Chris to make that happen.
---
Steve Horowitz, Duets Volume1 – Double Double – The Spontaneous worlds of Vinny Golia
Vinny Golia (1946) is an American composer and multi-instrumentalist specializing in woodwind instruments. He performs in the genres of contemporary music, jazz, free jazz, and free improvisation. Golia is a self-taught musician who plays over fifty woodwind instruments.
Vinny is a real hero of mine, a pioneering artist. By starting his own label Nine Winds In the early 1970s, he made it possible for musicians who lived outside New York City to get contracts with record labels. He produced not only his own music, but that of others who played difficult to sell avant-garde music. He is truly an amazing virtuoso and trail blazing entrepreneur.
You can see the complete interview with Vinny Golia here.
---
Steve Horowitz, Duets Volume1 – Double Double – Quiet Emotion, The Music of Michael Jon Fink
Michael Jon Fink (1954) is a composer and improviser of experimental and new music. Over the years, he has worked with The Negative Band, Musica Veneris Nocturnus, Still life and Ghost Duo. For the last thirty years Mike has served on the music faculty of the California Institute of the Arts where he teaches composition, orchestration and analysis.
Mike was my first composition teacher at CalArts back in the 1980's. He was a huge influence on me and I am so honored that we have become quite good friends over the years. His knowledge of music style and form is encyclopedic (not to mention Basketball) and as a young mostly self taught composer back in the day, he helped me immensely.
For years I only knew him as a composer of extremely delicate and beautifully haunting works. Guess what, he is also a formidable guitar player. Knowing his love for large scale ambient form and slowly unfolding development, I put together a piece for us to play. Song of the Witches creates a pulsing sonic landscape featuring subtle guitar colorations.The second piece on this recording Fire Burn is an improvisation that formed in the studio.
You can see the complete interview with Michael Jon Fink here.
---
Steve Horowitz, Duets Volume1 – Double Double- Electronic Landscapes, the music of Benjamin Sabey
Benjamin Sabey (1975) has "a brilliant technique and a keen ear for sound, timbre and arc." His music has been performed by the Arditti Quartet, Le Nouvel Ensemble Moderne, New York New Music Ensemble and many others. Benjamin holds a PhD from the University of California, San Diego where he studied primarily with Roger Reynolds.
I have come to know Ben and his music over the past five years as we have been teaching together in the composition department at SFSU. His chamber music is haunting and beautiful, improvisational and flowing. As a composer and improviser he always seems to be right there, listening and responding in the moment. We both share a deep love for the music of Toru Takemitsu among others. Ben has recently been upgrading the studio at State with a bunch of cool new electronic toys, in this piece he is playing a Moog Sub 37 hooked up to his Laptop sample rig. We decided not to plan or talk to each other before recording, but to simply play and see what would happen.
You can see the complete interview with Benjamin Sabey here.
---
Steve Horowitz, Duets Volume1 – Double Double – Master of the Contrabass Flute Ned McGowan
Ned McGowan (1970) is a composer, teacher, flutist, improviser and curator. Known for rhythmical vitality and technical virtuosity. Ned's music has won awards and been performed at Carnegie Hall, the Concertgebouw and other halls and festivals around the world by many orchestras, ensembles and soloists.
When my wife and I moved to Amsterdam in 1996, we stayed at Ned's Place for the summer while he was away in the states. Funny, before I ever met him in person he was already a dear friend and generous spirit. His knowledge of Carnatic music and the western canon go hand in glove and this was our first time playing together in Duo. I wrote Toil and Trouble for him (the working title was For Ned). Our time in the studio at SFSU was magical and I thanked him after for kicking my butt with his rhythmic and technical precision, I really did my best to keep up. The Contrabass Flute is one of my favorite instruments in the world and no one plays it like Ned, he is one of the world's premier virtuosos on this fantastical beast!
You can see the complete interview with Ned McGowan.
---
Artwork by JTA
Produced by Fluffy Schwartz
Engineers: Alberto Cruz, Josh Susic, Arman Sedgwick-Billimoria
Special Thanks to: Zach Miley and Matt Levine
SFSU Video: Pixel Valley Studio
Recorded at the studios of San Francisco State University and the California Institute of the Arts (2018-2020)
Buy the whole album or individual tracks on iTunes or Amazon, or listen on Spotify, YouTube or the streaming service of your choice.
And check out Steve's website for more information about this and his previous albums.
–Steve Horowitz
Music
Video