TAXI NIGHT
Poetry by Cliff Fyman
Long News Books
$15.00
I connected with Cliff Fyman some years after his association with Naropa University (then Institute) and its 1977 Summer Writing Program – a heyday-hosting of teachers like William Burroughs, Anne Waldman, Allen Ginsberg, Gregory Corso and Chogyam Trungpa Rinpoche. I met him through then-fellow student writers Peter Marti and Vincent Zangrillo.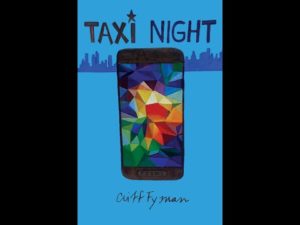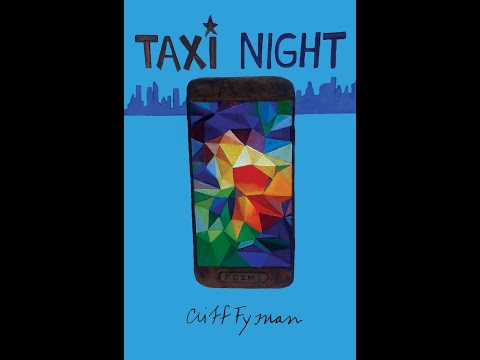 Although late in the book, there is this poetic statement from Fyman, and it sums up his view:
I see every object alive
and luminous
and at the same time I
see the decay and death
inherent in it's very shining.
Cliff Fyman is essentially influenced by William Carlos Williams and his school of Objectvism, something Allen Ginsberg returned full circle to in his teaching at Naropa. Cliff learned to sit in the Buddhist style of "calm abiding," shamatha. Add to that – he is also a vegetarian as well as a NYC cab driver and you begin to get the picture of a unique individual who, like Walt Whitman, contains multitudes.
What dominates this book is conversation, at first noted on paper from the taxi cab steering wheel and later by tape recorder. Cliff explains in his afterward that the cellphone has utterly changed the world of driving a taxi. People have all sorts of intimate conversations as if in the presence of a robot conveniently shuttling them from desire to desire:
What are you talking about? 
You'll have to step out of the room 
	and tell me what you're talking 
		about. 
What are you talking about? 
What are you talking about?
The wake wasn't bad.
Got to see people I hadn't seen in ages.
Just a long day
Are you bisexual yet?
Of course, there is the older role of taxi driver as confessor. Priest, surrogate friend, invisible man.
A woman would never 
be arrested standing naked 
in an intersection 
	waving a knife! 
A woman would never
throw a brick
from an overpass
through a car windshield!
A woman would never 
lure 
a seven-year-old boy 
	into a car! 
What is wrong with you men? 
Clifford, would you tell me 
what is wrong with you men?
At first I thought of Jack Kerouac's Visions of Cody – the second section consists mainly of the transcription of taped conversations between Kerouac and Neal Cassady  Ginsberg in his posthumous introduction to the book suggest a comparison of this tape with Andy Warhol – the found object as art. One might think of Fyman's collection of transcripted fragments as similar, but I found I was more reminded of documentary filmmaker Frederick Wiseman, known for Titicut Folies and High School, as well as the  Maysles brothers' Salesman.
Mainly, that there is a very definite selection and arrangement of fragments observed. Warhol, though obviously having a view, cultivated the appearance of accident and randomness. Wiseman and the Mayles are much more deliberate and so is Cliff Fyman.
You peed in my mouth, sucker!
That's how I know'd
what gender you was.
Happy birthday, Bobber.
You pumped for dinner?
Dan's going to bartend naked?
Shut up.
I know you're not going to like this
but that's not your baby.
Did you succeed in your mission to go anal?
At one point, Cliff excitedly gives poet Ron Padgett a ride, a major inheritor of Objectivist style. [Director Jim Jarmusch used Padgett to "ghostwrite" Adam Driver's Williams-inspired poetry in Paterson.] The meeting is gloriously synchronous – Padgett recognizes Fyman! – and it's the nearest thing to a literal blessing and passing the torch a random event can summon.
I turned left at 39th and Park a man hailed me
standing long blue overcoat
—Ron Padgett—
poet I've revered for years!
Soon as he said, 'Tenth Street and Second Avenue,'
I announced myself in the dark.
'Hi, Ron. This is Cliff Fyman!'
He cried out surprised as I was.
I reached my hand through the open
partition
shook his hand
declaring, 'This ride is free!'
Finally, there are moments of Fyman's own pure language.
When she first spotted my cab I was starting to park on a snowy side street at 2 a.m. to buy a cup of coffee and she surprised me opening the door and said I could still buy that coffee she'd wait but I said that's okay and we mapped a course to Gowanus then skimmed across a conversation of the world's religions and how her parents down south wanted her to remain a Baptist but she wanted to explore Buddhism as the snow fell and how a bad thing sometimes was a detour that helped us escape something worse till we found our way which was just like this detour she said through the side streets till we came into the clear at Atlantic Avenue.
TAXI NIGHT is available though Amazon.
–Reviewed by Marc Olmsted
Poetry
Reviews