A President who makes war
Against and on Behalf of the
Worst of the Arab world.
Who sells the country to the
Japanese government and its subsidized
corporations.
Who is a mealy-mouthed lying bastard
Banker.
Who doesn't give a shit for his dog
except as a vote-getter.
Welcome to 1992—
Mayor Dinkins, who is a rubber stamp
Koch
Who is a bourgeois black
tennis player
That despises the Homeless, who closes
parks and removes benches, who
lets the police operate at their leisure
and only against the helpless.
Police who on Thanksgiving Day go after
sidewalk vendors.
Police who drive by car break-ins and muggings.
Who are never never there!
Who get pay raises while
others get booted from and
in their jobs.
A Mayor who wouldn't know how to
spend Federal money even if he had it . . .
TV stations that suck up to
the police—
that ignore the disastrous
consequences of the fall of the
Berlin Wall in order to praise Capitalism,
that ignore the riots all over
Europe—
That have discussions between
right-wing democrats and right
wing republicans and
call it equal time.
Oh I wrote a poem to a tree,
And the Mayor and the President
Came along and pissed on it,
And the tree died.
Does that leave a poem?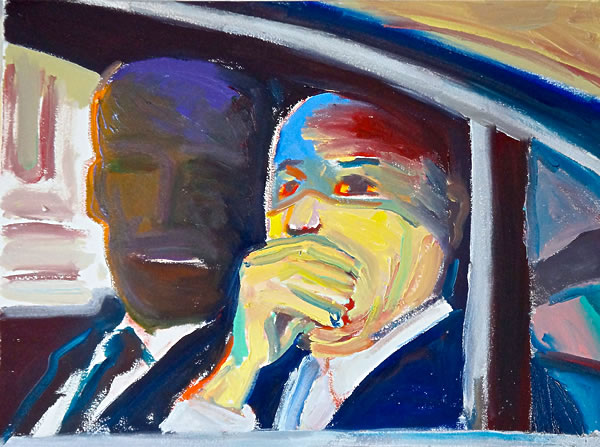 –Taylor Mead
Sensitive Skin 12 available here in PDF format here for just $4.95, or get the full-color print version via Amazon and select bookstores.
Drawings
Painting
Poetry