THE FORBIDDEN LUNCHBOX
By Richard Modiano
Punk Hostage Press
$20.00
(Available on Amazon)
How can I review a book that reviews itself so elegantly in Richard Modiano's own preface and Pam Ward's introduction? Then there are remarks by Viggo Mortenson and Ronne Blakely. The list goes on. THE FORBIDDEN LUNCHBOX is, unsurprisingly, a very good, even great book. It is also Richard's first, at age 71. Not even a prior chapbook of his own, ladies and gentlemen.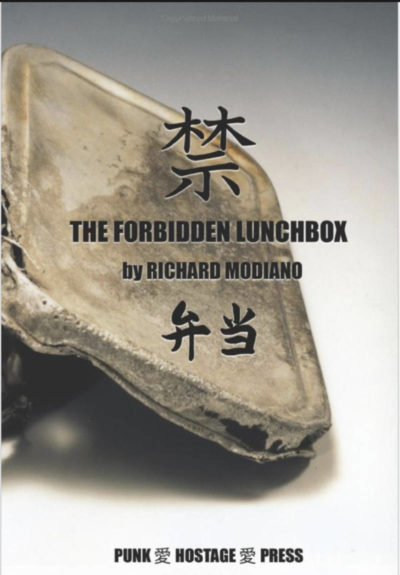 What took him so long?
The answer may be found first in his recent 10 years as Executive Director of Beyond Baroque, the Venice Beach, California literary center equivalent of NYC's Poetry Project at St. Mark's Church in-the-Bowery. Like any true Platonic philosopher-king, he did not ask for it, let alone want it. Like the Roman Empire's Marcus Aurelius, he ran BB with wisdom, dignity and humbleness. Alec Guinness played Marcus Aurelius in Anthony Mann's spectacular Fall of the Roman Empire, and was cast as Obi-wan Kenobi some 20 years later. Yes, the comparison continues with Jedi Master Modiano. It was a very good run. His hologramed ghost leadership continues to reign in memory and influence, even as he still walks among us. A native of Los Angeles, he has never driven. True of Ray Bradbury too, by the way.
Richard is someone who turned his back on ambition long ago – yet fate has its ways. In this case, Iris Berry, publisher of Punk Hostage Press, had to capture the feral cat that is Modiano and give him a book deal.
There is a strong Japanese element both in theme and aesthetic to many of the these poems. (Forgive me, I can't reproduce the lay-outs)
Haiku IV

In the bough of the sick avocado tree
the feral cat cries for her mate—
Autumn nightfall
Drops fall
from the iron railing
outside the hospital
where my brother lies
dying—
Spring rain
– 4/6/88 NYC
Senryu II

In the parking lot of Burger King
The odor of the stock yard
Haiku I

Iron skillet rusting
In rank summer grass—
The peeling clapboard cottage
Richard is a Buddhist and has practiced Zen meditation for years.
Swayambu Stupa
– for Nelson Gary

…the Buddha's Wisdom
Discourses—
Through meditating on these forgotten and hidden teachings
Nagarjuna discovered how to understand
the terrifying and fascinating
Emptiness that quivers beneath the threshold of common sense —
In addition, Modiano also speaks and writes Japanese. He teaches Sunday school to an all Japanese class in a Pure Land Mahayana Buddhist temple in Venice Beach. Pure Land, particularly dominant among Japanese and Chinese Buddhists, emphasizes devotion to the cosmic buddha Amitabha, not a creator god but a manifestation of enlightened mind said to be particularly "available" according to devotional history. It is a path essentially dominated by heart as Zen is by penetrating intellect. This combination of head and heart finds it way into all of this book's poems. See especially Richard's "ground zero" poems of the A bomb when he visits Japan.
Tricycle

Tetsutani Shinichi aged 3 years and 11 months
was exposed to the A-bomb
While riding his tricycle in front of his house —
He died the same day —
Shinichi's father couldn't bear to place a 3 year old
alone in a distant grave —
He buried Shinichi and his tricycle in the
backyard—
The title of the book itself, The Forbidden Lunch Box, is an actual child's item displayed in the Hiroshima Peace Museum but not allowed by the US Congress to be shown to the US public 1995 Smithsonian Institute.
…She found Shigeru's body with this lunch box held tight under his
stomach
The lunch Shigeru never ate was charred black…
"Gaijin" (foreigner, literally "outside person") first appeared in the on-line zine Dashboard Horus, and has been nominated for a Pushcart Prize this year. Richard knows what "outside person" feels like beyond the confines of its meaning. What true poet doesn't?
…Under the blazing blue bowel of the sky the daughter's eyes are
downcast
wanting me to be gone
I nod, turn and walk back into the bamboo thicket
A gaijin ghost
As director of BB, Richard showed his Wobbly roots (Industrial Workers of the World, my dear) not only in championing both successful and street poets, but regarding the Venice neighborhood in the same way. In a city dominated by "success," he never looked down on the down & out.
"FOR/AGAINST" was submitted it to the Los Angeles-Long Beach Harbor Labor Coalition for their annual competition. There were 5 judges, and it was a unanimous vote: The Joe Hill Prize. Richard read the poem at the Labor Day Picnic in Long Beach where they gave him the prize money, $500.
…Against the media liars, the news pimps, the career
thinkers, the academics who propagate propaganda to
preserve this system the academics who call for justice
and always do nothing, the ones who succeed but don't
stay angry, the ones that don't really care; it is time for
all of us on the outs to talk of what a better world could–
will–really be like, that we might together make it so.
His poetic/political manifesto "You can taste it in the shock and roar " is one of the book's very best, a Norman O. Brown-like Neo-Marxist call to revolution involving desire, the body, creativity and freedom:
…You can see it in the flash in our eyes,
in the abandon of our dances and love affairs,
in the protest or party that gets out of hand.
You're not the only one trying to find it.
We're out there, too…
some of us are even waiting there for you.
Included is an essay: Scott Wannberg: Poet and Cinephile. Scott, a beloved L.A. poet, passed in 2011. Not only does Richard remember him fondly, but includes one of Wannberg's poems, El Matador– for Budd Boetticher. Boetticher, first recognized as auteurist by the French New Wave critics, made quite a few interesting and even profound Westerns. Seven Men From Now was not only a favorite of Scott's and Richard's, but one of mine as well.
Richard's love of film continues with a poem that was part of Dear Bela, an out-of-print anthology chapbook assembled around the discovery that poet Brendan Constantine actually lived in Lugosi's last apartment. A poetry party ensued, watching Dracula with the sound off and playing Bauhau's "Bela Lugosi's Dead." Richard rendered this poem completely on the spot, "first thought, best thought" as Allen Ginsberg and his teacher Lama Chogyam Trungpa coined the phrase.
Bela Lugosi's Accomplishments

He backed the communist revolution of Bela Kuhn Hungary 1919
but was never black listed in Hollywood
He spoke "beast language" in Murders In the Rue Morgue horror
movie 30 years before Michael McClure
He starred in a Broadway show & spoke his lines phonetically to
acclaim — the critics couldn't tell
World War I wound pain-killer morphine addiction 40 years
duration — he cleaned up & died sober
1968 I worked as movie extra Universal Pictures lot of monster
movie fame
One night dreamt I met him on the set
Mr. Lugosi," I said, "You Taught me how to behave with dignity"
He smiled
– Written in Bela Lugosi's last residence, 12/98
A huge influence on all of these poems comes from William Carlos Williams, a primary mentor of Ginsberg who famously said "No ideas but in things." Thus a sort of "snapshot poetics" dominates here, as Allen would later refer to the emphasis on image. Though one could perhaps see a stronger pedagogical influence coming from poet Gary Snyder in Modiano's writing, the delicate sensitivity and sacred heart of Ginsberg is still at the core of most, if not all, of these poems. As such, I end this review with my own favorite from this collection.
Lion of Dharma

The leisurely ants are laboring to drag away the
corpse of a dead bee —
The spring sparrows are perching side by side
on a plum tree branch —
The domesticas, drawn and tired, sit on the bus
holding purses in their laps —
The middle school boys are riding skate-boards
down the middle of the sidewalk
heedless of pedestrians —
Allen Ginsberg the Lion of Dharma is dead
his soft roar echoes
in my thoughts
Modiano's own "soft roar" will echo in yours.
Poetry
Reviews