Three Times Bad, an Oakland-based alt-roots sextet, aims to channel the powerful energy of dirty stringbands like Uncle Dave Macon, Blue Ridge Highballers, and Mississippi Sheiks who plucked, picked, popped, sawed, and thrummed acoustic geetars, banjos, mandos, and fiddles with an abandon that was not for the faint-hearted. Theirs was a music for boot stompers, soul shouters, and free-wheelin' revelers hungry for the midnight hour.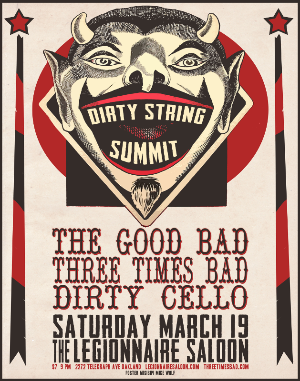 In honkytonks and juke joints, backyards and barns all across the American landscape, dirty stringbands once dominated this country's roots music scene. To continue this tradition, Three Times Bad has put together an epic lineup for its inaugural DIRTY STRING SUMMIT at Oakland's Legionnaire Saloon. "The idea behind this event," says band leader Reverend Sam Caine, "is to showcase the wildly creative approaches Bay Area musicians use to update the dynamic American stringband traditions for the 21st century. Think of this concert as the feral bastard child of the Hardly Strictly Bluegrass Fest's Banjo Stage."
From the Good Bad's high-octane newgrass grooves to Three Times Bad's ravenous genre mashups to Dirty Cello's insane saxophone-like solo flights, this music assures listeners that stringbands in the Bay Area are truly the evil spawn of the pioneers in the field.
DIRTY STRING SUMMIT
THE GOOD BAD, THREE TIMES BAD & DIRTY CELLO
@ Legionnaire Saloon
2272 Telegraph Ave
Oakland, CA
(510) 891-8660
Saturday, March 19th, 9PM
*** Tickets only $7 ***
In Love with the Reverend's Wife
Southern Hospitality Gun, Knife & Doll Show
–the Editors
Events
Music