I ran into Jenny Wade on Avenue A, summer of 1993 I believe it was. Asked her where she was going, she said she was playing a gig at the Knitting Factory, so I asked if I could come along. She said nah, you won't like it, it's not my main band, it's Timber, and it's like going to math class. Little did she know that I like math…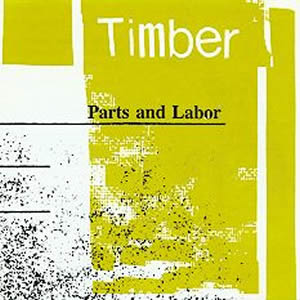 There were some other members over the years, but the core of Timber was Jenny Wade (bass), Mark Howell (guitar) and Rick Brown (drums). Timber was the 2nd (or 3rd) band for all of them; Jenny was in Rude Buddha, Vodka and The Swans, Mark Howell played with all sorts of downtown folks like Fred Frith, John Zorn, Elliot Sharp and Don Cherry and Rick's band Run On (with his wife Sue Garner) was about to sign with Matador. But I liked Timber best. Nobody could really sing, so they all took turns. Or not. The instrumentation is like the bastard love child of Captain Beefheart and Gang of Four. One of my favorite NY bands of the '90's.
Timber – Released and Unreleased
The first three cuts, I'm 30, Sugary Peppery and Puddle are from Timber's first album, Parts and Labor, and we also have four unreleased, never-before-heard tracks from their uncompleted 2nd album, Anti-Mother-In-Law Car, Newly, Bats and a cover of the classic Television tune, Friction. Enjoy!
-Bernard Meisler
Music