1
An old man walked his black dog past a courthouse
on his way toward some memory indicator.
A faint bouquet barely hidden under his coat,
he watched the world with anniversary eyes.
They passed a dry steering wheel next to a wrecked boat.
He penetrated it with his gaze, thinking,
for the two hundredth time today,
that in the end, nothing was cheerful about life.
The courthouse had six windows lit—
a janitor may have been burning death certificates in there,
death certificates from 1942.
The old man reached the graveyard, looked at it in blue:
an angel with his hand under his chin, sadly,
was lost in thinking there, forever lost.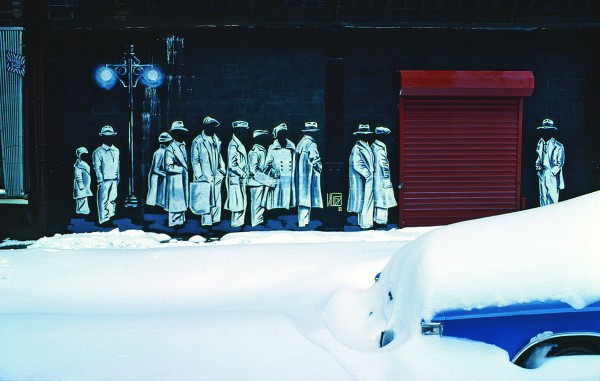 2
With your accountability, you water the trio
of flowers in the mailroom. Sharp blades
of letter openers promise something, never deliver.
For your weaknesses, an earnest raven sends you
free backbones in a twisted ad campaign.
Hard oak doors leave traces on the floor, outlining the semicircles
where people that have fallen took their last breaths.
In 1941, a pallid someone set fire
to this building. He couldn't bear
the sight of people falling.
But the undying human spirit rebuilt it,
then insured itself in church,
on a Sunday, with enduring candlelight.
You know it all but never do anything.
You look under the floor boards and find nothing.
3
And the old man passes by your window, going
home where he leads the life of yesterday's waltz,
bathing his long-dead wife
and putting lipstick on her lips.
Light bulbs on the ceiling shape
the room into familiar parallels.
A candle falls from the desk—and it feels to him
like it's entirely its fault, the blazing burning power,
as if candles were time.
The dog no longer smells the wife from his corner.
It is well after dark.
-Anton Yakovlev
Photographs
Poetry