Nancy, the iconic series of graphic tone poems by the legendary Ernie Bushmiller, achieved landmark status not for its dada-esque art, its stark depiction of a near-barren (yet strangely psychedelic) landscape populated by perhaps half a dozen proto-beatniks, a tree, three rocks, maybe a house, and not just for its apparent lack of all humor—and let's give kudos to Mr. Bushmiller here, for telling the "not-joke" decades before it became a comedy staple–but for its refusal to kowtow to bourgeois notions of "meaning."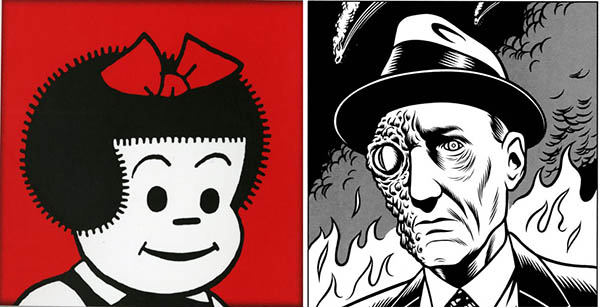 But is Bushmiller's bleak and demented, depression-era, post-apocalyptic wasteland utterly devoid of all significance? Is it truly the joyless, axiological conundrum it seems on first blush? Or is it simply that epistemology itself fails us, is unable to derive substance from Bushmiller's nihilistic gnosticism? Here is where the cut-up method, as devised by Brion Gysin and William S. Burroughs, provides much-needed hermeneutical relief. As Burroughs himself almost said:
"The method is simple. Here is one way to do it. Take a four-panel Nancy comic. Like the ones on this page. Now cut it into four sections: 1 2 3 4 . . . one two three four. Now rearrange the sections placing section four with section one and section two with section three. And you have a new page. Sometimes it says much the same thing. Sometimes something quite different—in any case you will find that it says something and something quite definite. Perhaps you have read these Nancy strips many times. The words have lost meaning and life through years of repetition—or perhaps there was none to begin with. Now take the strip and re-arrange it. Fill a page with excerpts. Now cut the page. You have a new poem. As many poems as you like."
Once we start mixing individual panels from multiple strips, we begin to discern connotation worming its way out of the stark ocular miasma, like a confused Ouroboros eating its own head instead of its tail. Go head, press the "Cut Up!" button below and see for yourself. If you don't like what you see, you can drag the images to a new position, creating an immanent trope. Now do it again. And again. Some images are stark white, some yellow with age; some we see only once, some repeat again and again, in different order, like recrudescent eructations of a non-verbal virus. Be patient. Eventually, patterns emerge. Yes, Mr. Bushmiller, yes, now we "get" it.