Eve Fowler, Words Doing as They Want to Do and Have to Do
(Radical Documents, 2020)
Speakers: Litia Perta, Rachelle Sawatsky, Celeste Dupoy-Spencer, Bobby Jablonski, Kate Hall, Dylan Mira and Jess Arndt. Recorded by Sam Sparro.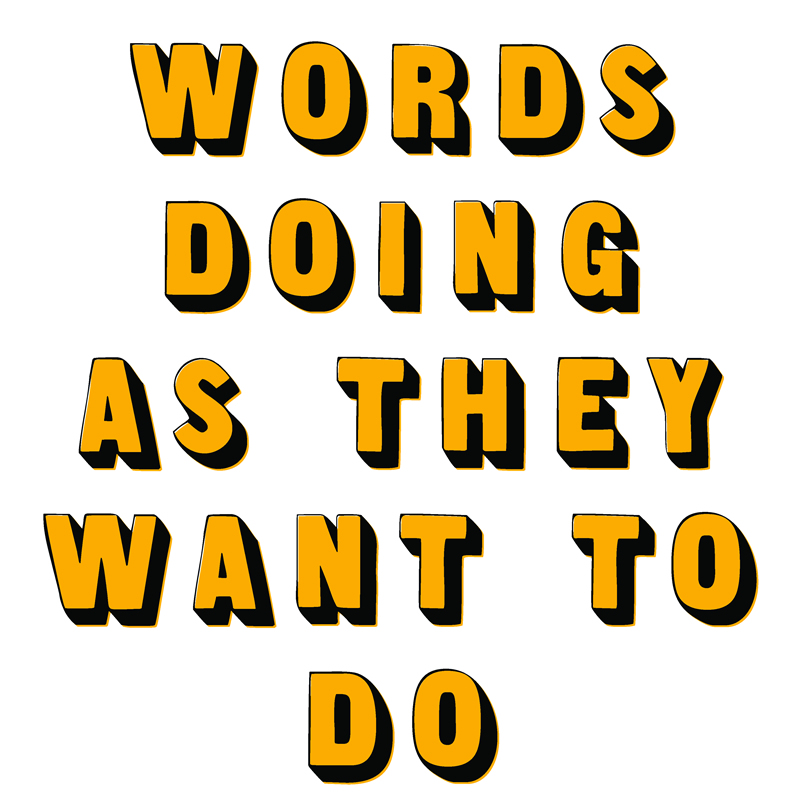 The troublemaking output of the Radical Documents record label regularly reaches forward even as it recalls an earlier time, the somewhere between Paris 1920 and New York 1980. But as it turns out, this is a West Coast label brandishing a truly boundaryless vision in our currently disturbed times. In addition to releasing albums and singles (yes, actual records) by latter-day punk rockers and artists of free jazz, the discography includes this fascinating L.P. Words Doing as They Want to Do and Have to Do, a series of readings of Gertrude Stein by contemporary female creatives. Visual artist, photographer, LGBTQ activist and creative conceptualist Eve Fowler brought together this disparate group of voices– Litia Perta, Rachelle Sawatsky, Celeste Dupoy-Spencer, Bobby Jablonski, Kate Hall, Dylan Mira and Jess Arndt–in celebration of Stein, a vital creator of poetry, fiction and drama who emigrated to France in 1903, just shy of thirty years old, and helped forge the avante Parisian artscape uniting genres over several decades. Residing with her life companion Alice B. Toklas, Stein's home became a noted salon which included Hemingway, Fitzgerald and Joyce, but even more than these literary modernists, the visual art advances and virtuosity of Picasso and Matisse, frequenters of the salon, greatly influenced Stein's rhythmic and expansive approach to writing. And vice versa; it was Stein who named the "Lost Generation."
Eve Fowler is an artist whose use of language and text is uniquely realized in and as art itself. This recording was the soundtrack to her first large-scale European exhibition (the Dundee Gallery, UK, in 2018) but it stands well within the pantheon of recorded poetry. Fowler's works have often used of the words of Stein, herself a strong, proud and out lesbian. Fowler has followed suit and her feminism has been used continuously to expose and break male hierarchies in society, advertising and the arts. The exhibition included Fowler's artistic visions of text as well as a film footage and the recordings herein, but how resolutely the words of Stein ring out now in this time of oppressive rule, particularly when read by young women of the arts in light of the imminent Election Day. Stein's "Miss Furr and Miss Skeene" is heard on side A. Side B is occupied by excerpts of her "Q.E.D.," a 1903 piece describing the relationship of Stein and another woman that was not published till 1950, several years following her 1946 death. Both works are bold in their pronunciations of LGBTQ life some 120 years past. Note the former's almost continuous use of "gay" in this excerpt, its purposely repetitive, tirelessly stated use:
Helen Furr and Georgine Skeene lived together then. Georgine Skeene liked traveling. Helen Furr did not care about traveling, she liked to stay in one place and be gay there. They were together then and traveled to another place and stayed there and were gay there. They stayed there and were gay there, not very gay there, just gay there. They were both gay there, they were regularly working there. Both of them cultivating their voices there, they were both gay there.
Stein's masterful use of repetition wreaks of the jazz age to be, a flowing, colorful rebellion of formal rhythm outlining the story as it moves along. The various speakers here capture this quality by the simple nature of the writing. There is no use of dramatics in their approach and the readings are delivered unaccompanied. While the use of musical instruments would add layers of emotion within the inherent polyphony, the intended subject—the prose of Stein—is unmistakably front and center in this format.
Words Doing as They Want to Do and Have to Do is available in a limited pressing of 250 hand silkscreened copies, signed and numbered by the artist. This album and all of the Radical Documents recordings are available at their web site.
–John Pietaro
Audio
Reviews