Buy it on Amazon
Don't like Amazon? All of our books are available through other online sellers (Barnes and Noble, Powells, etc.). You can also order our books through Ingram, at your local bookseller or library.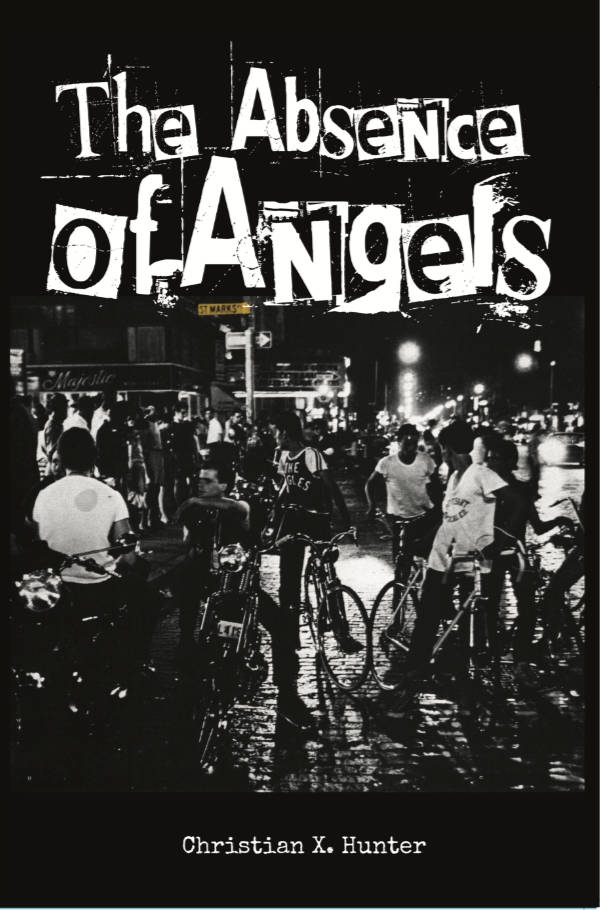 Sensitive Skin Books is proud to present THE ABSENCE OF ANGELS, Christian X. Hunter's three-decade tramp through the evolution of '60s East Village counter culture in a kaleidoscope of freaks, to the '70s and playing with bar bands and living in Vermont communes, to the '80s with Warhol Superstars, with encounters all along the way with Times Square grifters, junkie poets, rock stars, revolutionaries, in the back rooms of the Fillmore East, Max's Kansas City and The Mudd Club.
THE ABSENCE OF ANGELS is a synesthetic expedition through late 20th Century Manhattan. It's a love story between a city and its denizens. Every page is permeated with poetic frenzy, grace and verve. Hunter captures the magical decay of the 70s and 80s like few other writers have. I LOVE THIS BOOK!
—Gillian McCain, co-author of Please Kill Me: The Uncensored Oral History of Punk
Christian X. Hunter lets us ride shotgun to his life in the turbulent 1960's and 1970's. From the ringalevio streets of New York that blossomed into the psychedelic era to the dark side and back. Yeah, it's sex, drugs,cars, guitars, motorcycles and rock 'n' roll. He tells the tale that only the ones who lived it can tell. He remembers it all and he lived long enough to write it down and we get to not just read it but to experience it! Witness it! There are books I don't want to end and this is one of them!
—Penny Arcade
In THE ABSENCE OF ANGELS opens with the author as a kid in the late 1960s, surviving the streets of the old Lower East Side: Ratners, The Dom, The Velvet Underground, through Avenue D Squats filled with teenage runaways, with countless wild events culminating in a back-stage encounter with Jim Morrisson. Every stop along the way bristles with Hunter's grace, clarity and a cinematic prose capturing memorable places and unique characters, not wasting a word. It swings through encounters with a commune of teenage witches, and rubs elbows with Warhol Superstars at Max's Kansas City in time to witness the death of Punk and the early heartbreak days of the AIDS crisis.
—Arthur Nersesian, author of The Fuck-Up and The Five Books of (Robert) Moses