'BRIXTON IS GOD' proclaimed graffiti scrawled in a boys' bathroom at Bennington College, discovered by a young Brix (formerly Laura Salenger) who'd just completed her first gig. This prophetic moment for the burgeoning musician and fashionista echoes throughout her years to come. She simultaneously joined the legendary post-punk group The Fall and married the group's leader, Mark E. Smith, soon after deeply and rapidly connecting after a Fall gig. She later involved herself in a number of other musical endeavor and would co-found the game-changing clothing shop, START, with her current husband Philip Start. Brix is God, her own God, at least; dictating her own reality by guiding herself through intuition and assertive action. While Brix has the benefit of hindsight, it is evident that even throughout her younger years she understood a certain magic about perception.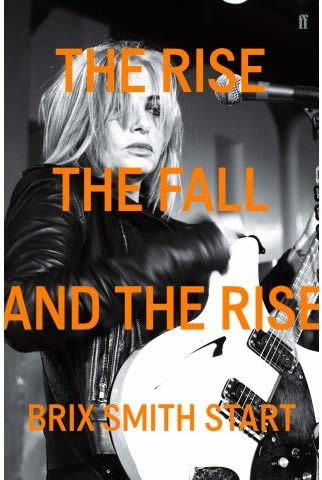 This is perhaps why the multi-talented cult star is so drawn to the otherworldliness of Disneyland, which played a formidable role throughout her life. Clandestine field recordings found their way into The Fall songs, though not to Mark E. Smith's credit. Mark reportedly loathed the experience. Disneyland's ingenious inventiveness in crafting faux-paradises emphasized the power of perception and suspension of disbelief. Young Brix honed in on her obsessions and exploited them, donning the name "Brix" after "Guns of Brixton" by The Clash and revelling in the creative displays at shops like World's End and Kenzo in Paris, which she refers to as "retail magic." Disneyland and high fashion shops don't seem analogous with The Fall, a group whose infamy rose from their difficult, unpredictable, non-commercial sound. But Brix's brilliance and intrinsic contributions to The Fall cannot be gauged by a parallel influence both from and within the pop world. It is their collide and discord that made her first stint with The Fall, '83-'89, so fascinating. Brix would continue this melange with her borderline-hit band The Adult Net by applying 80's chart-topper sensibilities to 60's psychedelia. In retrospect, The Adult Net could be labeled an indie supergroup of notable proportions. Members of The Smiths, The The, Blondie, and The Fall (including Mark) wove in and out of their lineup.
The Adult Net – Take Me

These unlikely crossroads is partly why Brix's memoir, The Rise, The Fall, and Rise Again (Faber & Faber), is such an unpredictable read. She shifts from dingy clubs to performing at the World Cup, from sleeping in bed with Courtney Love to erratic assault from Leigh Bowery. One can never be sure where exactly her life will turn, no matter how familiar with The Fall one may be. Complete with a fair share of drug-addled hedonism and celebrity shoulder brushing, Brix's memoir follows a recent rash of publications from prominent female rock musicians. Kim Gordon, Carrie Brownstein, Viv Albertine, and Alice Bag, have all recounted their time as counter-culture provocateurs. These artists, including Brix, have rapidly and collectively reshaped what we know of as rock history–predominately defined and catalogued by male voices and points-of-view. The groupie/rockstar dynamic is not gender segregated, and creative control is not relegated to male musicians. While these notions may be obvious to some, they have rarely found their way into the mainstream lexicon of rockstar memoirs and, usually, the same handful that make up the "Women in Rock" standard (Joan Jett, Patti Smith, Janis Joplin, etc.) are left to carry the weight. Brix's account of her time with The Fall makes up only a fraction of her book, allowing the reader a context in which to place her experiences and decisions. That context also lends a degree of grace to those she writes of, namely Mark, whose spectrum of behavior ranges from saintly to pathetic.
She paints an honest picture, and offers as much insight as she herself had gathered when encountering the multitude of fascinating and difficult characters that have touched her life. What is received are beautiful and tender moments with a kind and thoughtful Courtney Love, a thrill-ride with her neurotic, perfectionist partner Nigel Kennedy, and ultimately, an untethered self-portrait. She fearlessly shares her accomplishments and faults from infancy on, not sparing any details that may provide a window into her identity. Specifics down to childhood food favorites found at extravagant luncheons, her father's private collection of random oddities, and even where Mark stored his milk are all accounted for. While some may seem superfluous at first, they add up to the fabric of Brix's psyche and outlines her journey.
The Fall – Hit The North

Brix, apart from her compositional contributions to The Fall, served as glue for a band always on the verge of collapse. Mark pleaded for her return in the mid-90's as she was flirting with joining Hole. She obliged, noting, "If it weren't for The Fall, there would be no Hole. There would be no Nirvana." She's right. The Fall were so vastly influential it's hard to calculate how alternative music would have evolved without them. Kurt Cobain did, after all, once climb on The Fall's tour bus and refused to leave, wanting to join the band. Still, The Fall is a harder sell than most of their peers and protégés. Perhaps this is what kept them so unpredictably powerful. Brix frequently describes Mark as a "self-saboteur" constantly wrecking both her and the band's contributions, though also suggests that this may be key to The Fall habitually breaking new ground. Her second stint with The Fall would come to a dramatic close, as she was no longer immune to the uncouth dynamics Mark practiced with his bandmates. She returned to an early love of hers–fashion. Starting the London fashion shop, START, with her partner Philip Start was the beginning of gaining notoriety as a prominent taste-maker and knowledgeable stockist. You could find Brix on television as a fashion commentator at the Academy Awards, the Royal Ascot, and as a leading competitor on Channel 4's hit reality show, Gok's Fashion Fix. As this period came to a recent close, Brix has returned to music. Brix enlisted former Fall members Steve Hanley and Paul Hanley in her new group, Brix and the Extricated. They perform, record, and release new material as well as the occasional Fall rendition.
While clearly a must for The Fall enthusiasts, Brix's memoir is a valuable read for anyone remotely interested in the lineage of counter-cultural influence, particularly from a female perspective. Nigel Kennedy fans will catch glimpses into his unusual process, fashion followers get a first hand account of how a single fashion shop can reshape a whole district in London, and pop-culture aficionados will enjoy a unique era of when pop and punk melded in a way exclusive to the late 80's and early 90's. Beyond this insight, Brix meditates on the inter-connectivity of life and growth. While she alluded early on to recognizing unprecedented cues found in happenstance, it took decades of experience to wield a certain wisdom that preaches ingenuity, instinct, and confidence in committing to one's own passions.
The Rise, The Fall, and Rise Again (Faber & Faber), by Brix Smith
–reviewed by JC Gonzo