In 1969, Duane Allman founded the Allman Brothers, recruiting his brother, Gregg, on keyboards and vocals, a second guitarist, Dickie Betts, bassist Berry Oakley and a set of drummers, Butch Trucks and Jaimoe Johansen. In June of 1971, the band headlined the three closing nights of the Fillmore East, broadcast by two competing N.Y.C. "underground" radio stations, WNEW and WPLJ. By October, Duane Allman was dead. By the Following October, Berry Oakley was dead. The band continued in various incarnations until 2009, 40 years after they first played. In 2017, Butch Trucks died, followed four months later by the death of Gregg Allman. This concert review, seen on July 16, 2018, was of The Dickie Betts Band, emerging from a three-year retirement. He was accompanied by his son, Duane Betts, recreating the musical role of Duane Allman. This was Dickie's comeback.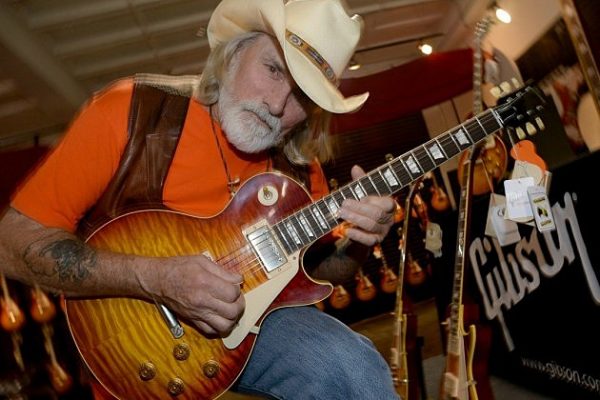 The saga of the Allman Brothers, extended family and crew, on a personal, not musical level, is one of fierce love, passion, lies, greed, betrayal, murder and suicides: some fast, some slow. Think, The House of Aeschylus on cocaine, heroin, bourbon, vodka and psilocybin and you'll get the picture.
I ate an illicit peach a few minutes ago, snatched from a glass bowl at a creative writer's workshop my son is attending. He gave me a dirty look. Fathers and Sons. Brothers and Sisters. Families. The peach looked ripe and beautiful, like out of Monet's Jar of Peaches still life. But when I bit into it, it was mealy with no lingering sweetness.
What was Duane's quote about peaches? Right, that he was "… going eat a peach for The Revolution, fuck a girl for The Revolution." The Brothers Allman didn't give a fuck about The Revolution. And it never came anyway. They gave a fuck about the music. But last night I read the last chapter of the Brothers Allman, and it was as tragic as anything Dostoyevsky or Turgenev could come up with. It took place on a lovely Long Island night, with the breeze blowing off the dancing bay and under a crescent moon and brilliant Venus. It took place not far from Stony Brook University, where on September 19th, 1971 after a pure performance, Duane drawled into the mic, "Enjoyed it last year, enjoyed it this year and gonna enjoy it again next year." But there was no next year. A little more than a month later he slammed his Harley into the back of a flatbed Ford on Hillcrest Avenue in Macon.
I saw Dickie lead The Brothers Allman, that winter; they couldn't stay off the road too long. He was carrying Brother Duane's load and his. I remember the opening act, Commander Cody, so drunk they tried to play without the amps turned on or instruments plugged in. I thought it was funny. But then Bother Berry completed his disappearing act, six months later, skidding his Harley a little on down the road from Duane, almost like he was honoring his hero's unveiling. So even as a kid, by '70s standards, when mortality seemed less real, I was getting spooked, like these guys are beset by demons. But Dickie was the last Brother standing. And he always had something to prove. So, I didn't think it funny last night when a bloated and blatantly drunk Dickie, after a half hour delay for "technical problems," took the stage, slouched over his Les Paul, and hit the first notes of "Hot 'lanta": Everybody in the crowd knew something was terribly wrong. Even people who didn't know the Allmans knew something was wrong. I heard the woman behind me say, "It sounds like five different guys playing in five different bands." But other guys, like my buddy who had sat at Dickie's feet when he and Duane played at Manhattan Center with Duane offering tribute to his idol King Curtis, who had died of stab wounds a few weeks before, even he seemed a little perplexed, thinking it was the three-year layoff. But it was sadder, more tragic than that. Dickie was standing aside his son Duane, who with his cherry sunburst was gallantly trying to cover for his father's sins, which were visited upon him, as prophesized in Deuteronomy. But son Duane's love was all in vain.
I guess there are some things sons can't do for fathers, nor fathers for sons; certain pains that can never be played over. I left, as did all my friends, and half the crowd. It was too painful, like watching a motorcycle crash in slow motion. I felt a little guilty walking out on Dickie, but after rambling into the mic and butchering "Statesboro Blues," that was the end of the book. People thought he would pull it together with a few more songs. But it wasn't happening.
On the way home, I thought about a summer night two years before when I saw Gregg play with the breeze bouncing off the bay, a year before he was going to die, not too long after Butch Trucks put a bullet in his own head. Gregg knew his time wasn't long. But he was triumphant, his playing transcendent, his band immaculate. He stood tall and gleaming. There was bad blood between Gregg and Dickie over the years. Bad blood between brothers. Bad blood over Gregg testifying against Scooter Herring. Dickie getting thrown out of the band with a lawyer's letter. Getting thrown out of a band like that for bad behavior? Like getting thrown out of the Hell's Angels for bad behavior, if you ask me. Snitch vs. iconoclastic rebel? Who knows. "Man is a mystery" said Dostoyevsky, "but I occupy myself with this mystery because I want to be a man." But the Brothers Allman finally died last night. The only thing left to write is the obituary.
I stopped on the way home at 7-11 to buy my son a bag of Cheeze-Its. I figured it was the least I could do.
–Vincent Zangrillo
Reviews